The ultimate guide to wholesale hookah coal packaging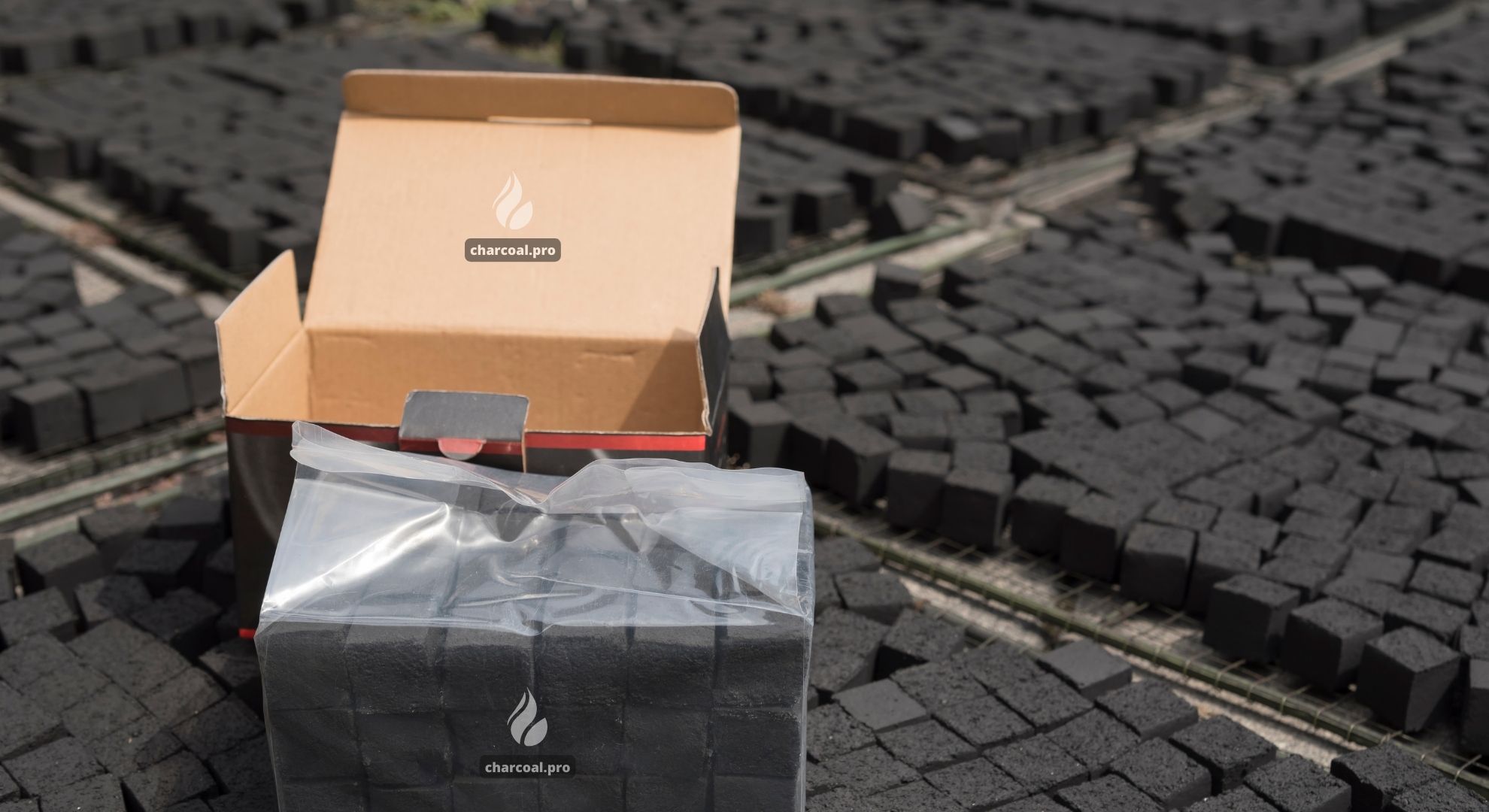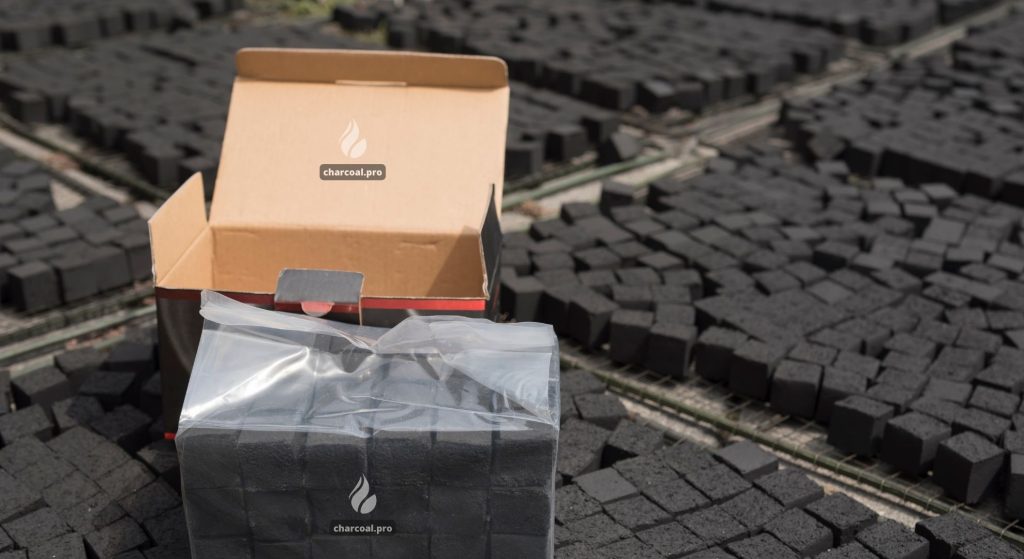 This article is written by Greg Ryabtsev, the coconut charcoal expert. Initially, the first version of this article was very short and written back in 2019 and then several times updated. In this late version, the article was completely rewritten by Greg in 2023, adding many more photos, box specifications, and new versions of charcoal packaging and some prices too.
This article is dedicated to wholesale buyers of shisha charcoal, also called hookah coals. I assume that you are already buying shisha charcoal or planning to buy the bulk volume of hookah coals from us or another charcoal factory.
In this article, we will discuss what types of packaging are used for wholesale coconut charcoal briquettes, ie hookah coals. You will understand the differences between packaging, and differences in price too.
The result of the article: you will be able to decide what type of packaging is best fitting your needs, and understand the pros and contras of different packaging.
If you have any questions or suggestions please feel free to contact Greg Ryabtsev by WhatsApp at +628118797070 or email export@charcoal.pro
Why hookah coals packaging is important
First of all, the packaging is the first that is seen by your end customer and the first thing that protects your charcoal from damage.
Damage protection
Even though coconut shell charcoal briquettes are relatively strong and seldom break apart, it still needs protection from physical damage. During loading and unloading, handling at the warehouse, and transportation, charcoal boxes can fall down and get some physical cracks.
Another important feature is to protect shisha charcoal from water or moisture. We want to keep our charcoal easy to heat up and burn at high temperatures, but if charcoal was exposed to water it can damage charcoal's main function: burn and give high heat.
Moreover, do not forget that manufacturing shisha charcoal is a very dusty process. Yes, a lot of dust is produced during manufacturing and a lot of this dust will end up on your charcoal. Do you want your clients to take charcoal with bare hands and find out that their fingers become black because of charcoal dust? Sure no, that is why it is important to ensure proper packaging to protect from goods dust.
Another important feature of packaging is to keep charcoal from exceeding heat during transportation and storage. For sure our coconut shell charcoal briquettes are safe from self-ignition, which is proved by an independent laboratory with SHT test. But anyway, it is a good idea to play safe and keep charcoal from exposure to direct sunlight. The good packaging will help with it too.
Good look
Yes, the packaging is the first thing that is seen by your customer. Basically, it is your first impression of your charcoal end user. It should be nice and talk about hookah coal quality. Good packaging helps you not only to make a good first impression but also to sell charcoal fast. It helps to stand out on the shop shelf, attract more attention and promote itself just by how it looks.
Nice packaging also helps to distinguish your charcoal from other brands and stand out from a crowd of other shisha coals.
One more thing is with good packaging you will easy to count, and keep an eye on your product stock.
Hookah Coals packaging
The standard coconut charcoal briquette packaging for shisha/hookah consists of inner plastic, inner box, and master box. Following I will explain what is it and how to choose the best for you.
Inner plastic
Inner plastic is a PE type of plastic. Is mostly and widely used for inner packaging. It is the last level of "defenses" for your charcoal.
By request available eco-friendly, fast degradable plastics from organic sources.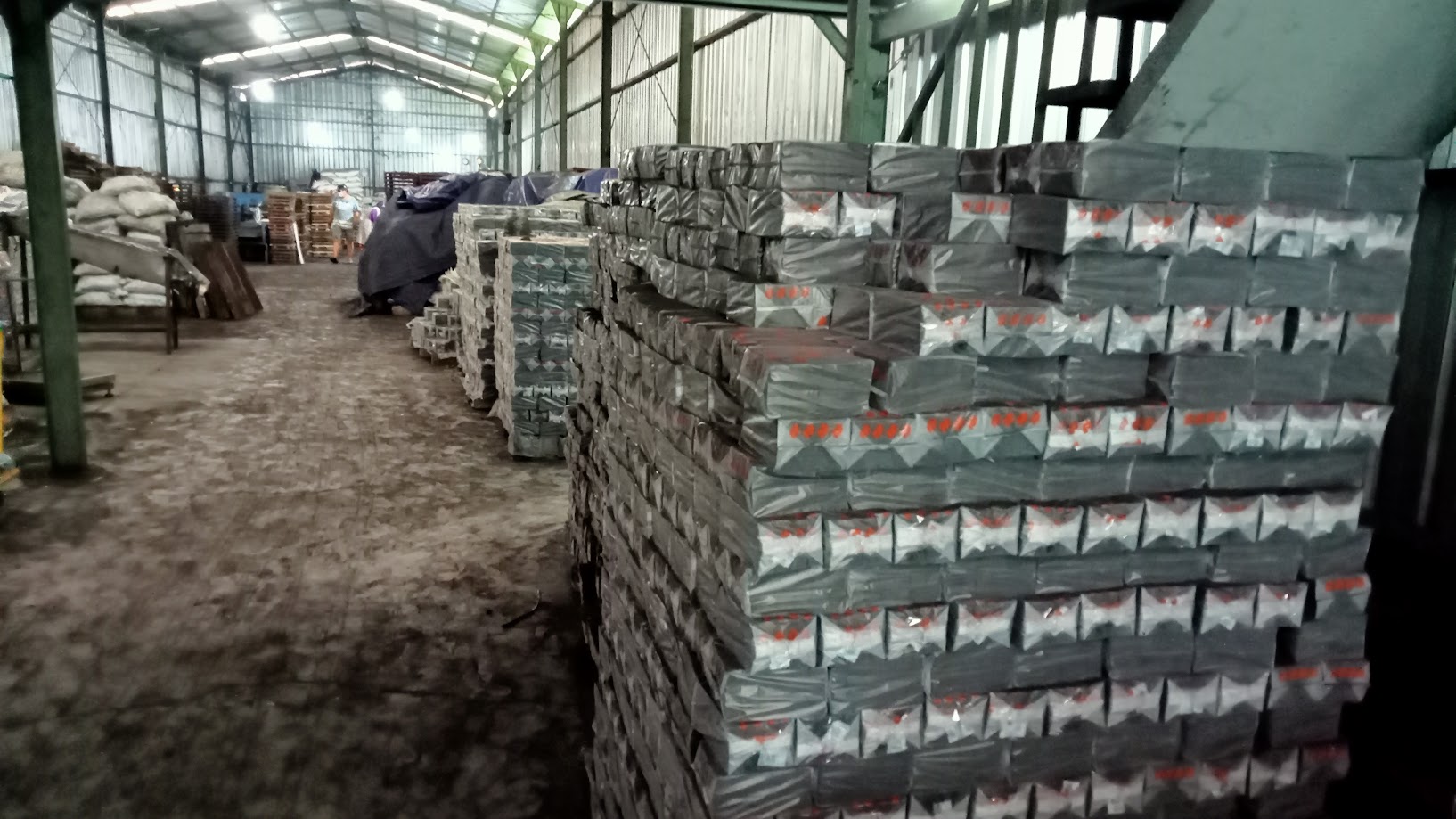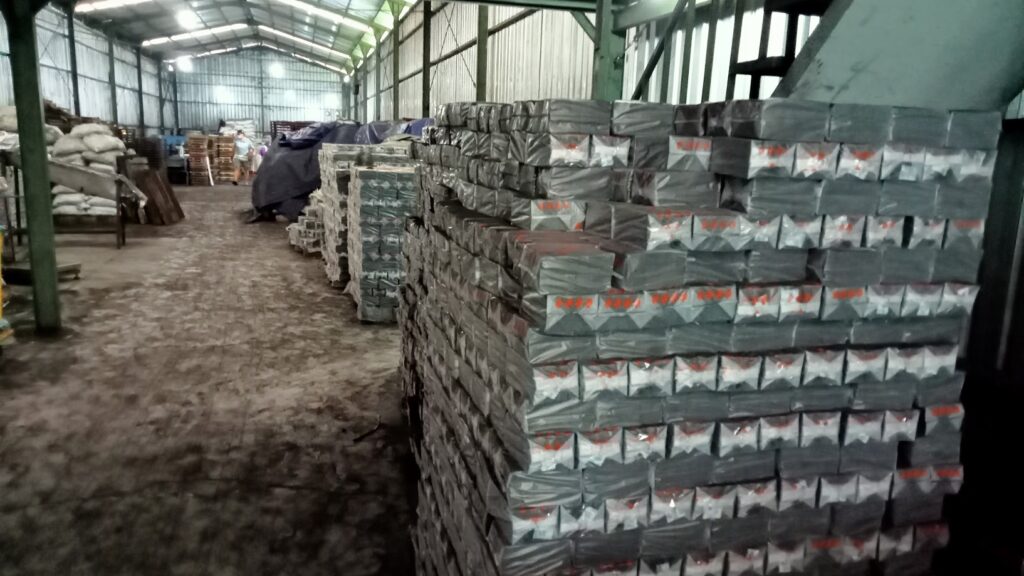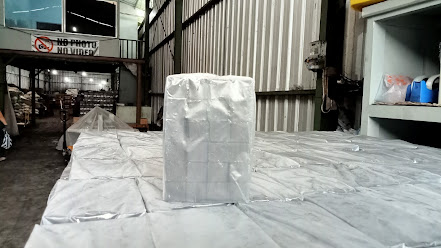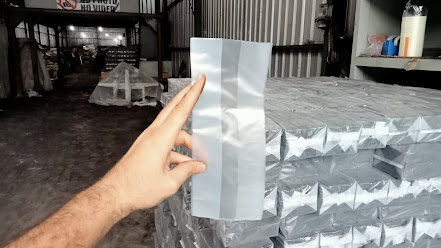 The main function is protecting shisha charcoal from moisture, moist, and dust. It also keeps the shape of charcoal as it is supposed to be.
Inner plastic is available in various sizes; the most popular is 1 kg packaging. But also available 250 gr, 500 gr, 125 gr, and 60 gr packaging.
Manual duct tape and machine sealing
In general, the inner plastic is plane, semi-transparent plastic. It is sealed manually with transparent duck tape or with an automatic sealing machine. It is applied on the upper lid of the inner plastic.
Duck tape can be also branded with your own brand printined along the duck tape
Not many brands use branded duck tape as the minimum order is 50+ tons of charcoal to print duck tape.
What is better to use: manual duct tape or a sealing machine?
The most popular way is to use manual duct tape, as it is the most common way to seal the inner plastic.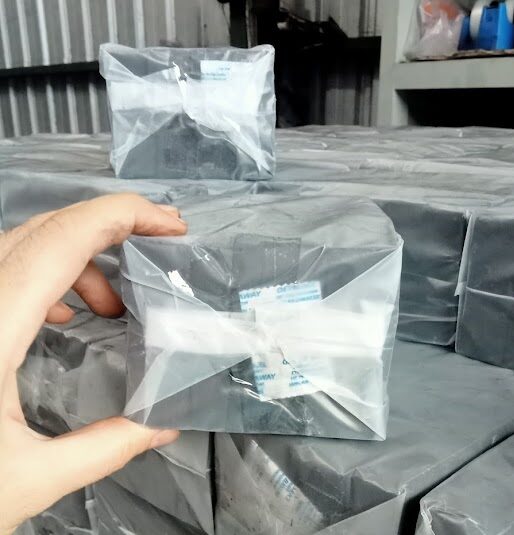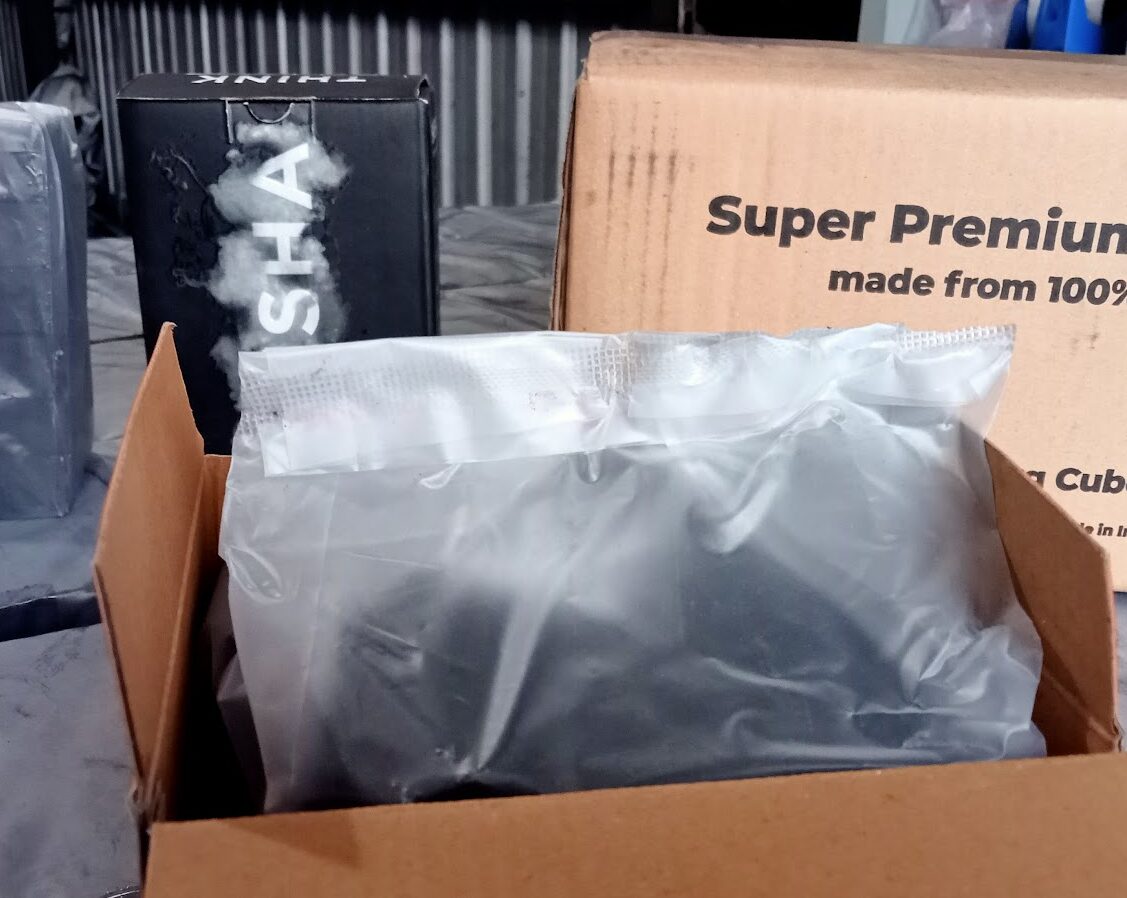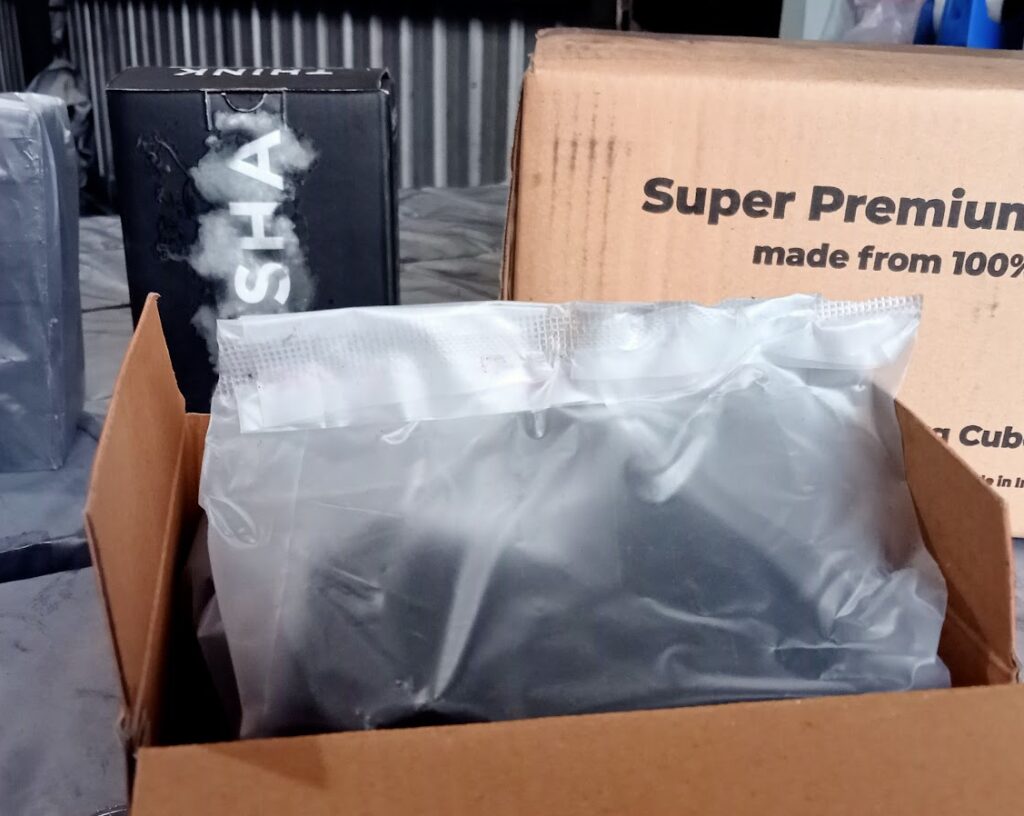 Automatic sealing is faster. It also makes your inner plastic vacuum packed, but on the other hand, it adds several dollars to the ton as an additional cost. Moreover, with automatic sealing, you cannot use stickers for your boxes.
But with automatic sealing, there is a big space occurring on the upper part of the plastic. So the charcoal packed is not as tight as with manual duct tape sealing.
Plastic Screen Printing
Plastic is not only good for the protection of your charcoal, but it is also good for your branding. We can print color brands on the inner plastic.
Printing is counting based on a number of colors. Most of the clients are using one or two colors of screen printing. But we are not limited and we can use up to 15 different colors on the same plastic.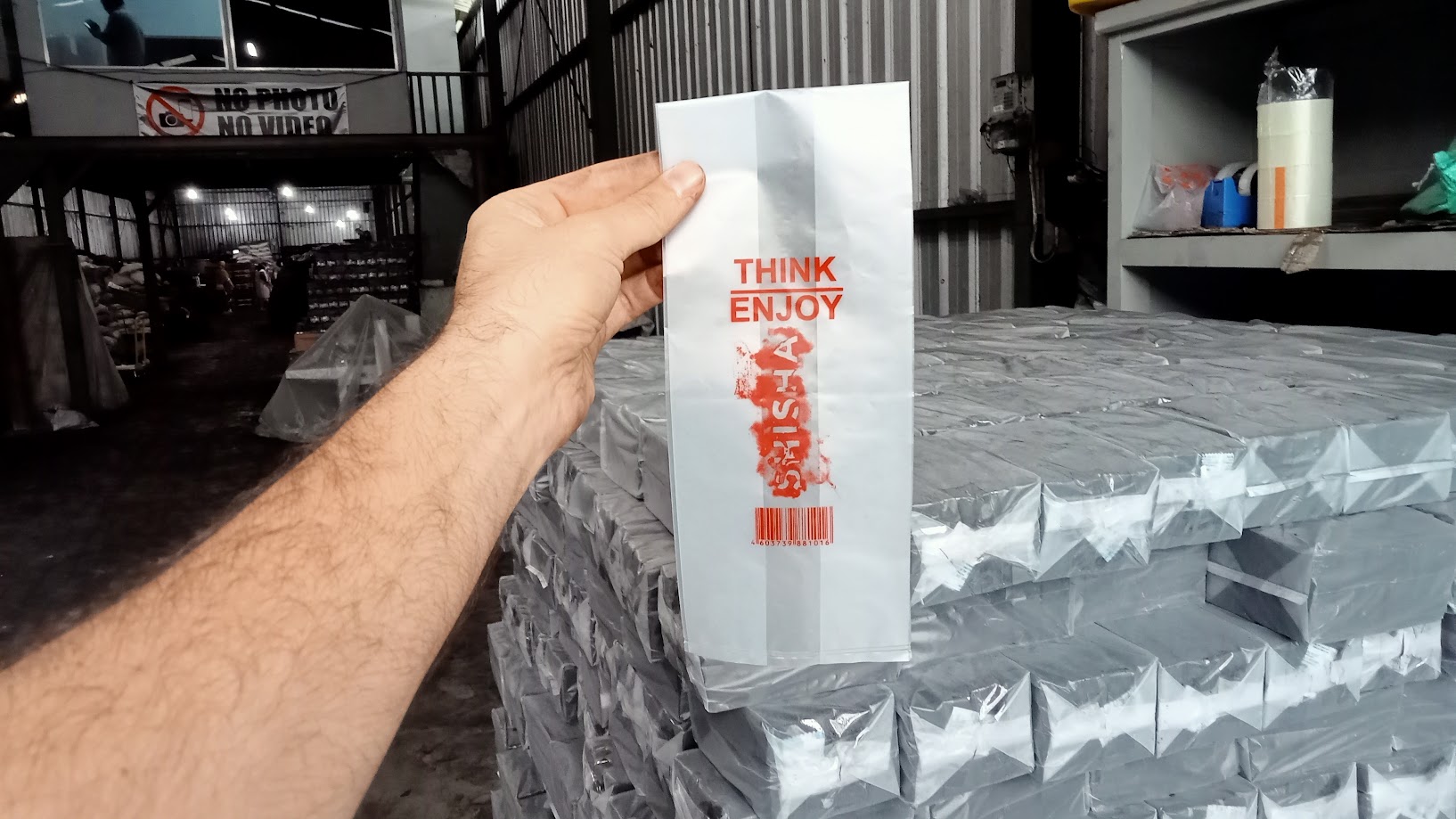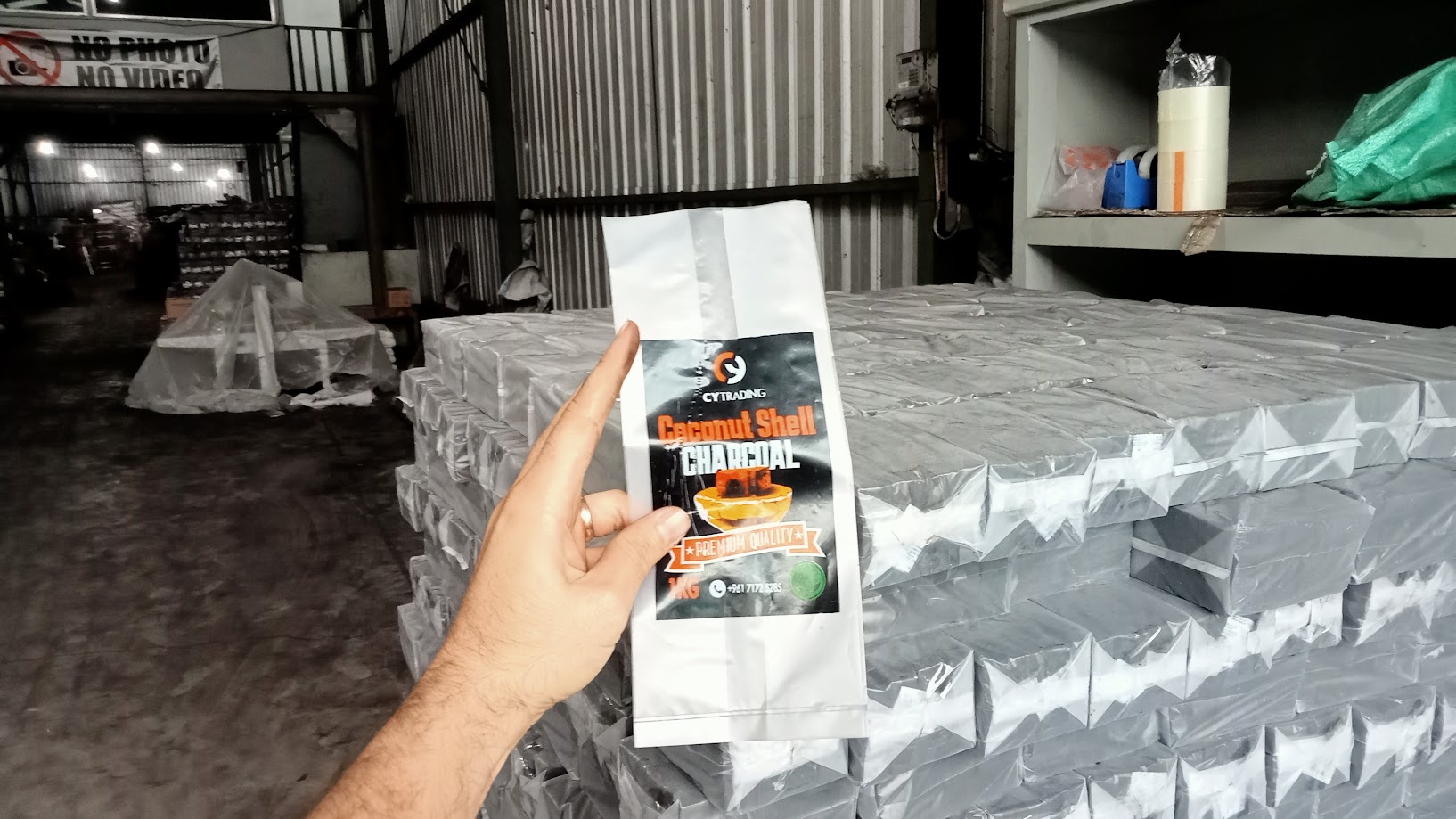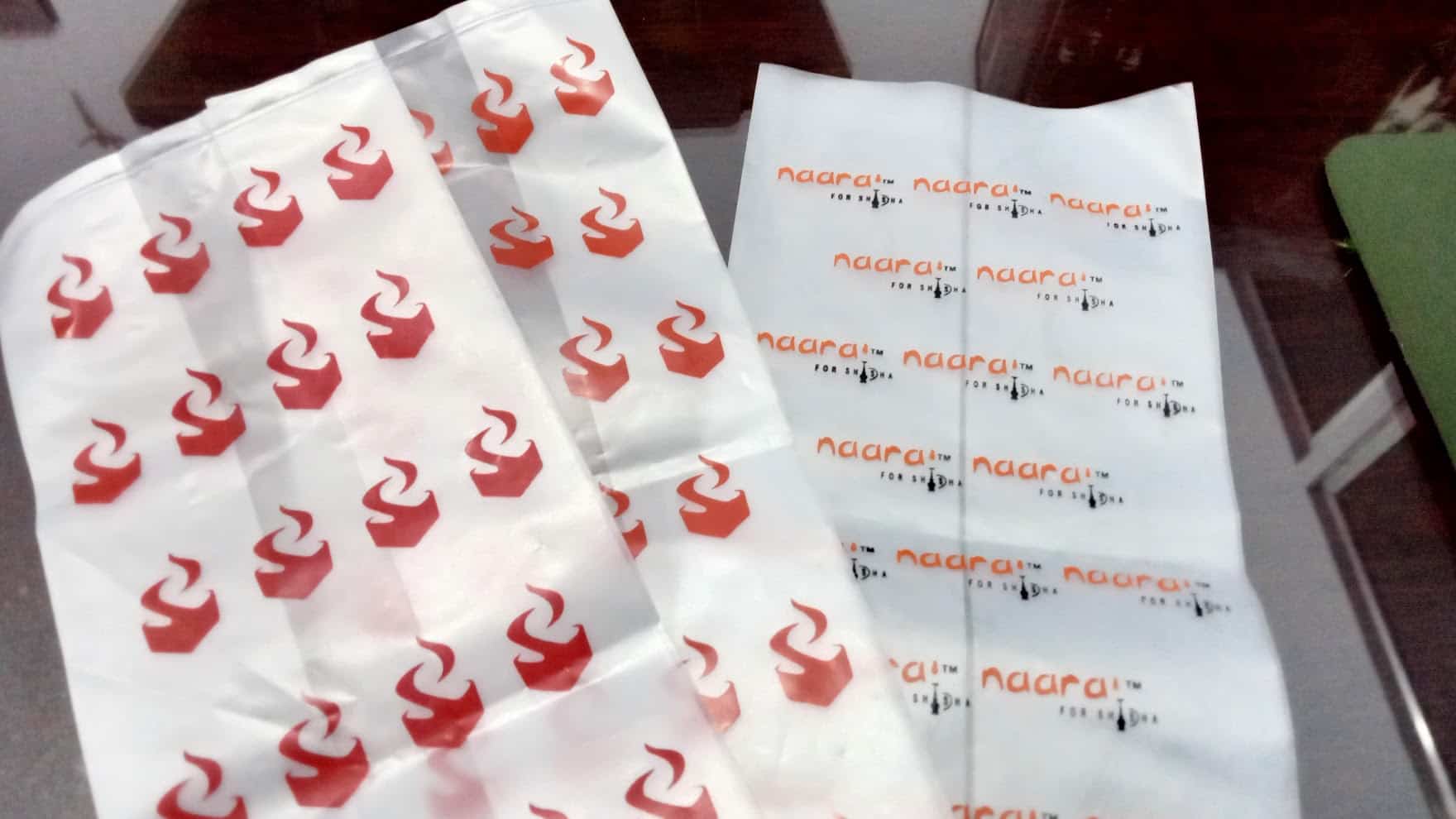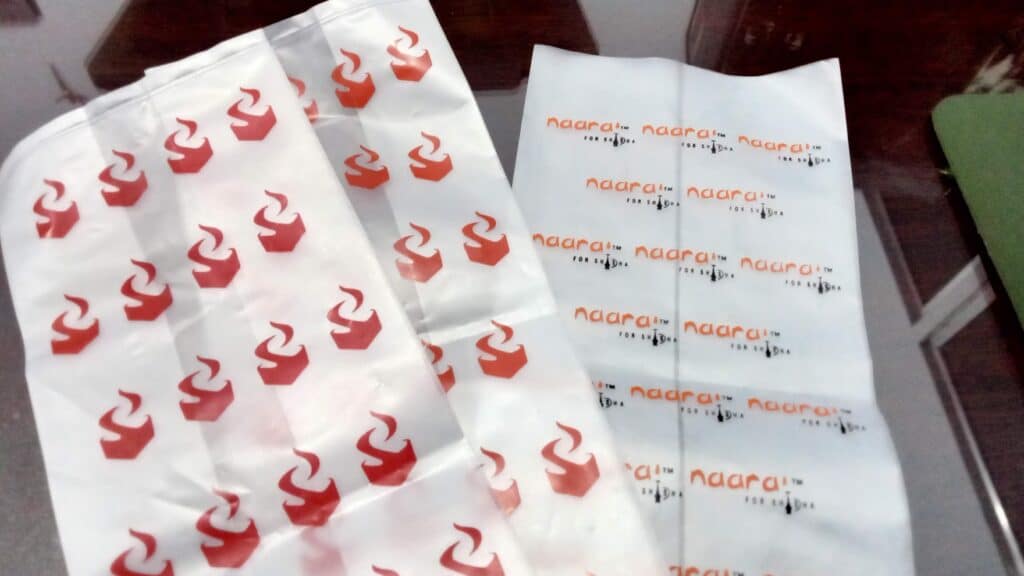 Please keep in mind that printing on plastic will take additional time, usually is is 2-3 weeks again. So it is important to reserve enough time before ordering this type of packaging.
Moisture absorber
In each inner plastic, our factory adds silica gel a food-grade moisture absorber that helps keep your charcoal dry.
This is a symbol of extra care for your clients, to show them that all small things matter. It is very important to have this moisture absorber in each bag as it really helps to keep charcoal dry.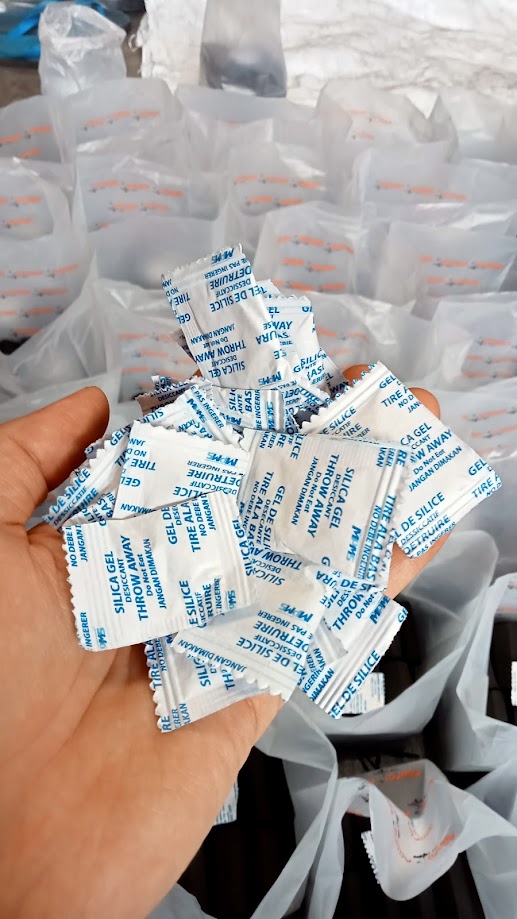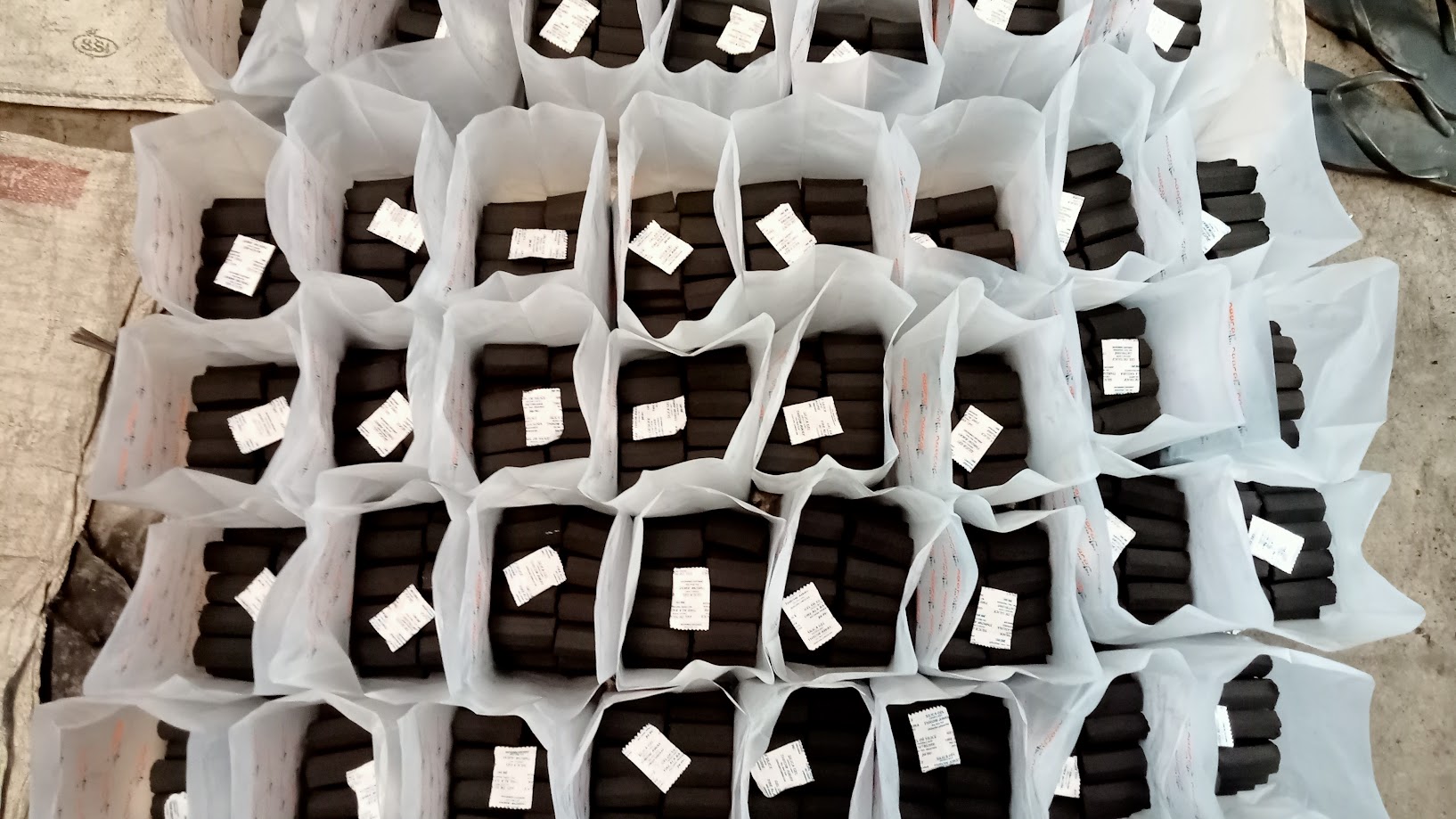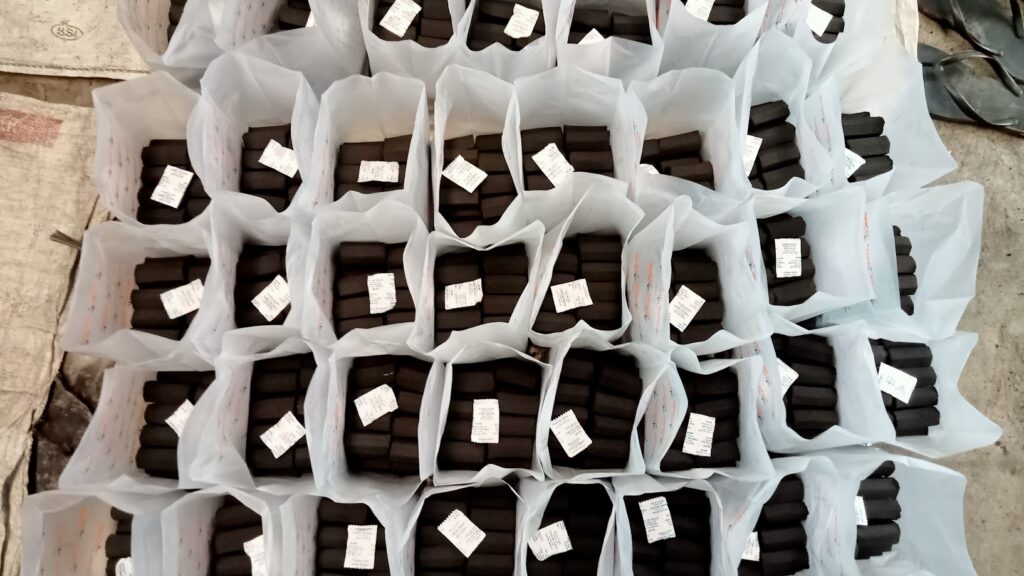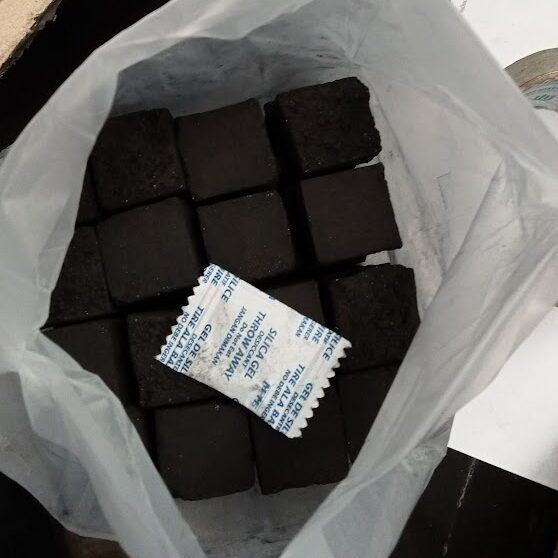 Stickers
Stickers are round or sometimes square stickers that are glued to the upper lid of inner plastic. It is visible only when the customer opens the master box or inner box. It is an additional element of branding and showing your buyers how you care about them.
We can add vinyl stickers on the inner plastic. When you open the inner box, instead of seeing just plain inner plastic, your customer will see the sticker with your brand name.
The sticker not only looks good, but it also works as an additional multi-use seal for the inner plastic.
After your clients open the charcoal they can properly close it with the striker again and keep protected from moisture.
Stickers can be round, square, or oval in shape.
Inner plastic production time
Usually, we have a big stock of inner plastic at the factory, so there is no time needed to reorder it. But again, if you want to print on plastic your brand or order is not a standard size (not 1 kg or 500 gr, or 250 gr) it will take additional time, approximately 1-2 weeks for the production and delivery to our factory.
Inner Box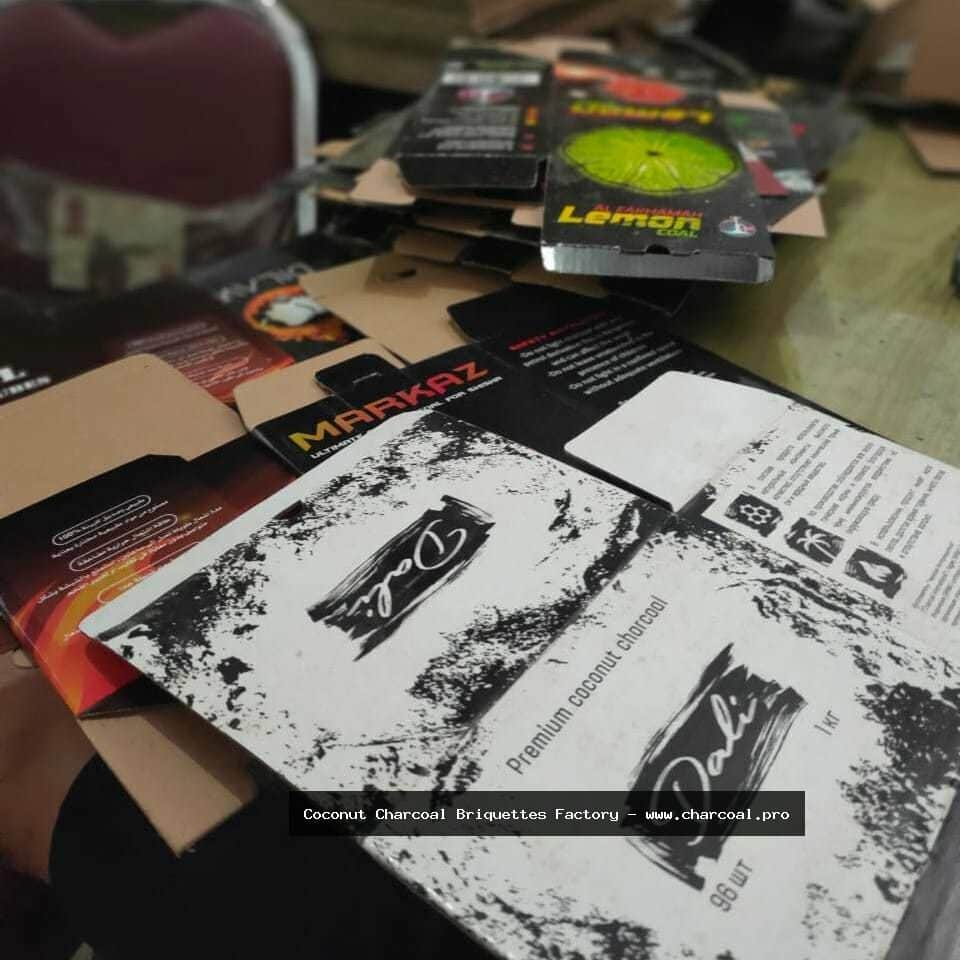 The inner box is a carton box printed with the client's brand. Basically, it is the main box that is being displayed in shops. All design ideas should be focused on the inner box. As I wrote before, the inner box makes the "first impression", so please be sure you make the best first impression by applying good design and good quality paper.
The inner box is made from corrugated e-flute and covered with duplex paper.
E flute
An E flute box is a type of corrugated cardboard packaging that is designed to provide strength, durability, and protection to various goods during shipping and storage.
It is named after the flute type used in its construction, where the term "E flute" refers to the thickness and size of the corrugated material.
Compared to traditional cardboard boxes, E flute boxes have a thinner profile due to their smaller flutes, which are the wavy, arch-like shapes between the two flat linerboard layers.
The E flute is generally about half the thickness of a standard corrugated box's flute, such as the B or C flute. This makes E flute boxes ideal for packaging for hookah coals.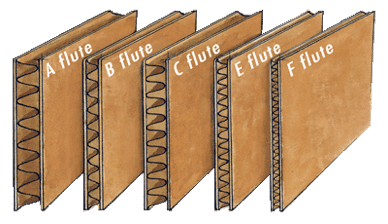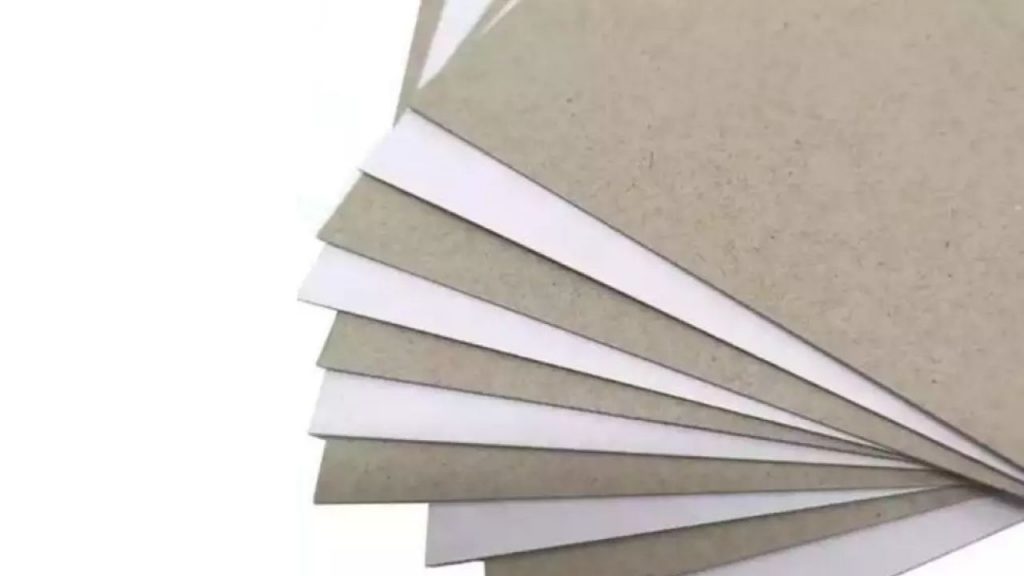 Duplex paper
Duplex paper, a popular choice for the cover material in E flute boxes, consists of two layers with different properties. This versatile paper is well-suited for various packaging applications, including E-flute boxes.
Duplex paper quality
Duplex paper is the upper layer of the inner box. All colors and prints are applied to the duplex paper, not to the e-flute corrugated carton.
The thickness of the duplex paper is very important to make your box stand out from others. The standard thickness of the duplex paper is 250 gr.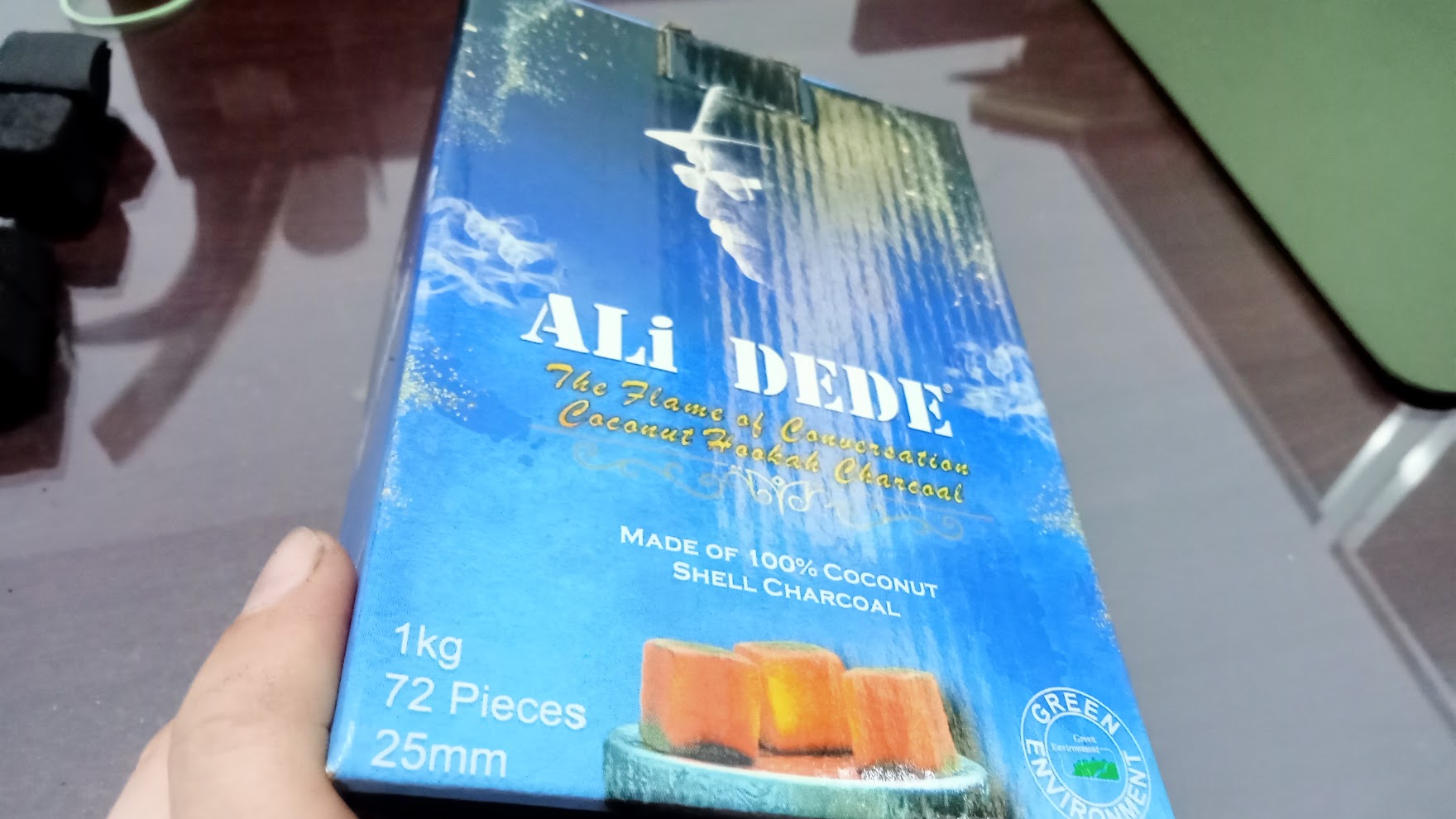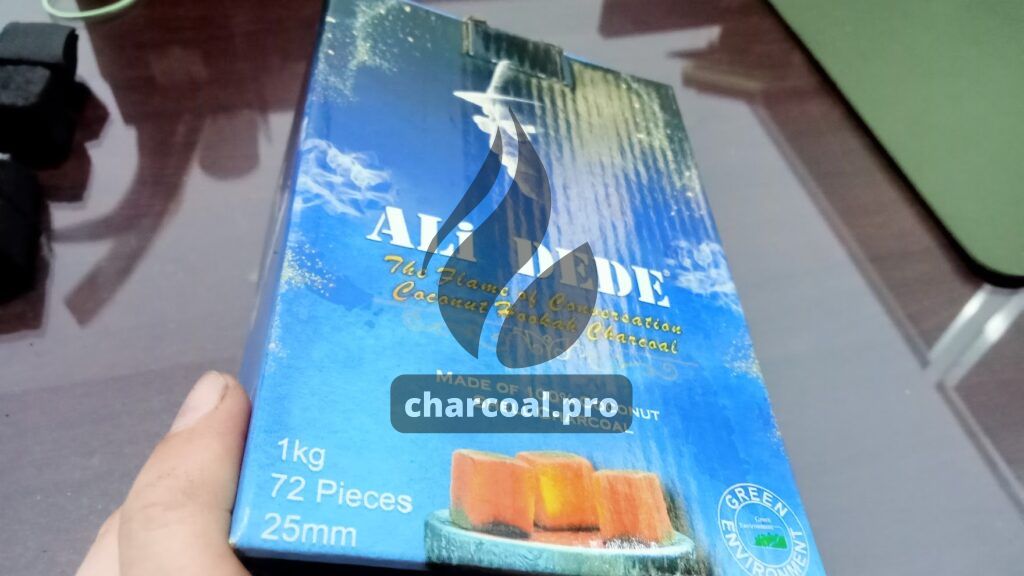 With the standard thickness of a duplex, you will see the 'ribs" on the box surface. Those ribs are from corrugated e-flute cartons.
If you do not want to have those ribs on your packaging and want your hookah coal box looks much more exclusive and luxurious the best is to use thicker duplex paper. Instead of 250gsm, we recommend using 270, 310 gsm, or 350gsm.
For comparison see the photo below:
inner-box-for-shisha-charcoal-standard-packaging-vis-good.jpg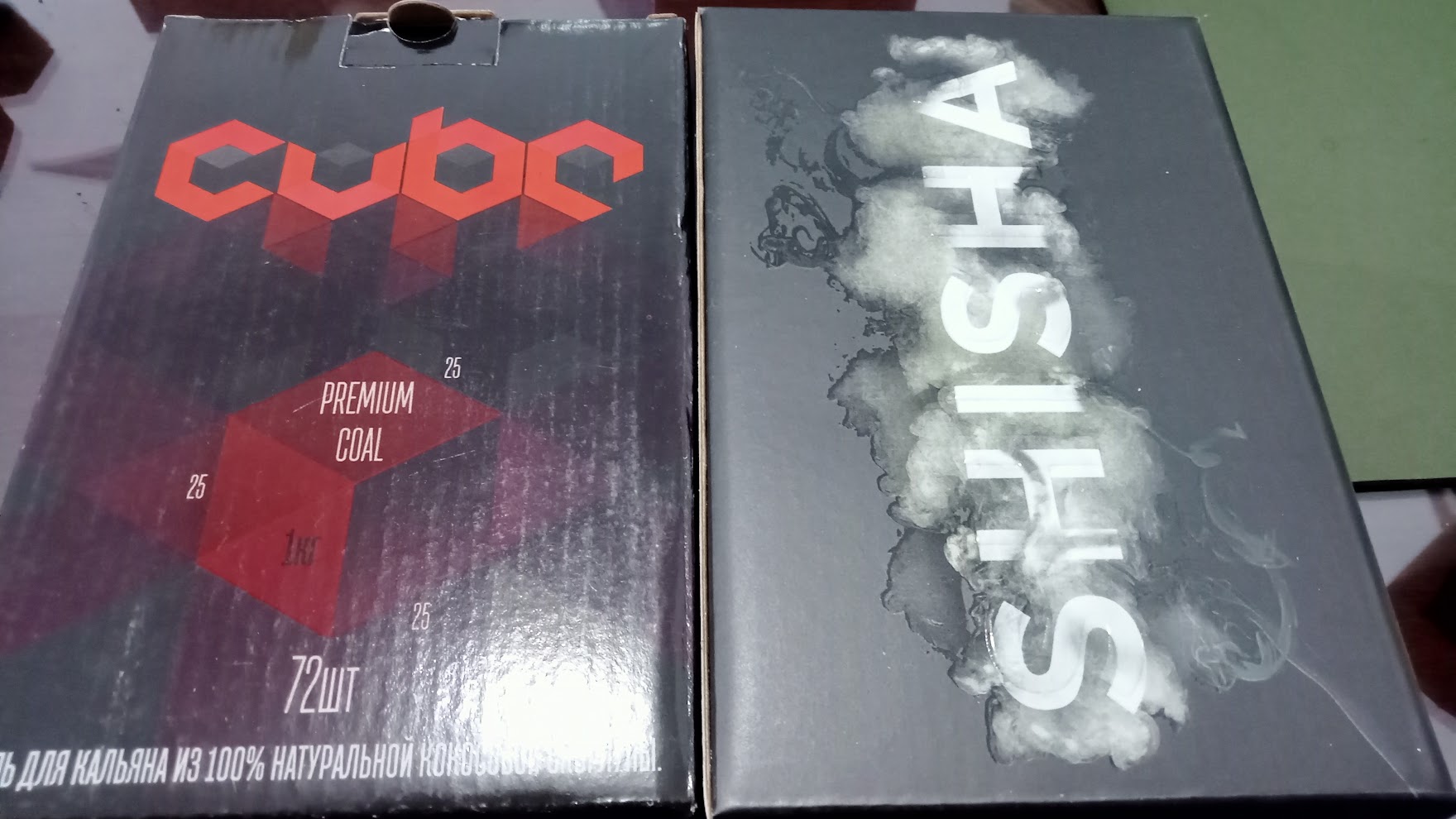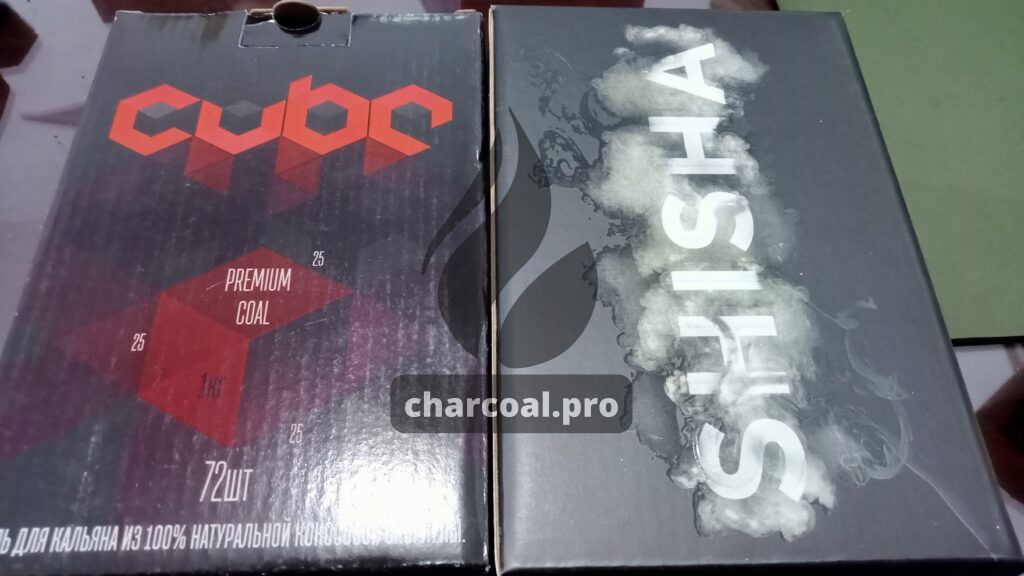 It is clearly visible that the right box looks better than the left one. The difference is in the thickness of the duplex paper.
Again with thicker paper comes a higher price. In general, thicker 310 or 350gsm duplex paper cost additional +80 USD per ton. Quite a price for the nice look.
How to make it cheaper? Simply order 100k+ boxes at once and the price will be much lower.
Inner box layout
Below is the layout for the most popular size of the boxes: for coconut charcoal briquettes shape cube 25 mm. You can use this layout to give to your designer to fit your design to the actual box size.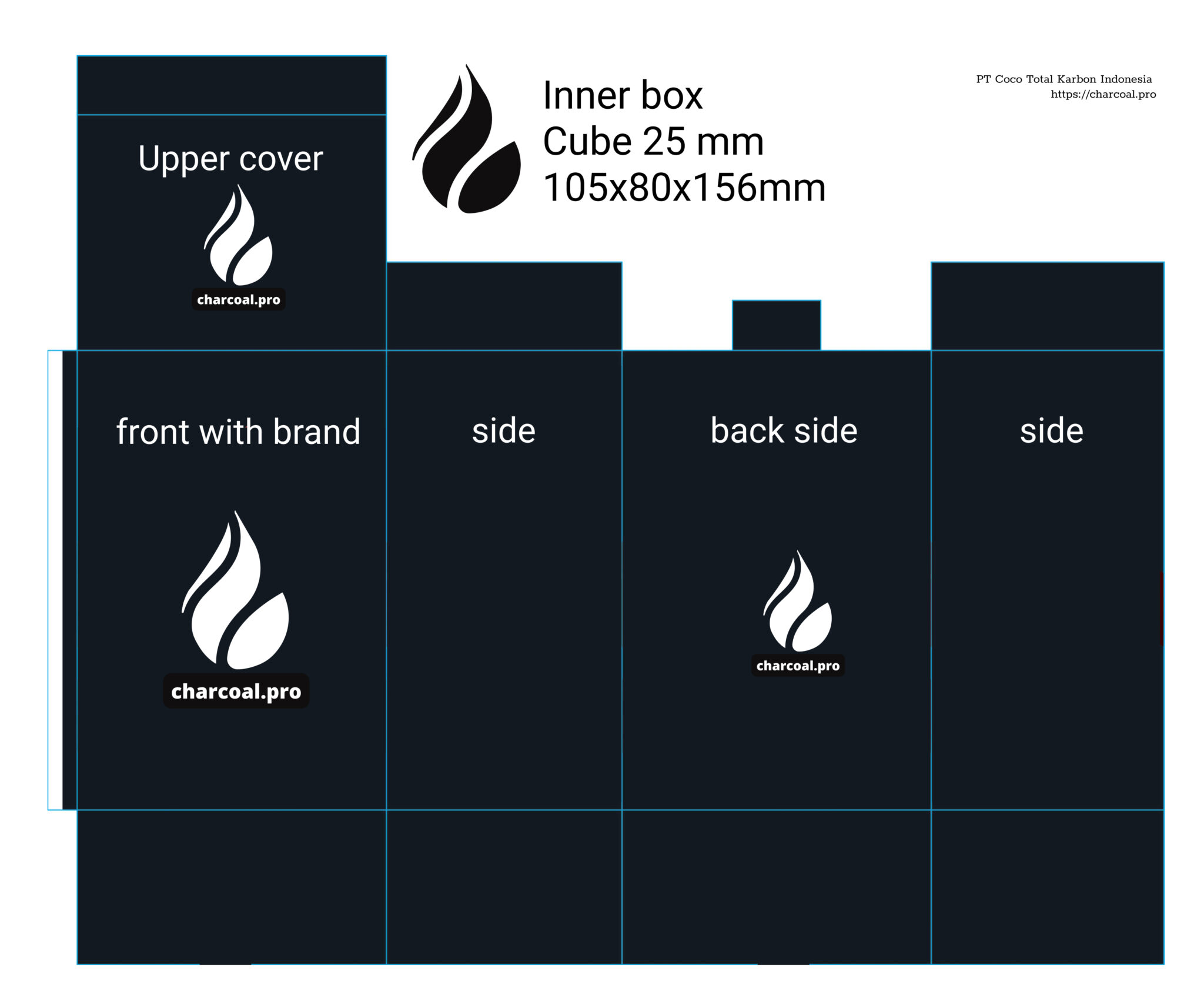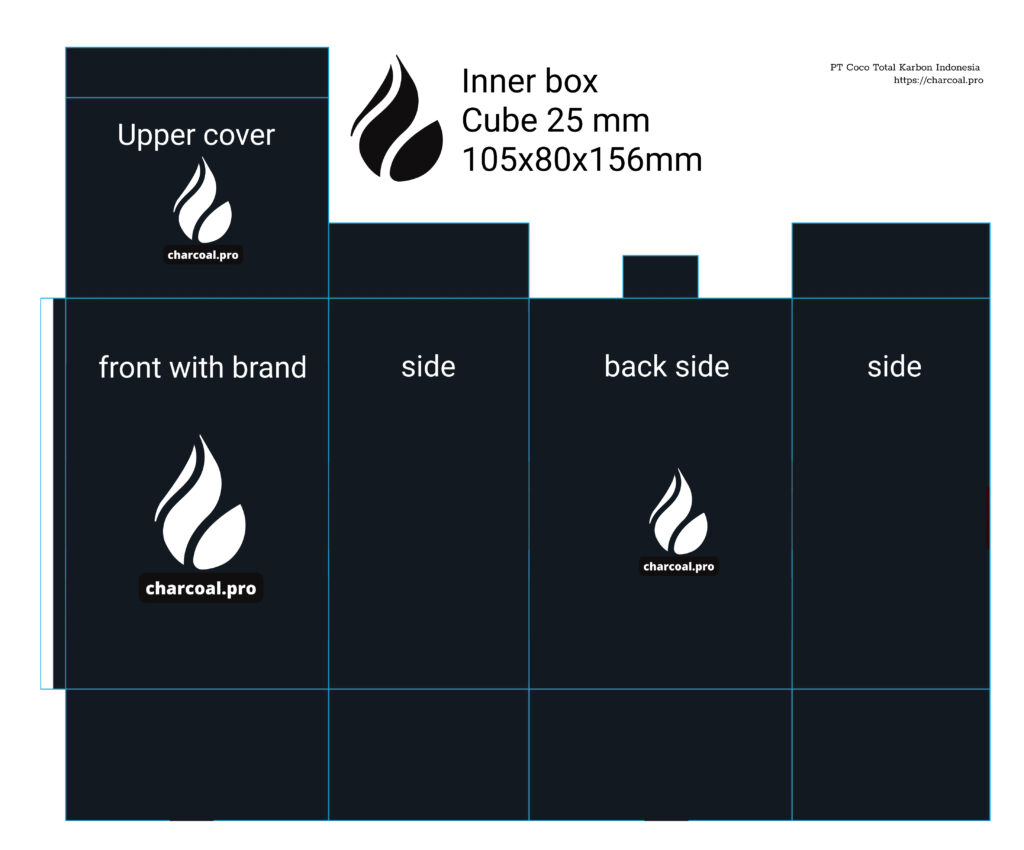 The design & layout of the inner box is usually done by the buyer. We manufacture under clients' brands only.
Cube 25 mm 1 kg
The most popular size is for a 1 kg cube 25 mm.
The size of the box is 105 x 80 x 57 mm with upper lead closing. Approximately 90% of all cube 25-cube charcoal is packed inside this box.
Inside one box there is 72 pcs: 6 layers of charcoal with 12 pcs of cube 25 mm in each layer. With a 3 by 4 layout.
The total weight is 1 kg and 25-35 gr of charcoal plus the weight of the inner box.
We can send you the exact size and layout for the box by request. Please WhatsApp us +628118797070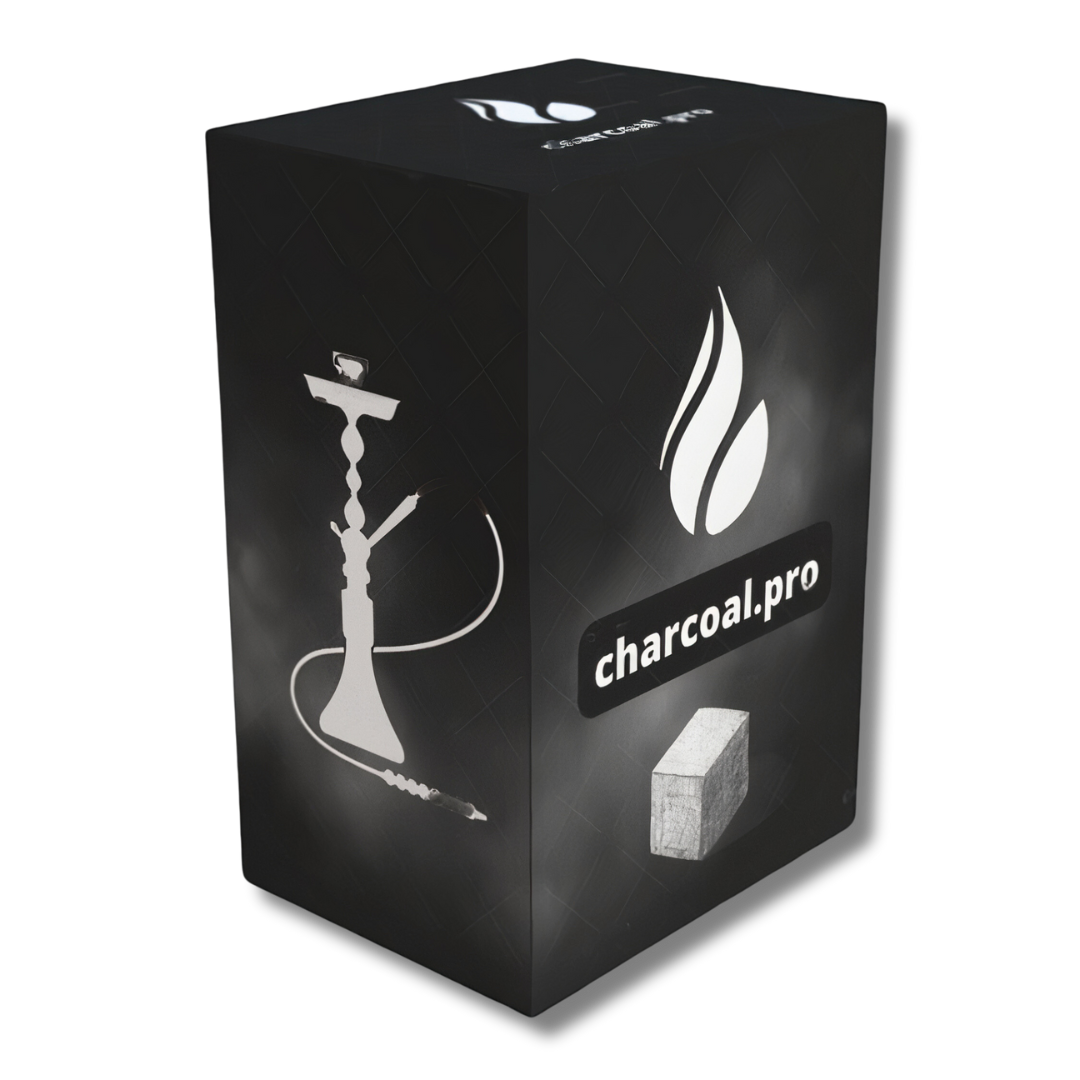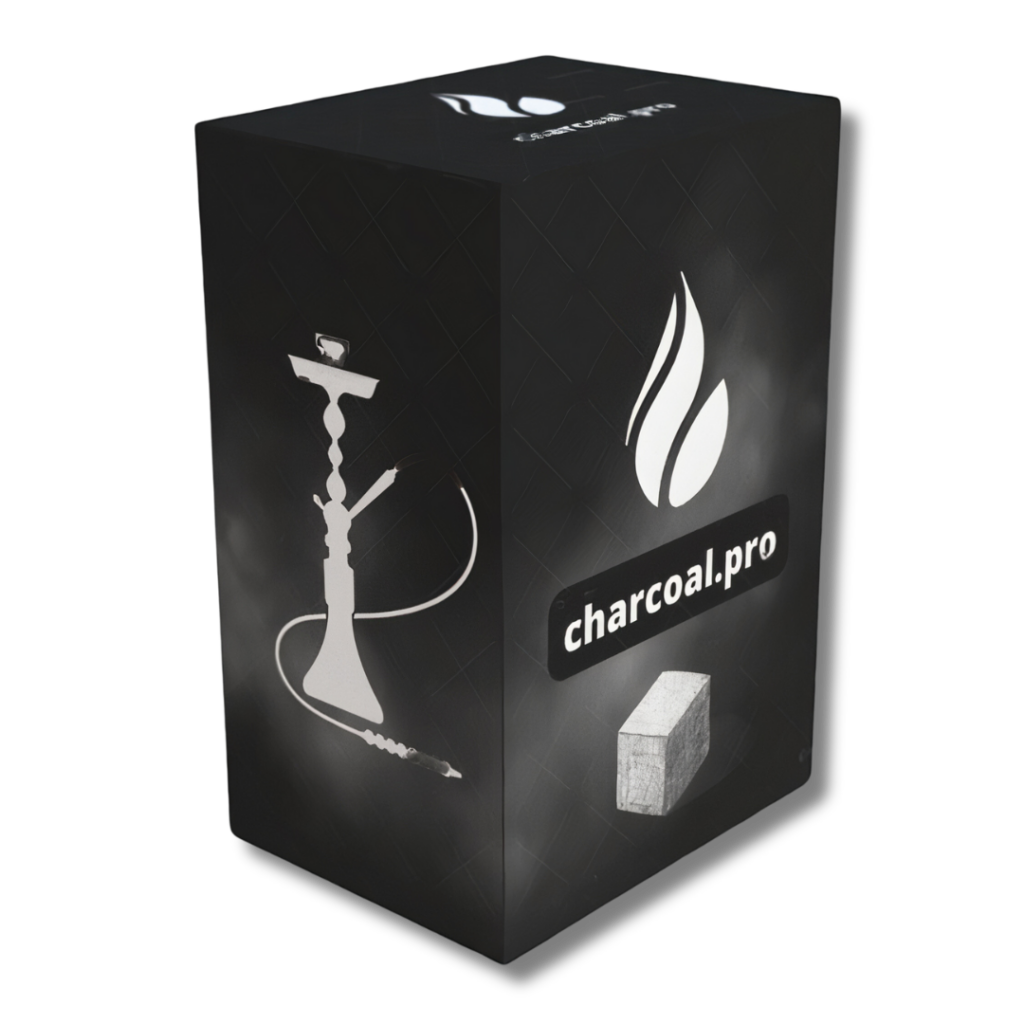 Cube 26 mm 1 kg
The second most popular size of shisha charcoal is a cube 26 mm. It is 64 cubes per 1 kg with a 4 by 4 layout of cubes. With a total of 4 layers of cubes.
The common size for the inner box is 111 by 111 by 111 mm.
If you need an exact layout for your designer please conduct me by WhatsApp or Email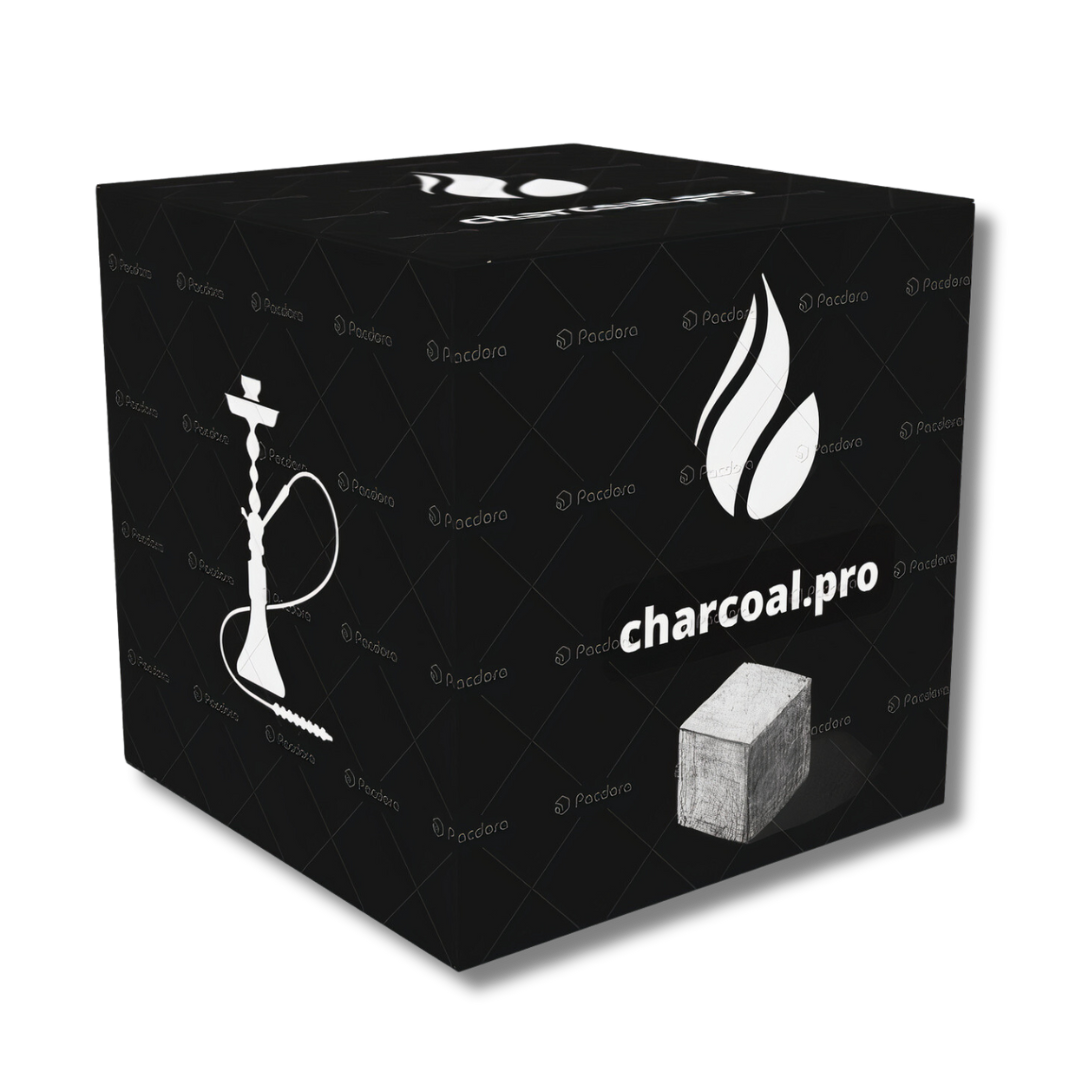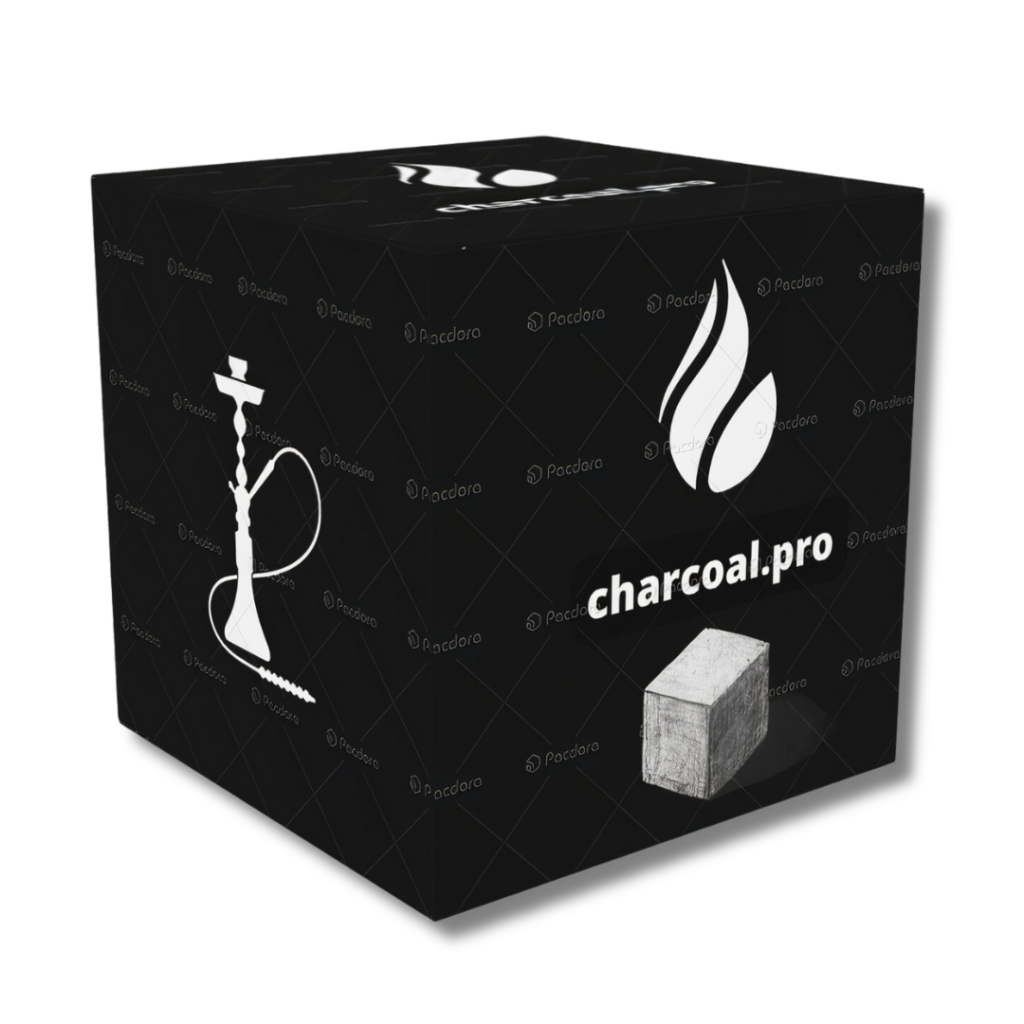 For sure there are a lot of other sizes and boxes types available. For example very popular in Russia and Europe is packaging by 250 gr. For cube 25 mm it is 16 pcs per box.
The box size is 80 x 55 x 80 mm. Usually, the small box is made just from Duplex 310 or 450 gsm, with UV finishing. The box size is small but still very popular among home users.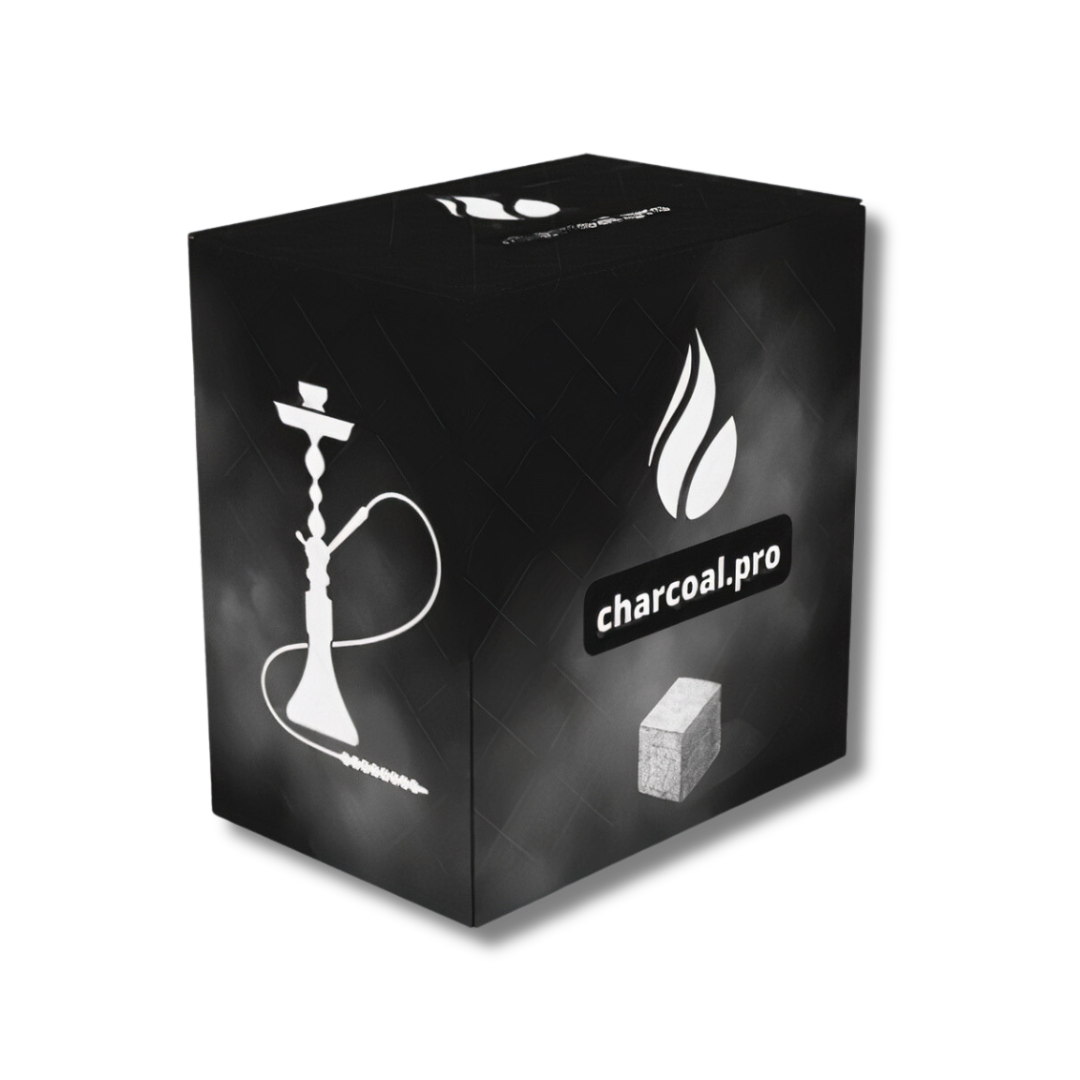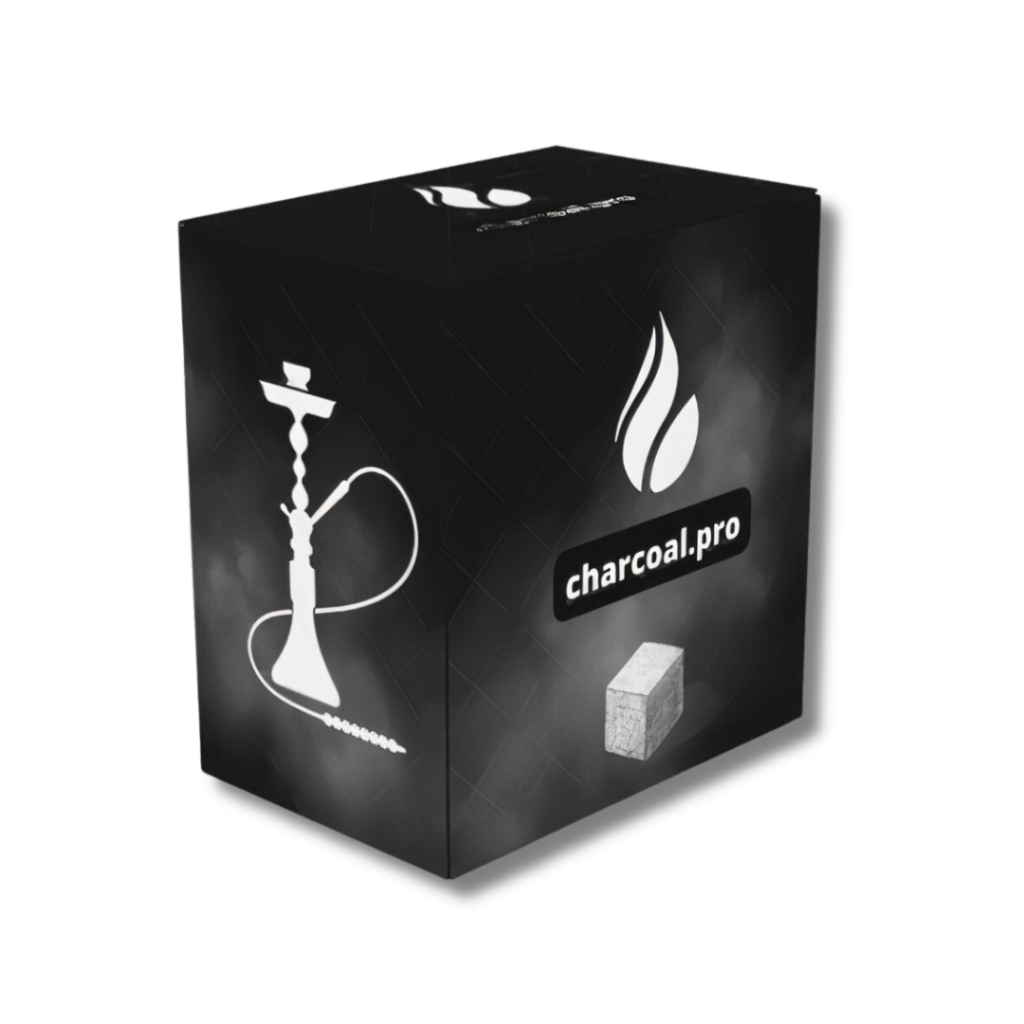 Another very popular design of the box is with a separated upper lid. This type of box is 3 to 5% more expensive in printing as it has a separate upper lid, but is easy to use.
The standard size for this type of box is 110x111x111 mm. The main box body is made with duplex paper and E Flute, while the upper lid is covereded with Duplex only paper.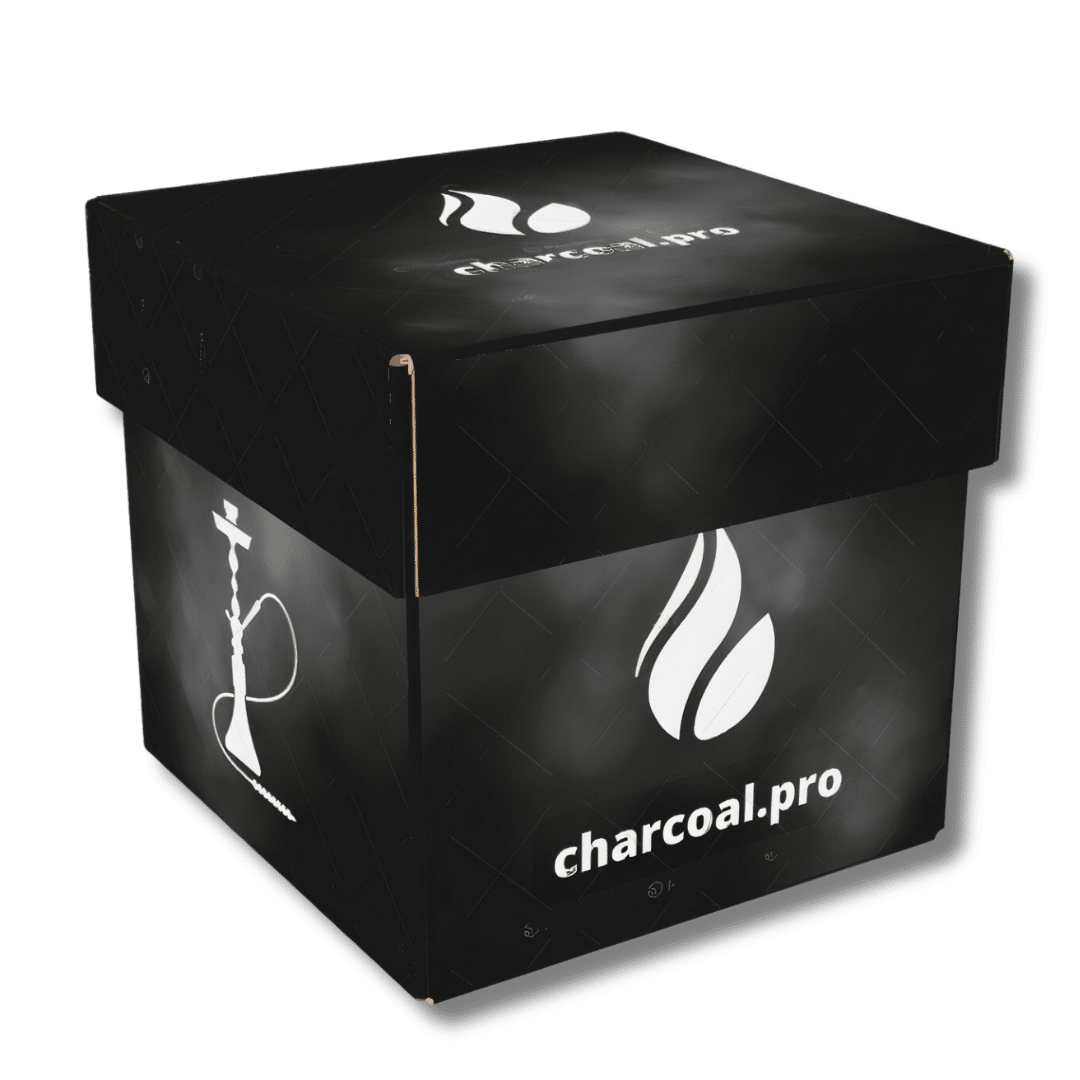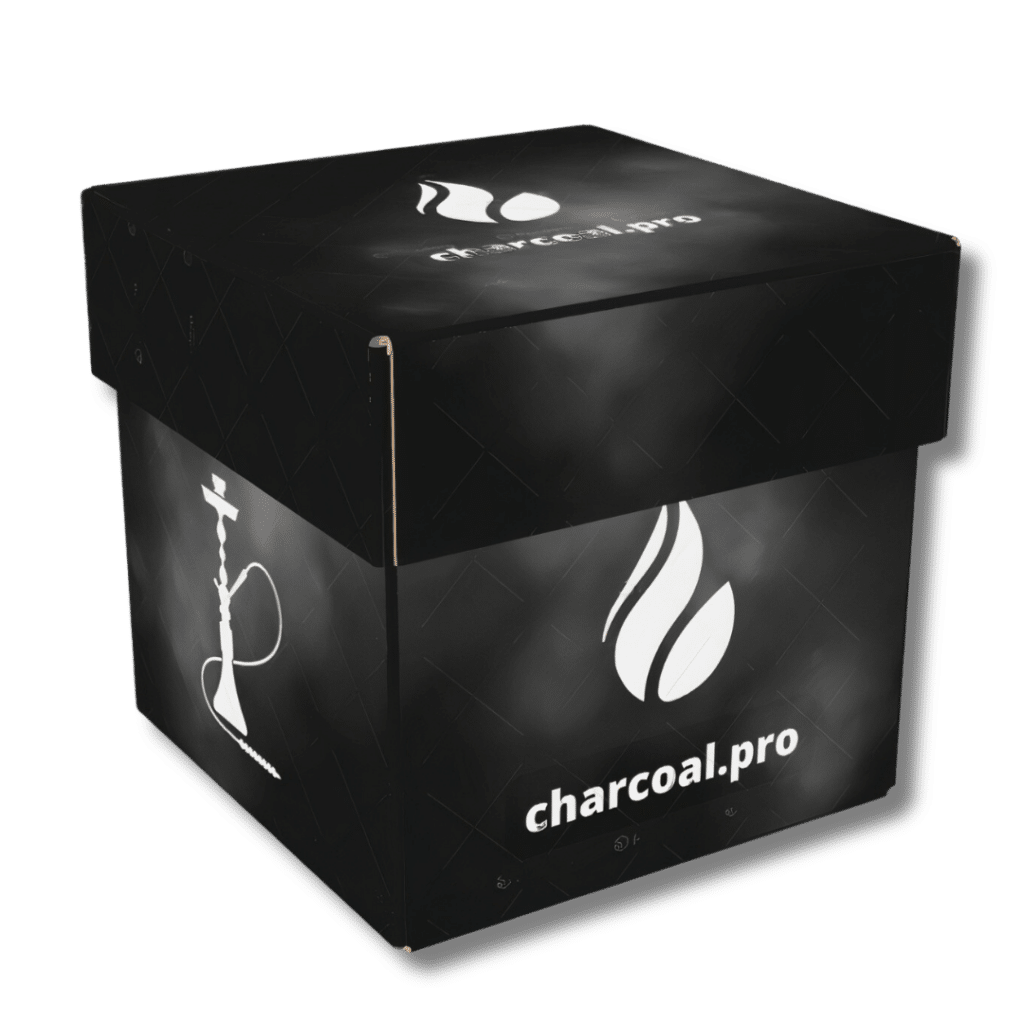 The most popular shape is a standing vertical box, but in my opinion, the best for clients is a horizontal box. Somehow only a few brands implement this user-friendly box design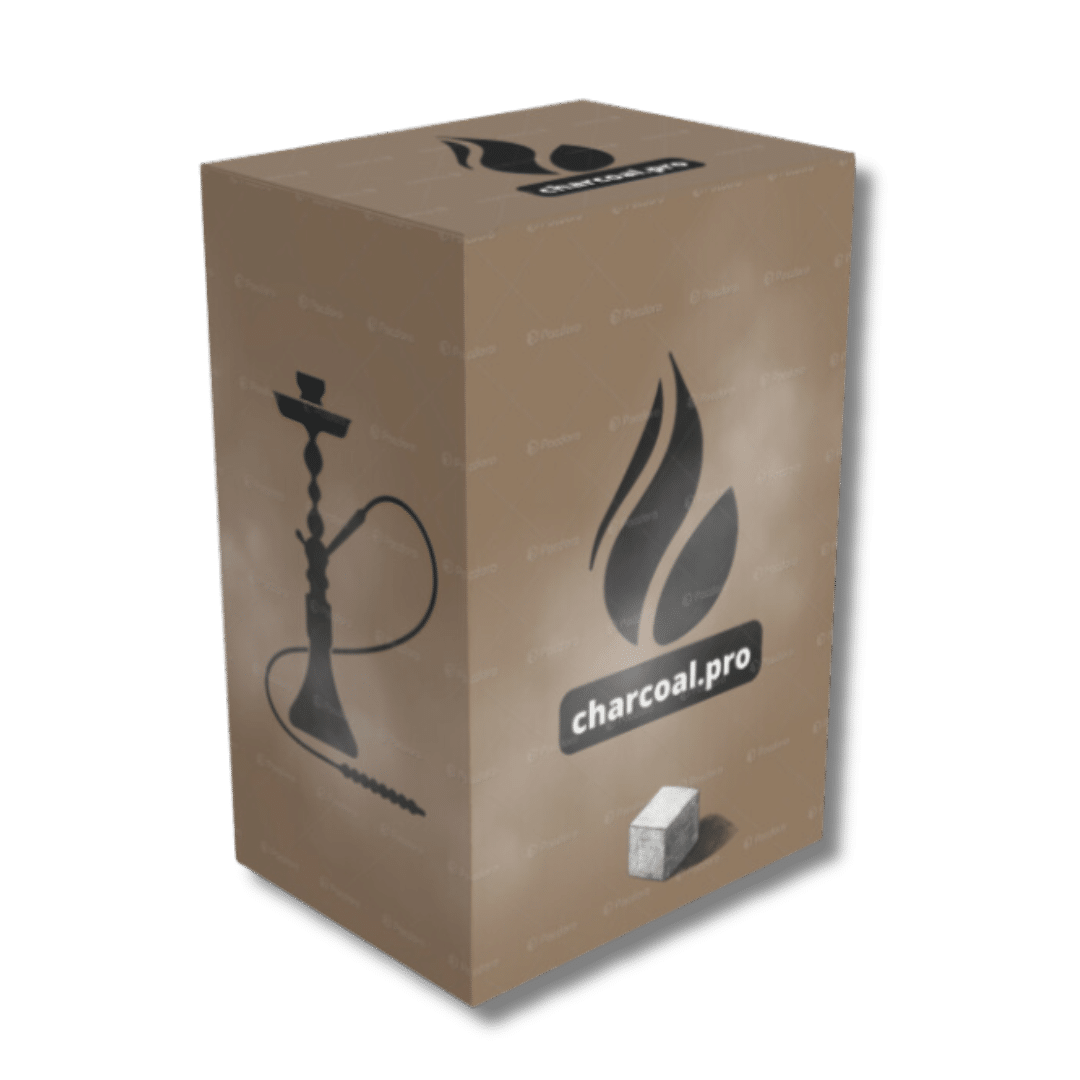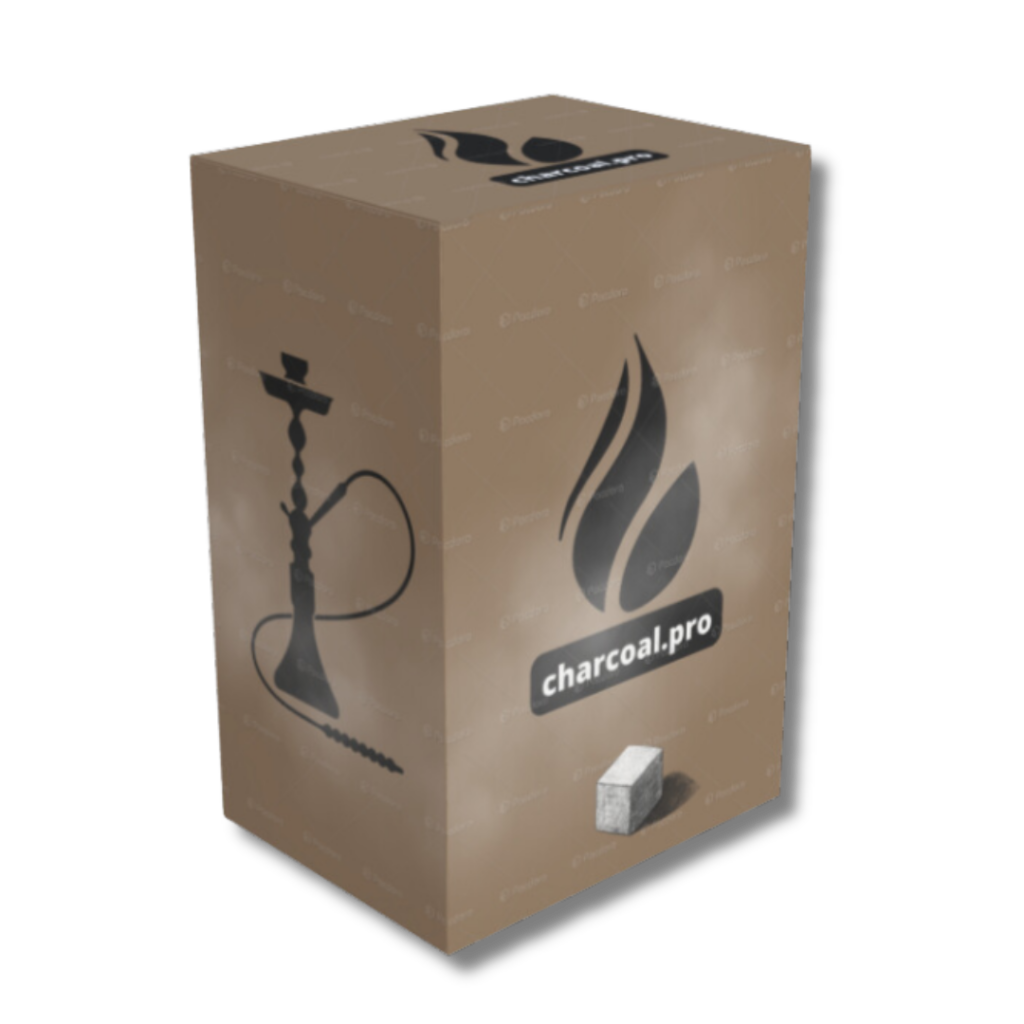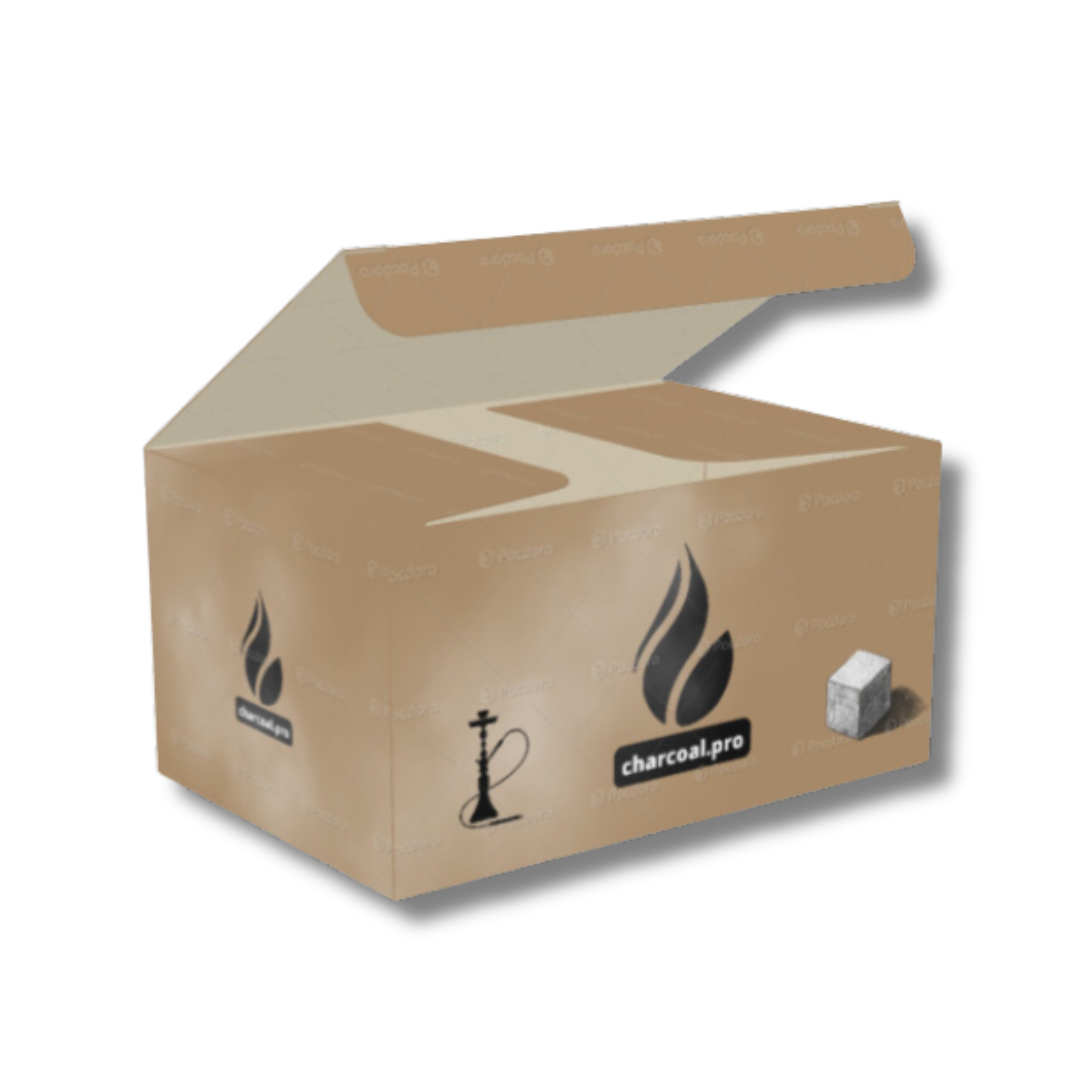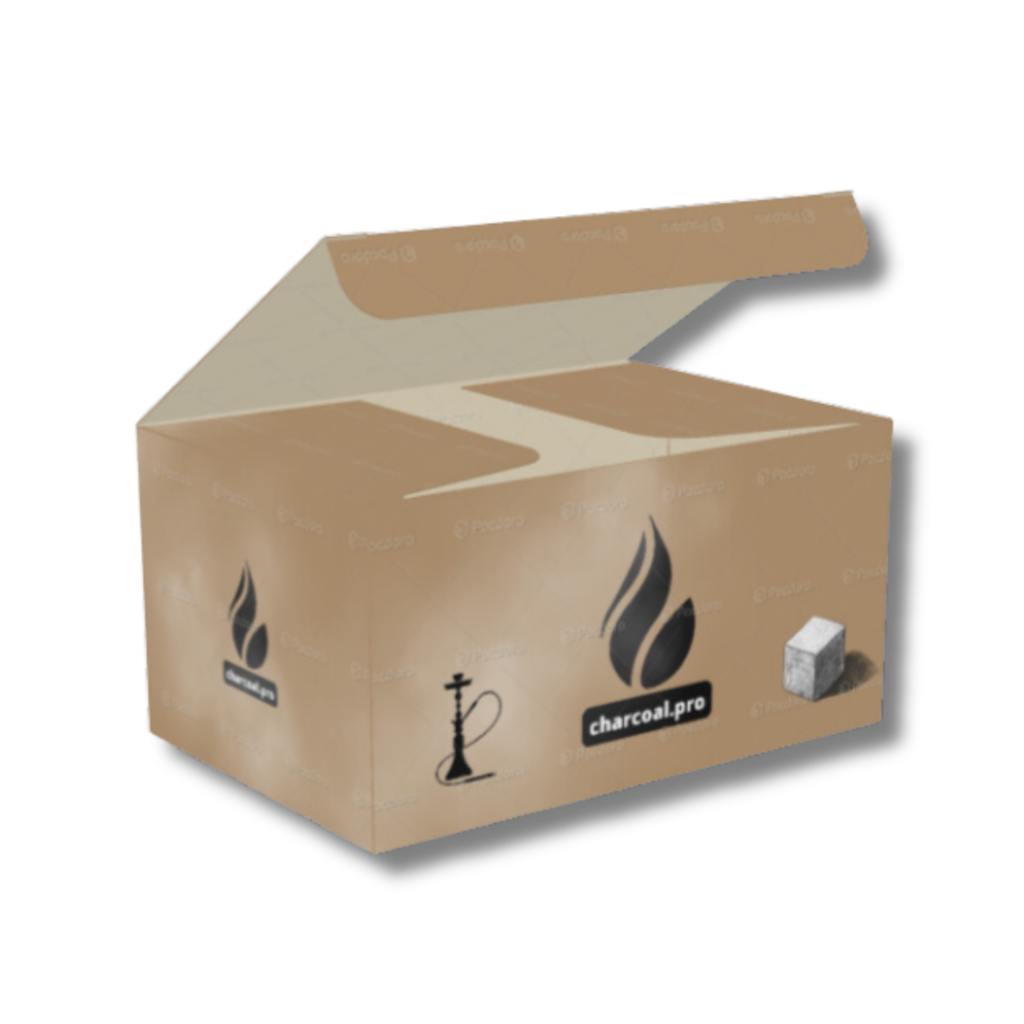 Why horizontal is better: simple – it is opened on a wide side and it is much easy to take charcoal with bare hands. The cost of production for both types of box shapes is the same.
Other box shapes & sizes
If you are planning to order cubes 20, 22, 26, or 27, and 28, 29, 30, and 31 mm or stix/finger shape the box layout will be different. Please contact me by WhatsApp or Email to get the proper box layout and size.


Besides it, we can make more unique shapes to fit your needs.
Open top, side opened, and many others.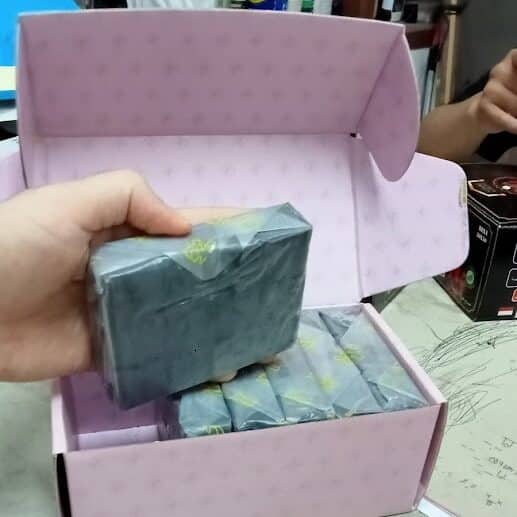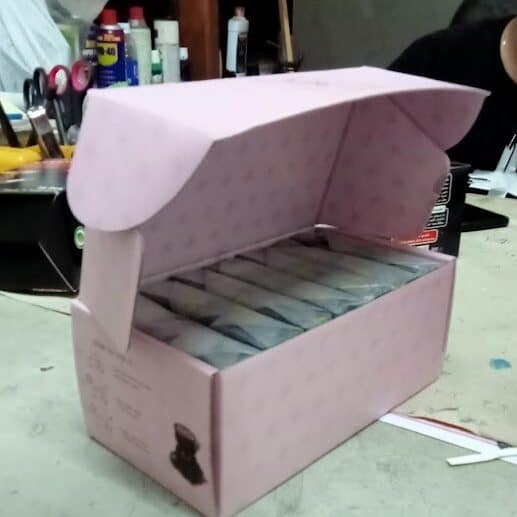 Pro Tips #1:
Do not forget that there is a difference between where glue is located on the box. So the box is cut from the list of paper and then folded together. The location where one side is attached and glued to another is called the "glued side" of the box.
So the glued side of the box can be in front: where the upper lid lock is located or at the back. The most popular and recommended location of the glued side is the back side of the box. See the image below.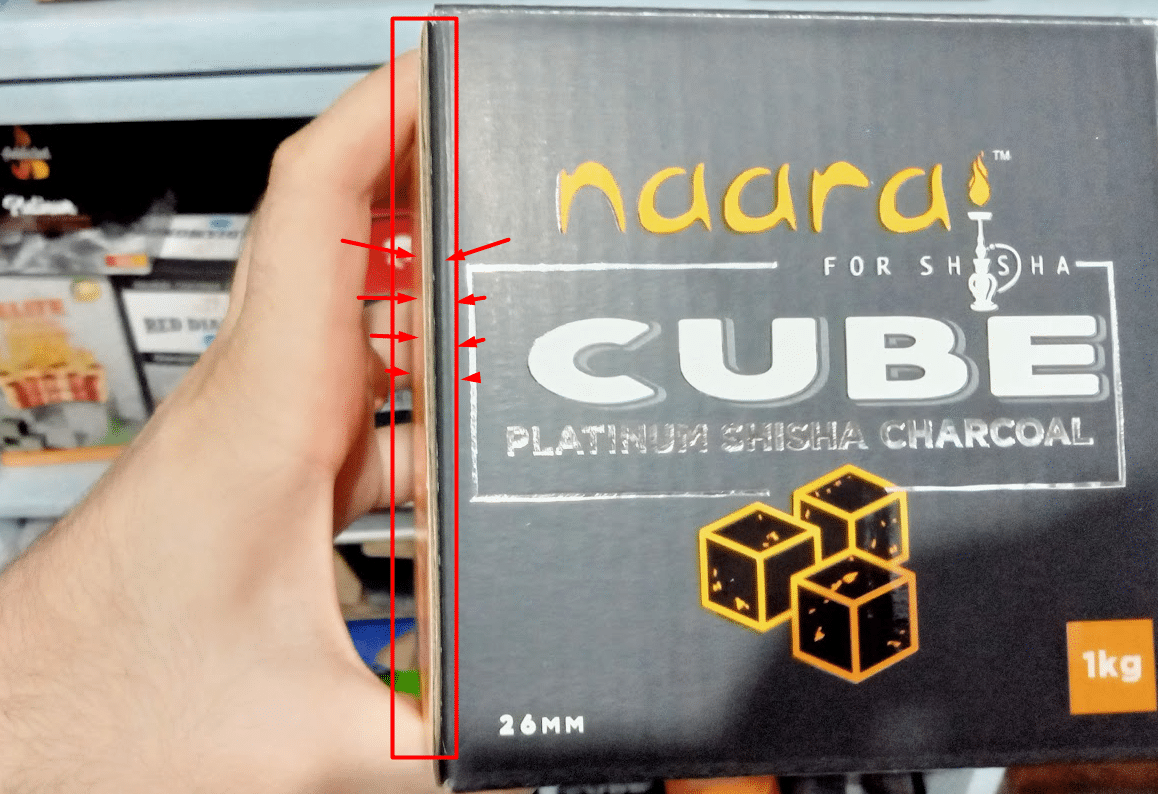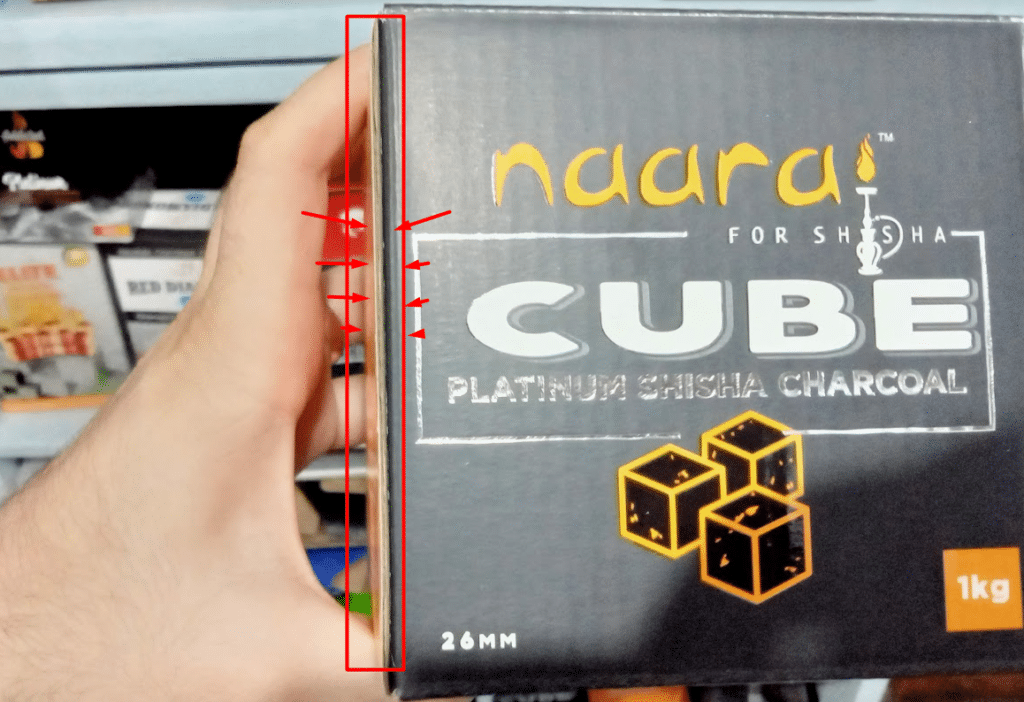 But, again, you can choose by yourself where to put the glued part. It is really pro tip that 99% of charcoal buyers even do not know about it.
Pro tips #2
The location of the lock of the upper lid. Actually, there are two variants for upper lid location: on the top of the lid or on the side of the box.
The most popular and common location of the lock is the side wall. Again, while printing you can choose the location of the lock by yourself.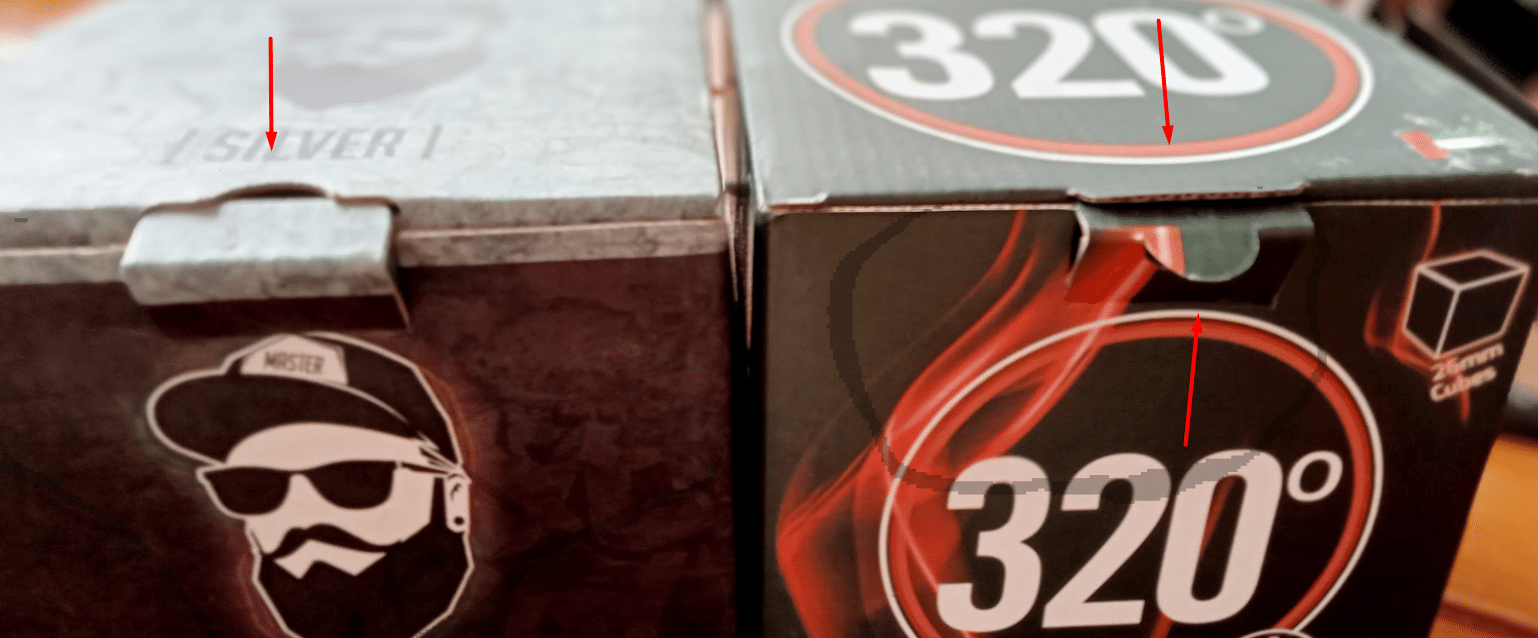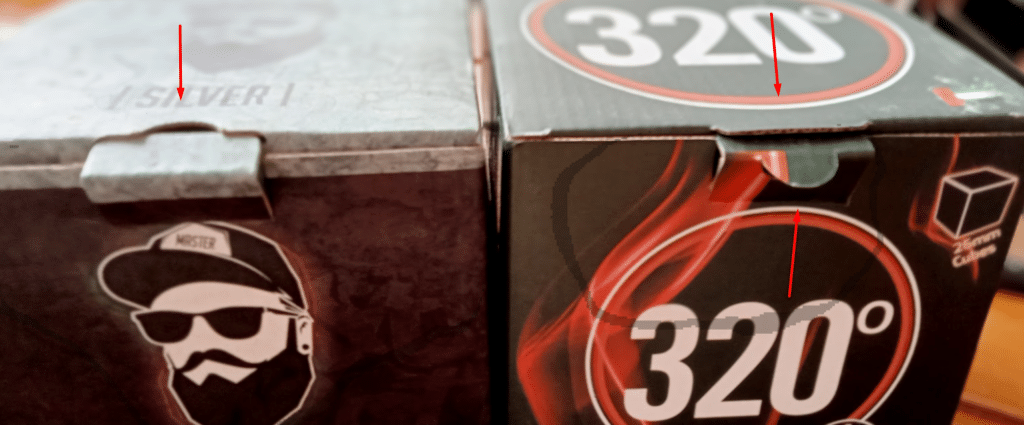 Inner box plastic wrapping
By request, we can wrap your inner box hookah coals packaging inside the plastic. It is shrinkable PVC plastic that adds an additional layer of protection to your boxes. It keeps it from moisture and dust.
But again with additional wrapping comes an additional cost of approx 22 USD per ton.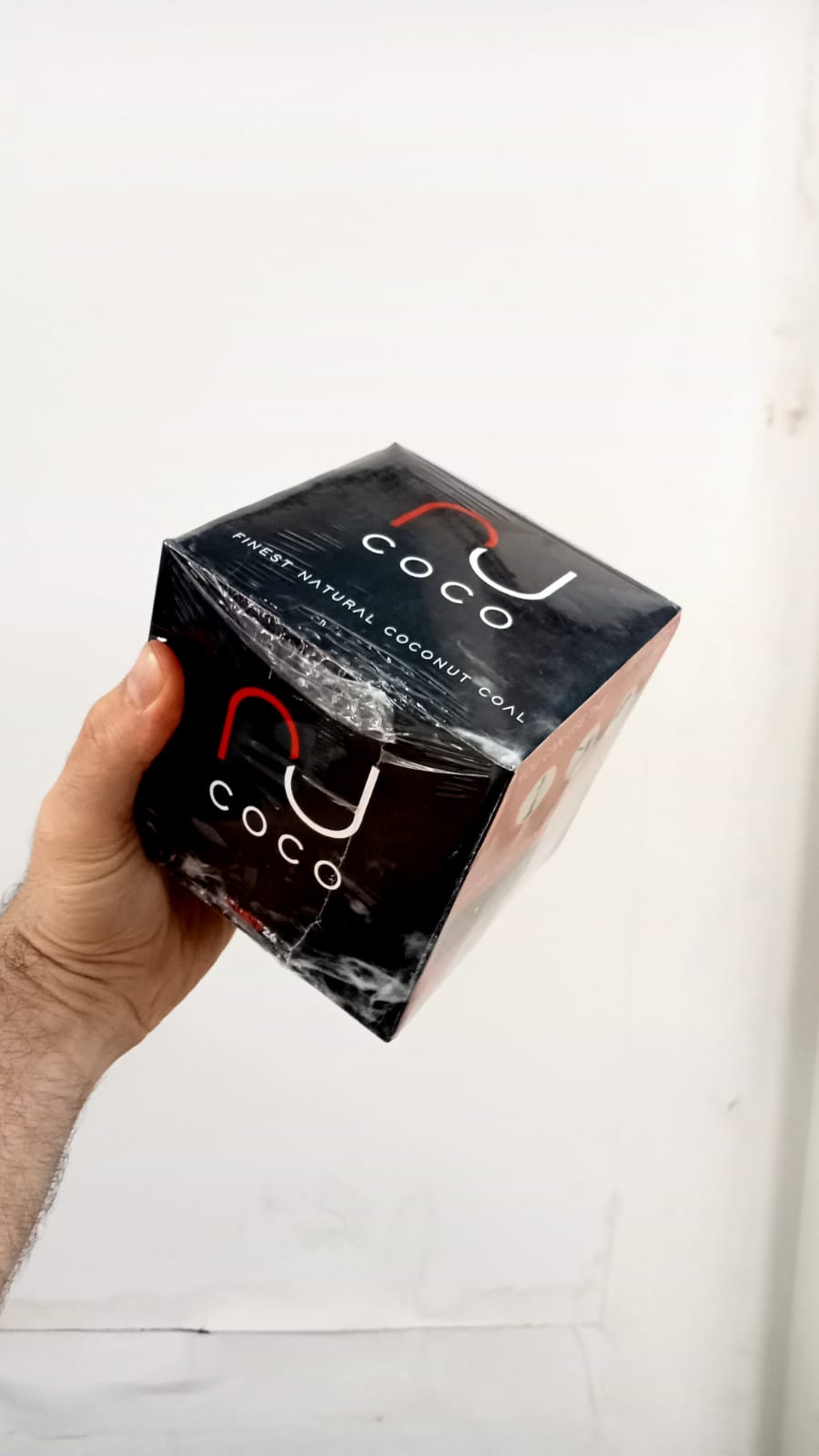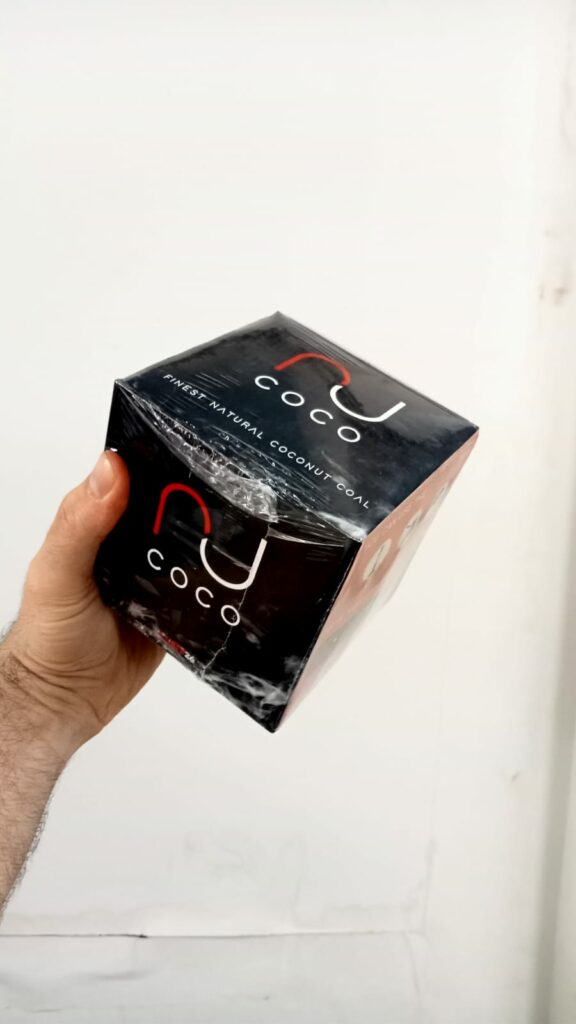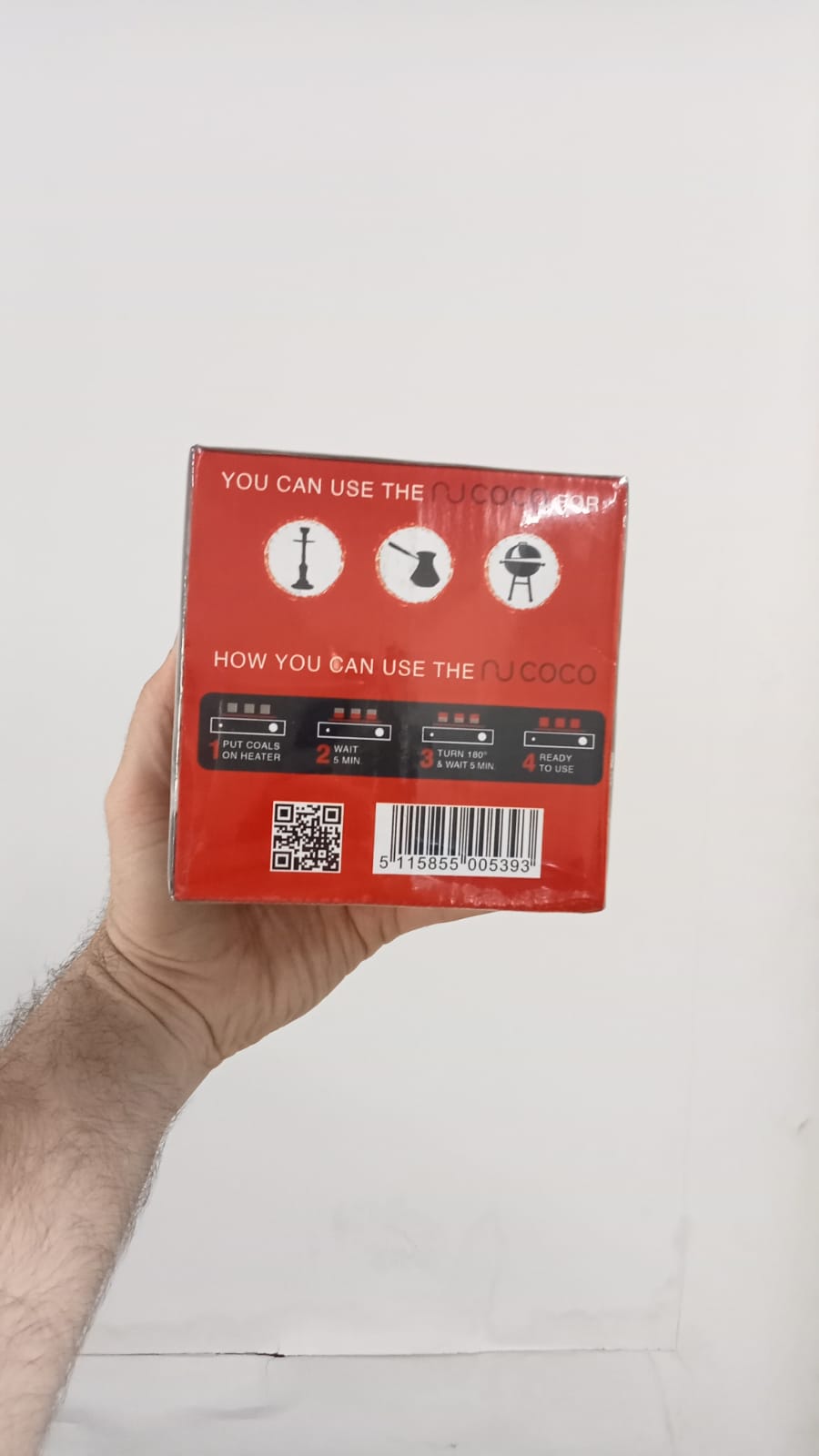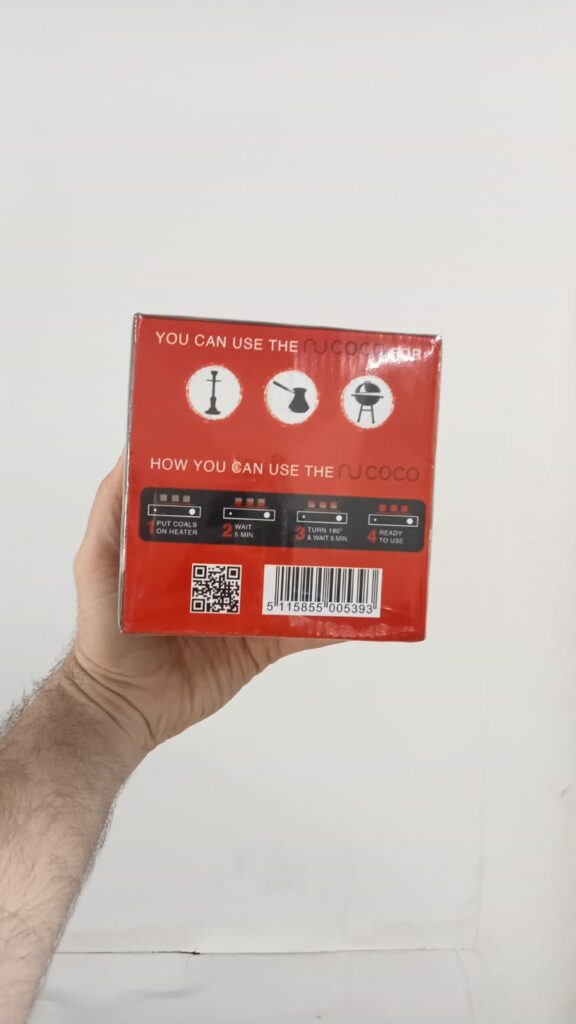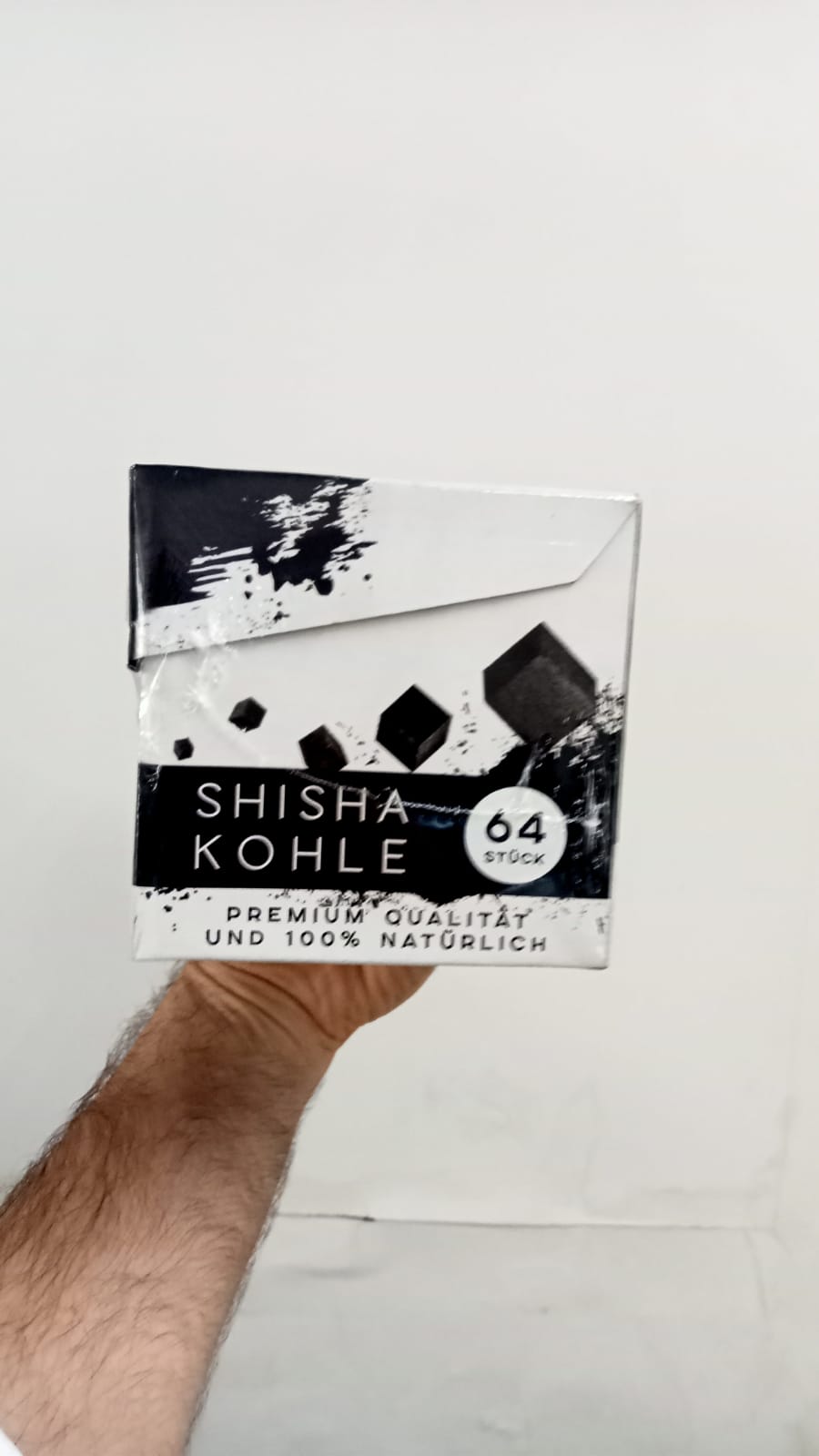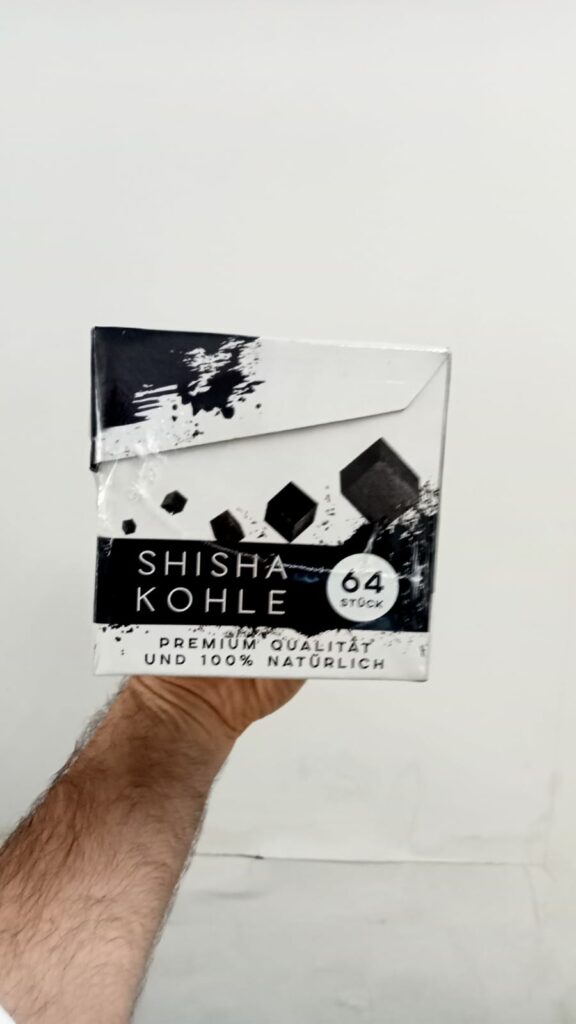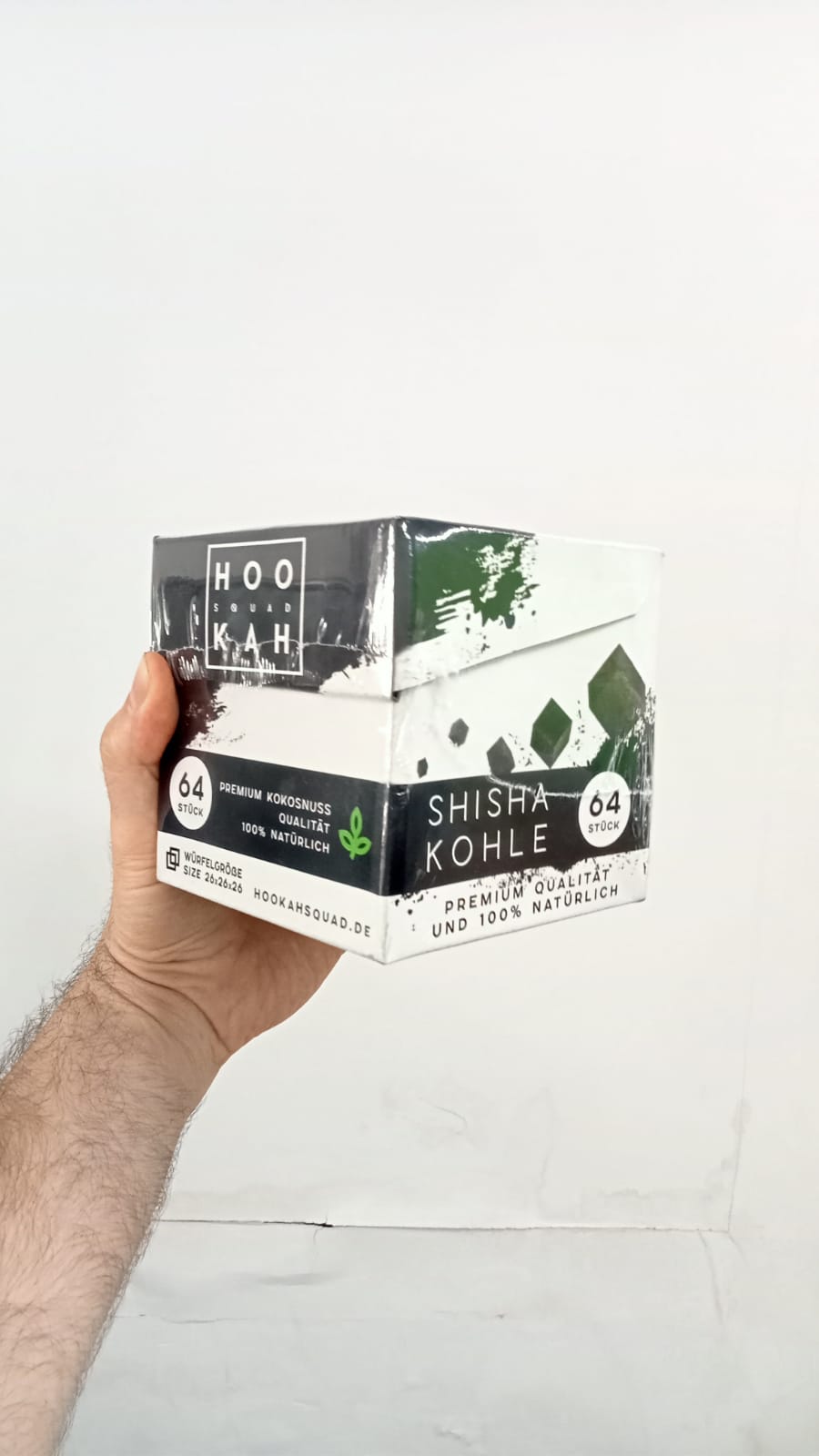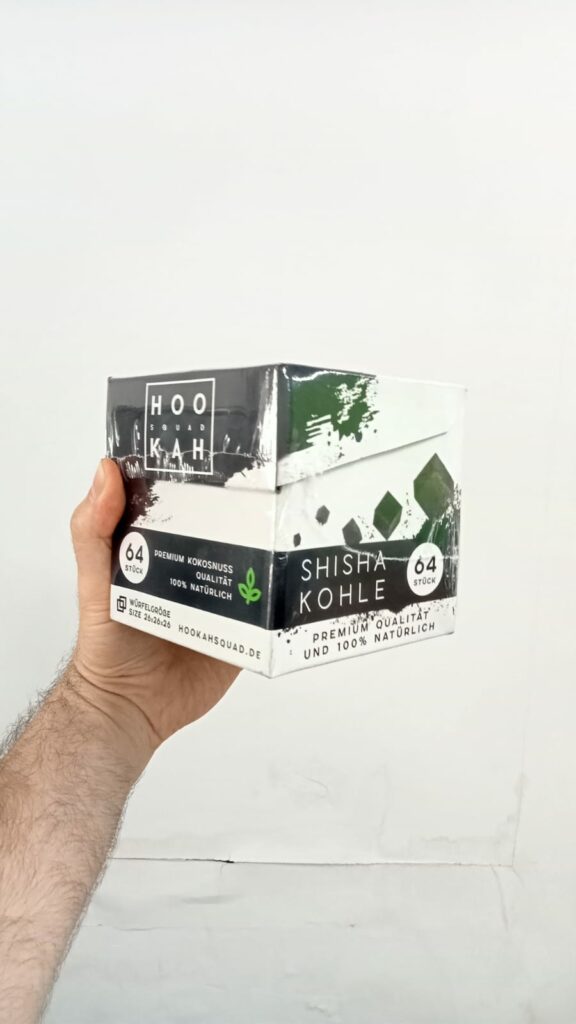 Outer wrapping can by done by automatically by heat wrapping machine or manually.
Inner box finishing
Finishing the inner box means what the outer cover of the color is on the box. The standard one is UV finishing.
Besides UV finishing we can do:
water based finishing (the cheapest one)
UV finishing (standard) Matt or Glossy
OPP finishing Matt or Glossy
What is the difference between UV-based finishing and Water based finishing?
Basically, it is the quality of the "skin" of the box. UV makes it shinier and more protected compared with water-based finishing. UV-based finishing and water-based finishing are two different types of surface coatings used for hookah coals packaging.
Standard (at our factory) is UV-based finishing. But keep in mind that some factories keep Water based as standard, which is why the price for charcoal can be cheaper.
UV-based finishing uses UV light to quickly cure coatings containing photoinitiators, while water-based finishing relies on water as a solvent for the coating. UV finishing offers rapid curing and excellent hardness, while water-based finishing is more environmentally friendly with good durability. The choice depends on application needs and environmental considerations.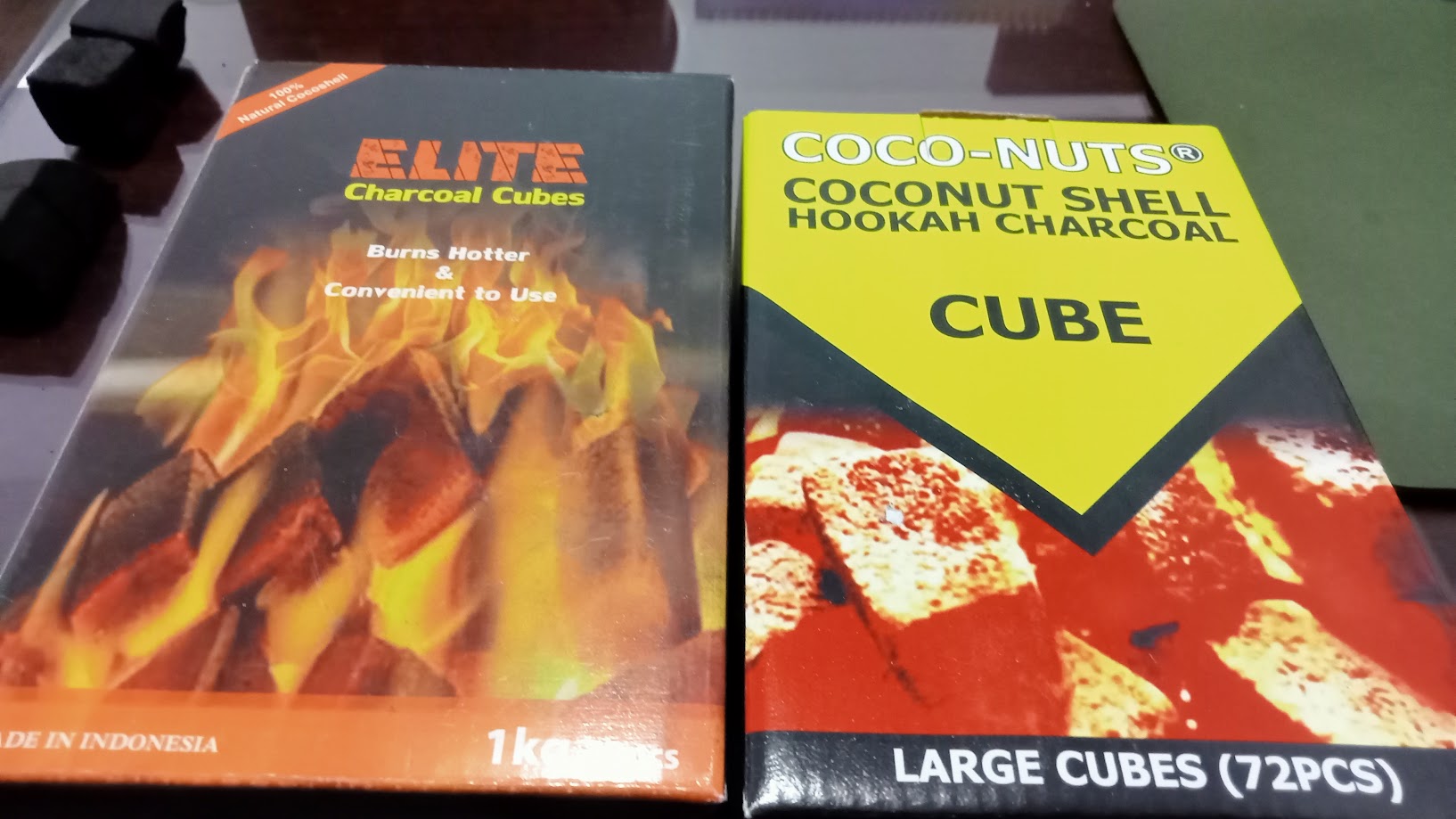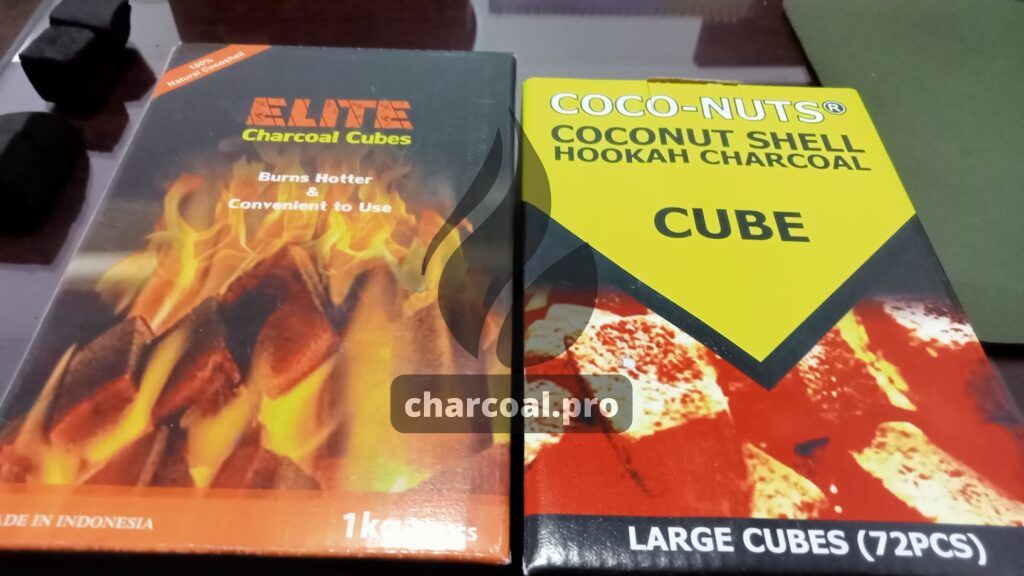 From the photo above you can see that the difference is quite visible. On the other hand water-based is slightly cheaper than UV based.
What is the difference between Glossy and Matt finishing
All type of finishing Water based, UV and OPP can be made in Glossy and Matt format
The main difference between glossy and matte finishing lies in their appearance and surface characteristics:
Glossy Finish:
Appearance: A glossy finish has a shiny and reflective surface, creating a high-gloss or mirror-like appearance. Light bounces off the surface, making colors appear vibrant and saturated.
Texture: The surface of a glossy finish is smooth and even, without any visible texture.
Reflection: Glossy finishes reflect light, which can lead to glare or reflections in certain lighting conditions.
Stain Resistance: Glossy surfaces are generally more resistant to stains and liquids due to their smoother texture.
Matte Finish:
Appearance: A matte finish has a non-reflective, flat surface with a subtle sheen or dullness. It provides a soft and understated appearance.
Texture: The surface of a matte finish may have a slightly rough or granular feel, which diffuses light and reduces glare.
Reflection: Matte finishes do not reflect light, making them ideal for spaces with bright lighting or where glare is undesirable.
Stain Resistance: While matte finishes are less resistant to stains compared to glossy finishes, any stains that do occur are less noticeable due to the lack of reflections.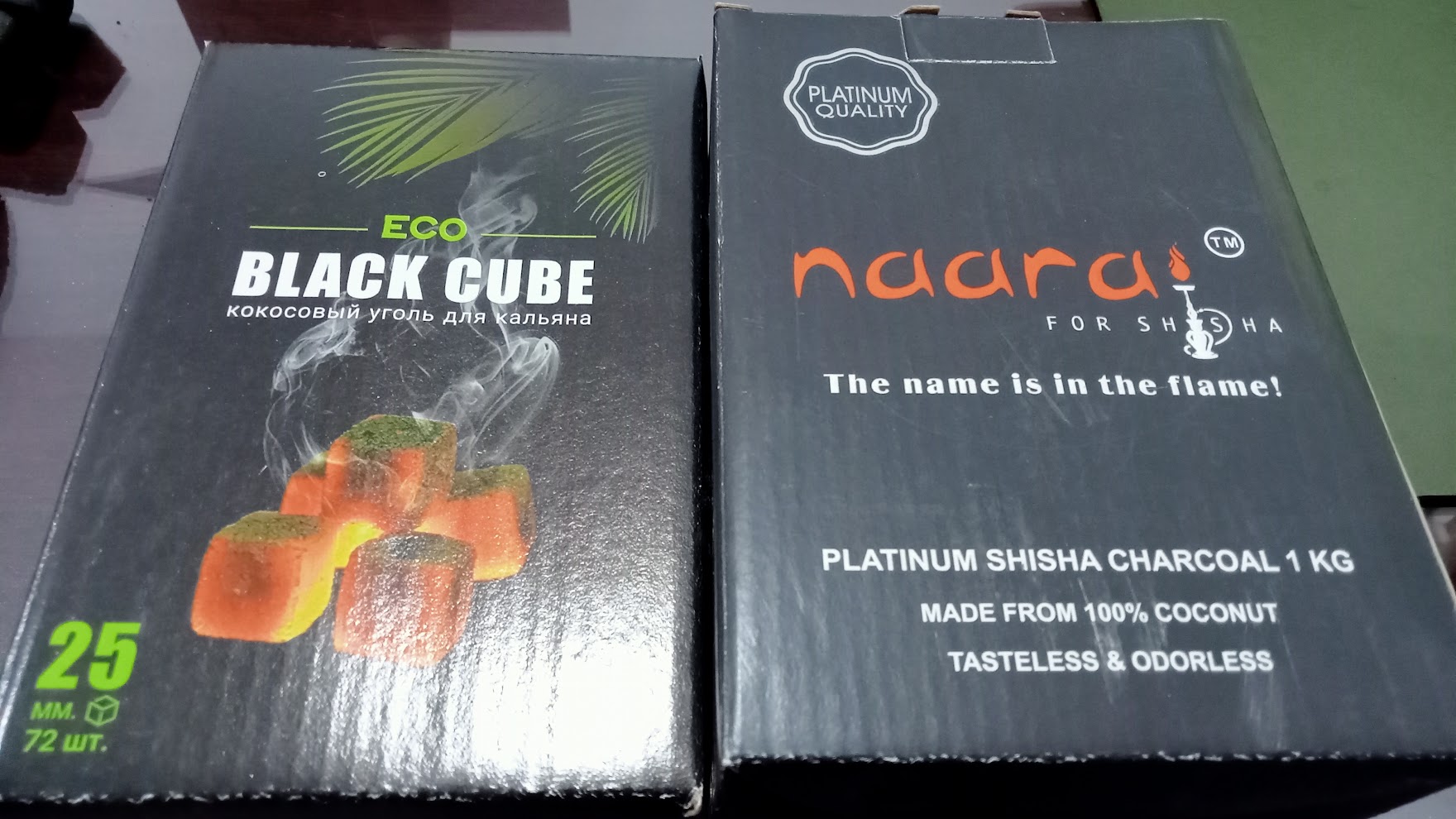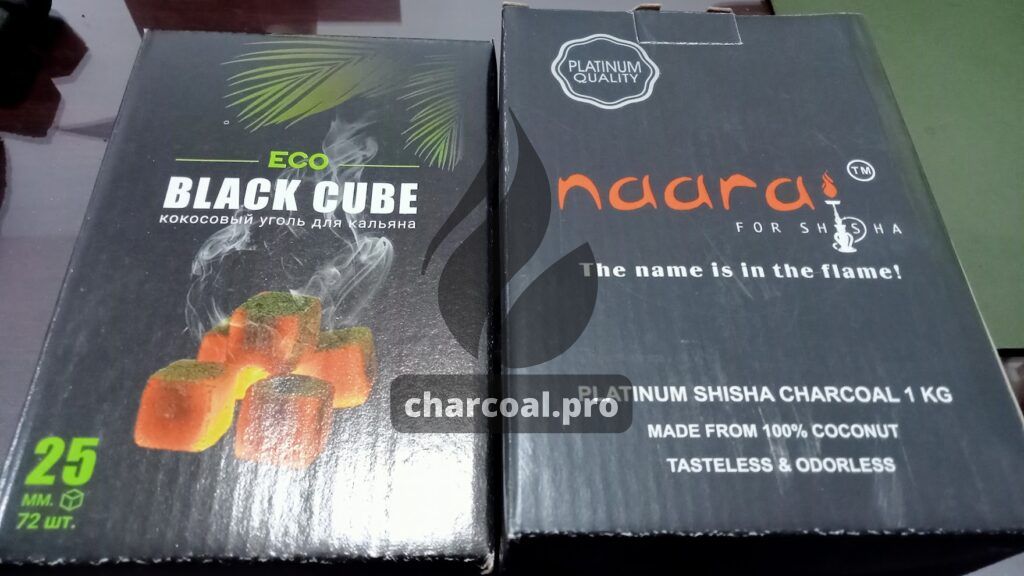 Simply UV is more shiny and blinky than matt finish. Matt is calm and flat. It is better to consult with our manager to check what kind of finishing is the best for your box design.
What is the difference between UV finishing and OPP Finishing?
OPP stands for Polypropylene (OPP) lamination. It is an additional layer of thin plastic applied to your inner box for color protection.
OPP lamination involves applying a thin layer of polypropylene film onto the surface of the printed box using heat and pressure. The film adheres to the box, providing a protective and glossy coating.
Appearance: OPP lamination adds a glossy and smooth finish to the box, enhancing the vibrancy of colors and making the packaging look more appealing.
Durability: The lamination adds a protective layer that makes the box more resistant to water, dirt, and wear and tear. It also helps prevent fading of the printed design due to UV exposure.
Finishing Types: OPP lamination is available in both glossy and matte finishes, providing flexibility in the final appearance of the box.
The best way to do finishing is to apply OPP laminating to the box. It is a special layer of plastic applied to the surface of the box. Laminating makes the box looks shiny and protects it from scratches.
Note that if you print "block" color, for example, all black or all grey – it is good to have to laminate and do double color printing. It means that the printer has to print the background color of the box 2 times.
Basically, OPP is the best solution for high-end brands. But it also costs +35 USD additional per ton.
Extra finishing for the inner box
There is a lot of extra finishing for the inner box that can make your design stand out from other brands.
Emboss
We can emboss the inner box.
Emboss means that some part of the box will rise in three dimensions on your box.
For example, you can emboss the logo, to attract more attention to it.
So embossing influence not only visually but also change how you fill while touching the box.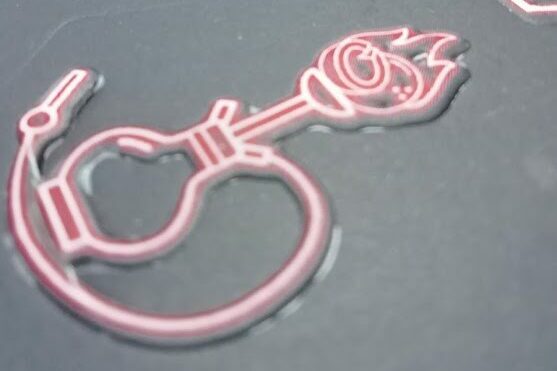 UV Spot
UV spot is a type of printing in which we apply UV Coating to a specific area of the box rather than coating the entire surface.
With UV spot you can emphasize some parts of the boxes to grab more attention.
The best part of the box is usually covered with a matt finish, so the focus UV part spot looks much shinier than the other parts.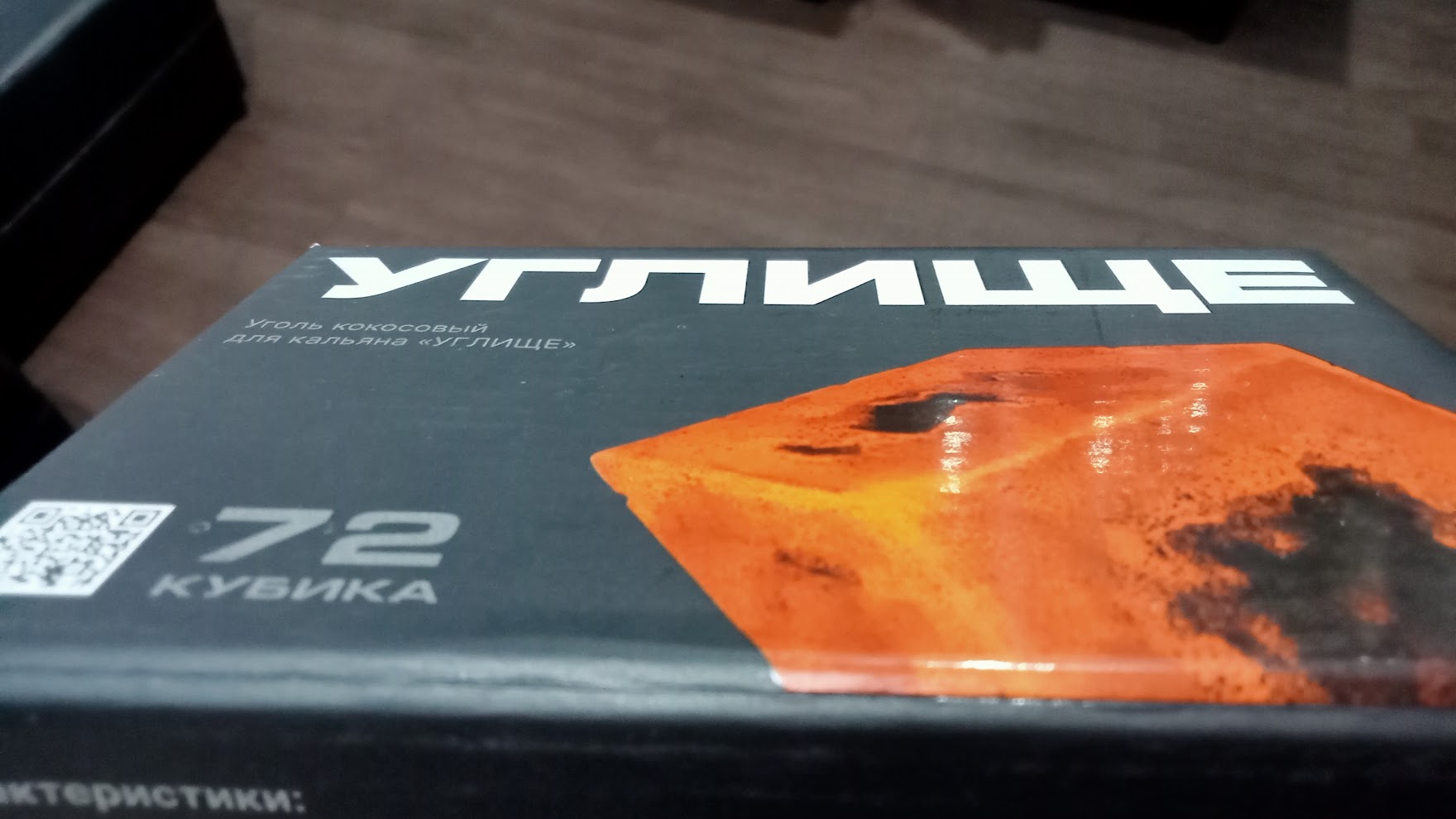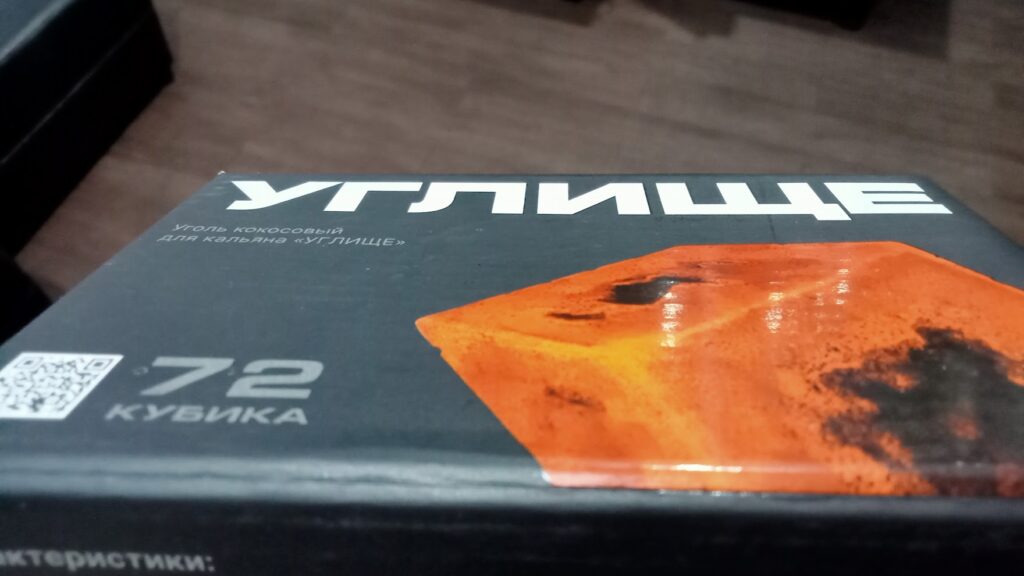 UV Spot + Emboss
For the best results, you can cover your logo both with emboss and UV spot.
The price of this box finishing is much higher, but if your customers buy with their "eyes" first, it is the best way to attract their attention.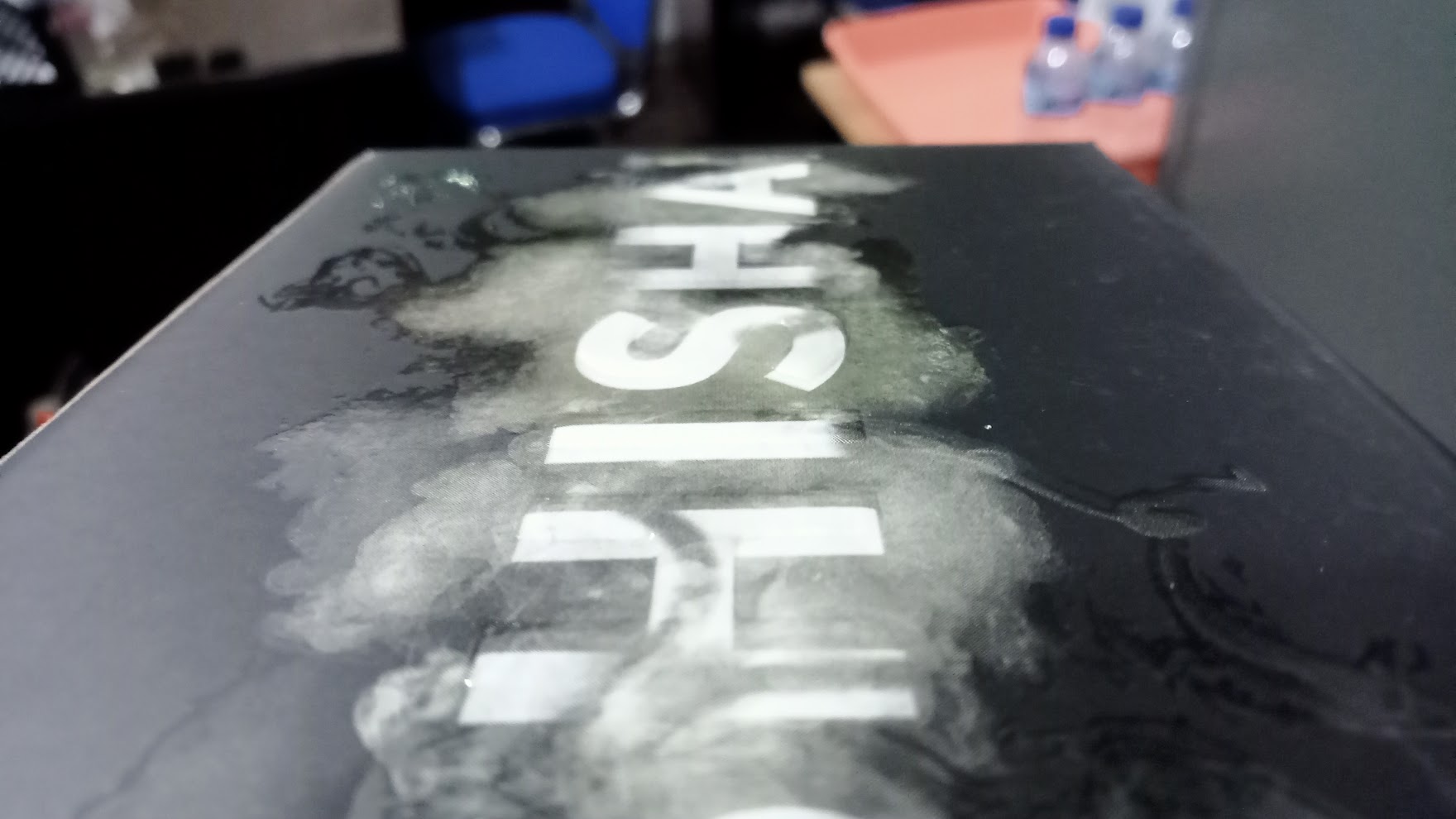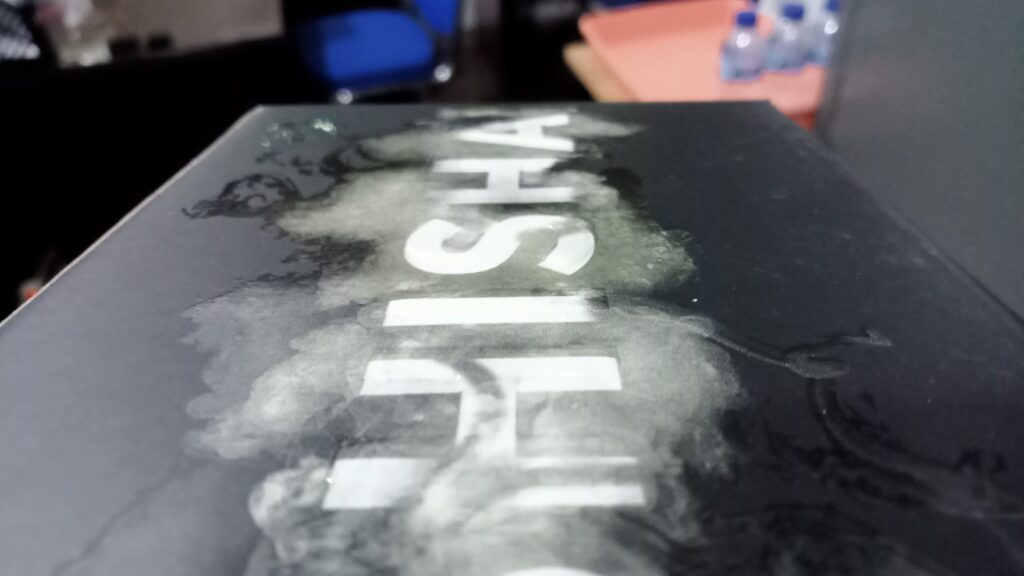 Silver & Gold stamps
One of the most effective ways to grab attention to your hookah coal packaging is to use silver or gold plats on the box.
By default gold and silver plat finishing is already very shiny and you do not need to add any more elements.
We can do any shape or logo you want with silver or gold stamps on the box.
By request, there are several more colors available.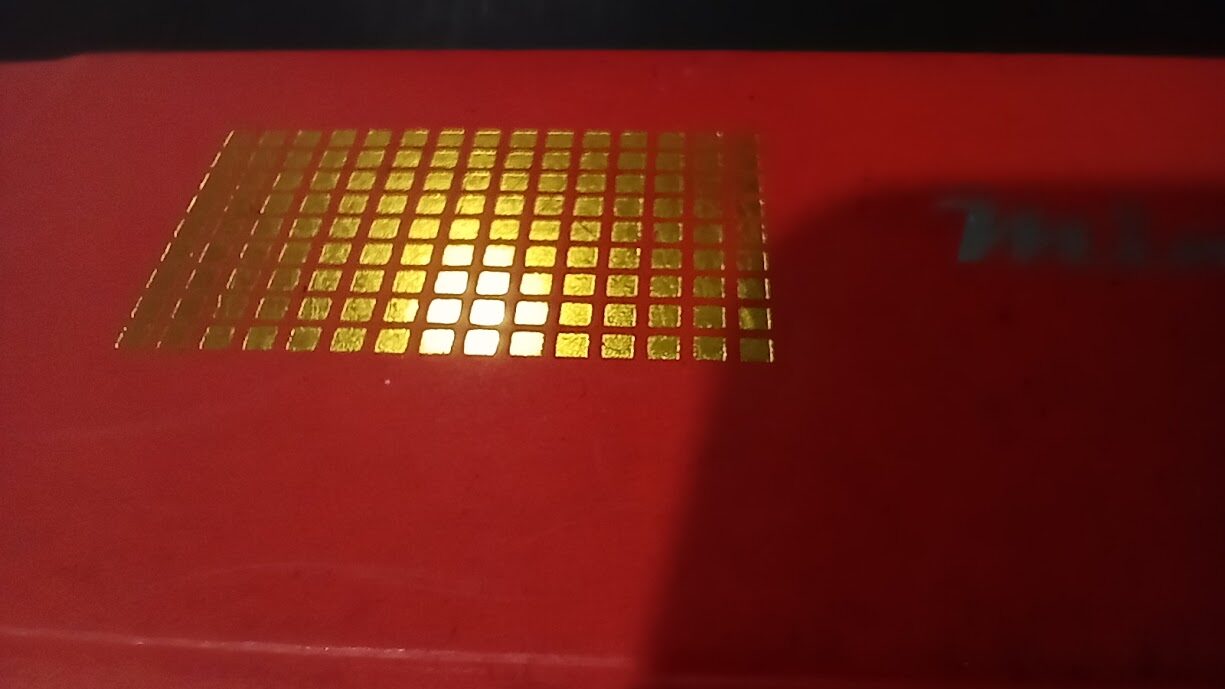 3D hologram
The most exclusive way is to add a 3D hologram to your box.
It will shine, and change color and image if we change the angle of view.
This is also a very good way to protect your charcoal briquettes from forgery. And keep your clients sure that they are buying the original product from you.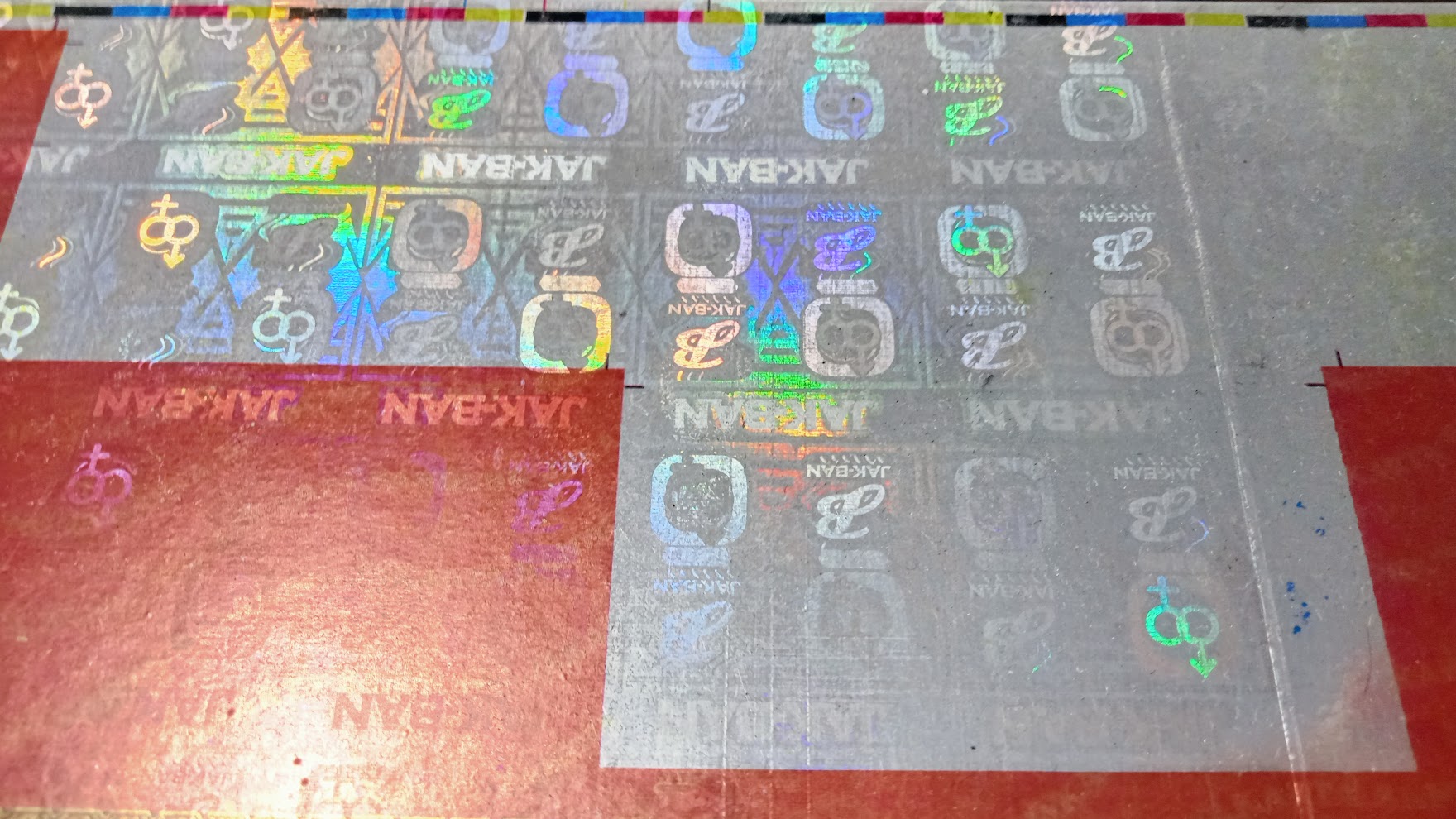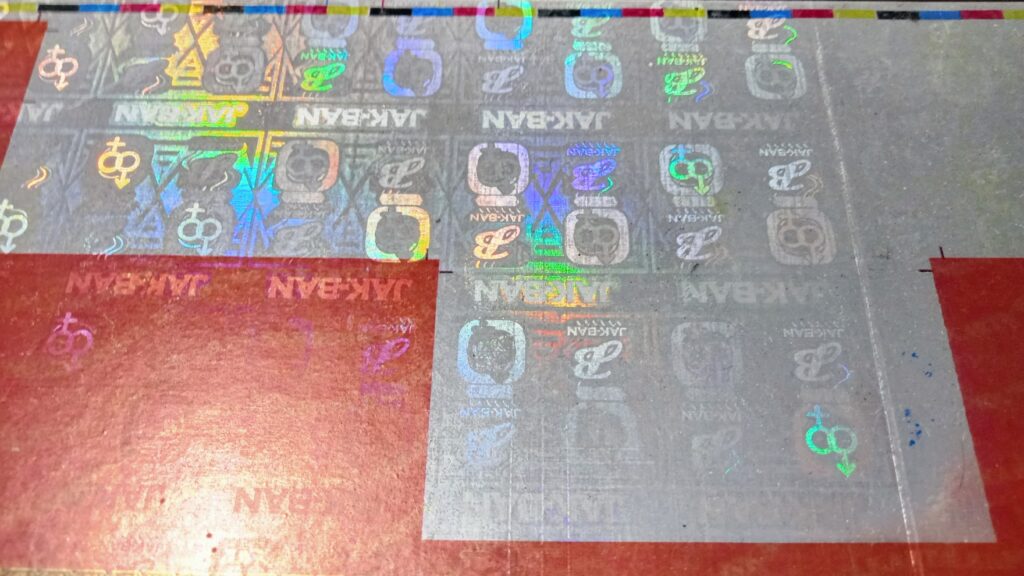 Inner Box Individual Number
Each box produced by our charcoal factory has an individual number. By this number we can track when charcoal was produced, and what mixer was used. In what oven charcoal was dried?
It makes it easy for our quality control team to track back if any quality issues arise. Also, we know who was packing their particular box of shisha coals.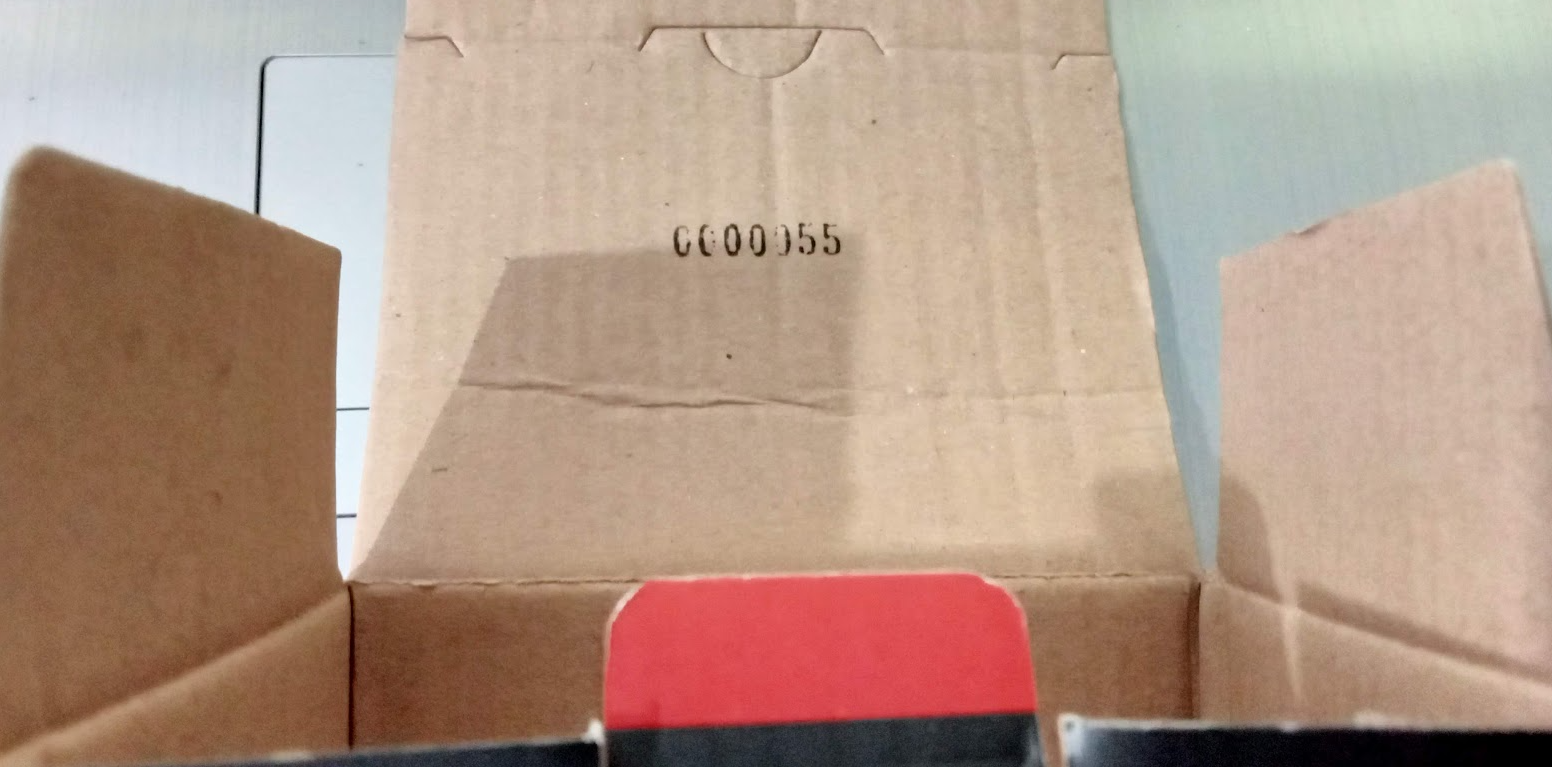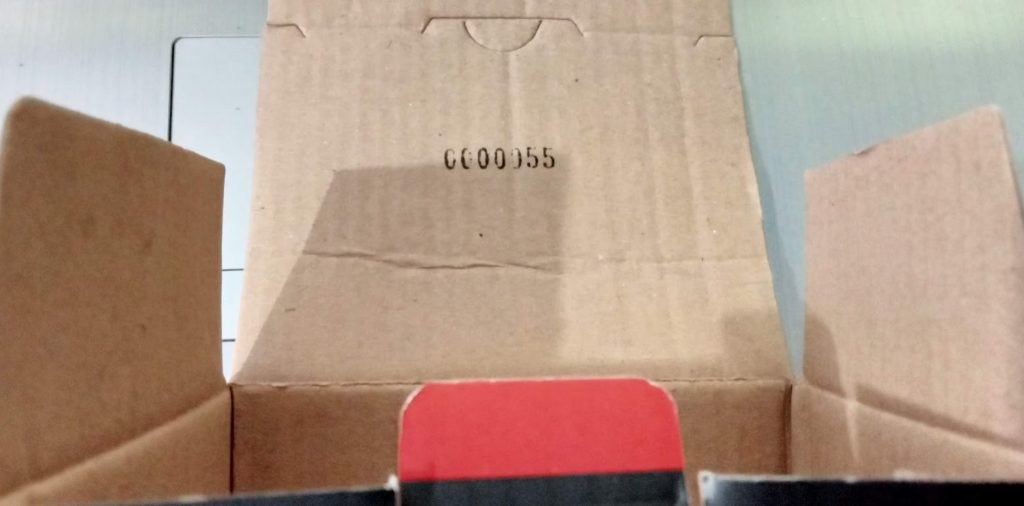 Inner box production time
The longest production time in all charcoal manufacturing processes is making an inner box. Inner boxes are produced by a professional dedicated printing house. Most of our partner printing houses are located in Semarang.
Production time for the inner box is 2-3 weeks after the design is submitted to the printing house. Why so long? Actually, the real printing time is just a couple of hours. All our client's inner boxes are printed on a professional Heidelberg offset printing machine with 6+1 colors mode. The printing is controlled by electronics and is very fast.
But the printing house does not keep paper for the printing, for each order, the printing house places an order to the paper manufacturer. That is why it consumes a lot of time. For repetitive orders, we can ask the printing house to buy paper in advance, so in this case, printing will take only 3-5 days only.
Multiple colors printing
All inner boxes are printed in the format of 4 colors: cyan, magenta, yellow, and black (CMYK). It is standard for all offset professional printers. With those 4 colors, we can generate millions of color variations. But our printing house support up to 7 colors (6+1) on its Heidelberg machinery. Additional 1-2 colors can be for the special colors, not mixed from CMYK.
Master Box
The master box is usually a big brown box made from cardboard B or E flute craft paper. It is used for protecting and handling inner boxes or inner plastics. The most common size is a 10 kg master box that contains 10 inner boxes or 10 inner plastics.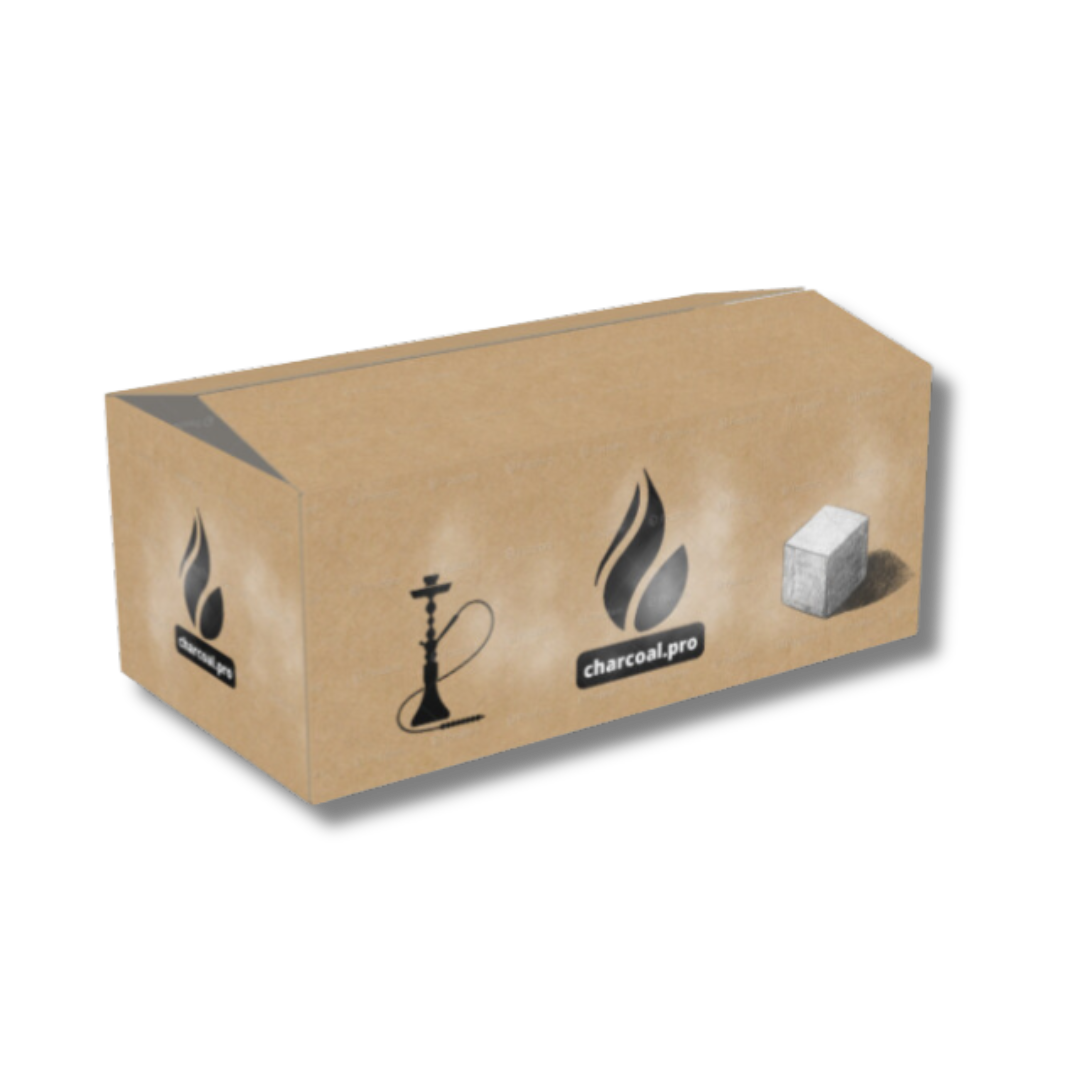 We can make 5 kg, 12kg, 16 kg, and 20 kg master boxes. Note, that in most cases the number of the inner box or inner plastic inside one master box should be even numbers like 10, 12, 14, 16 18, and so on.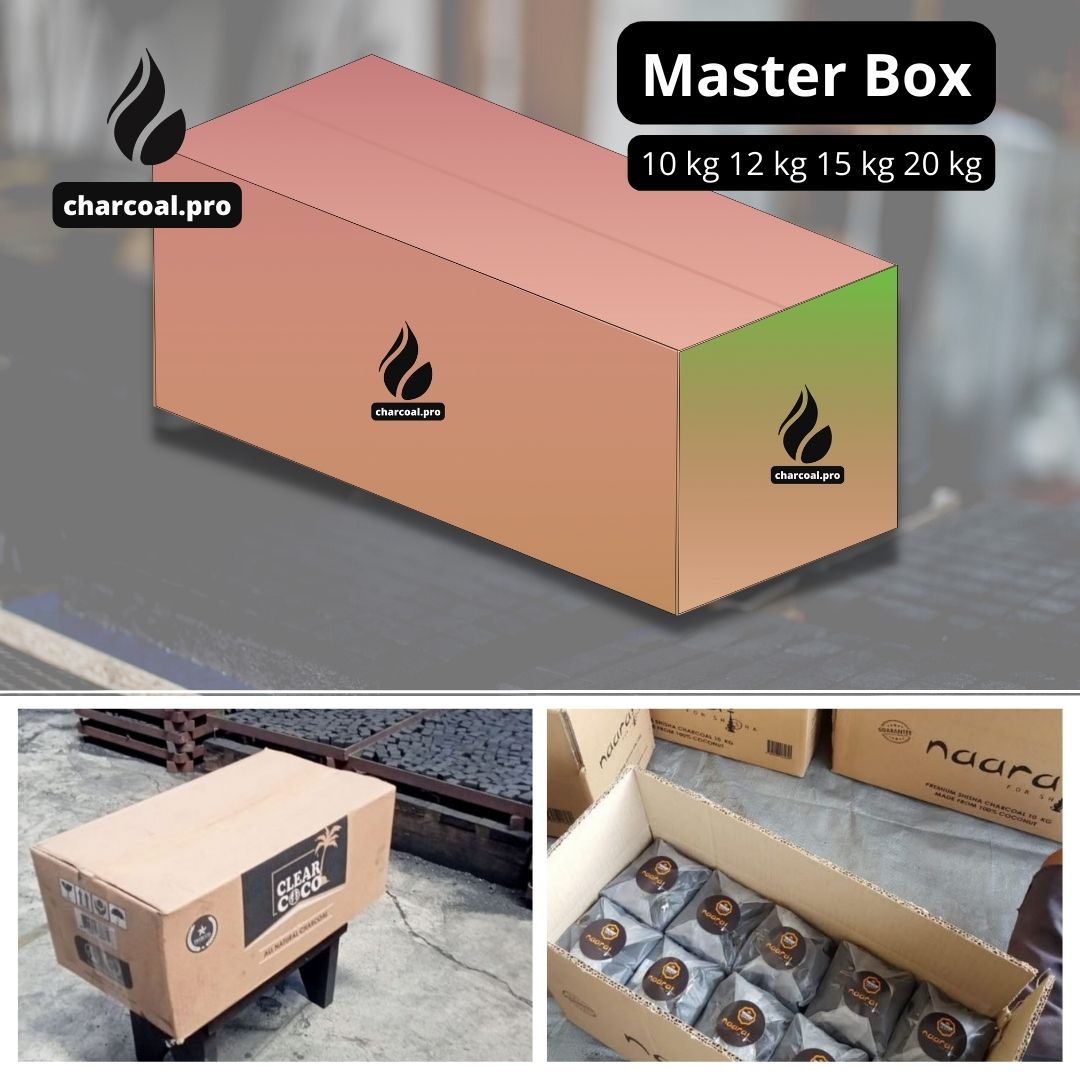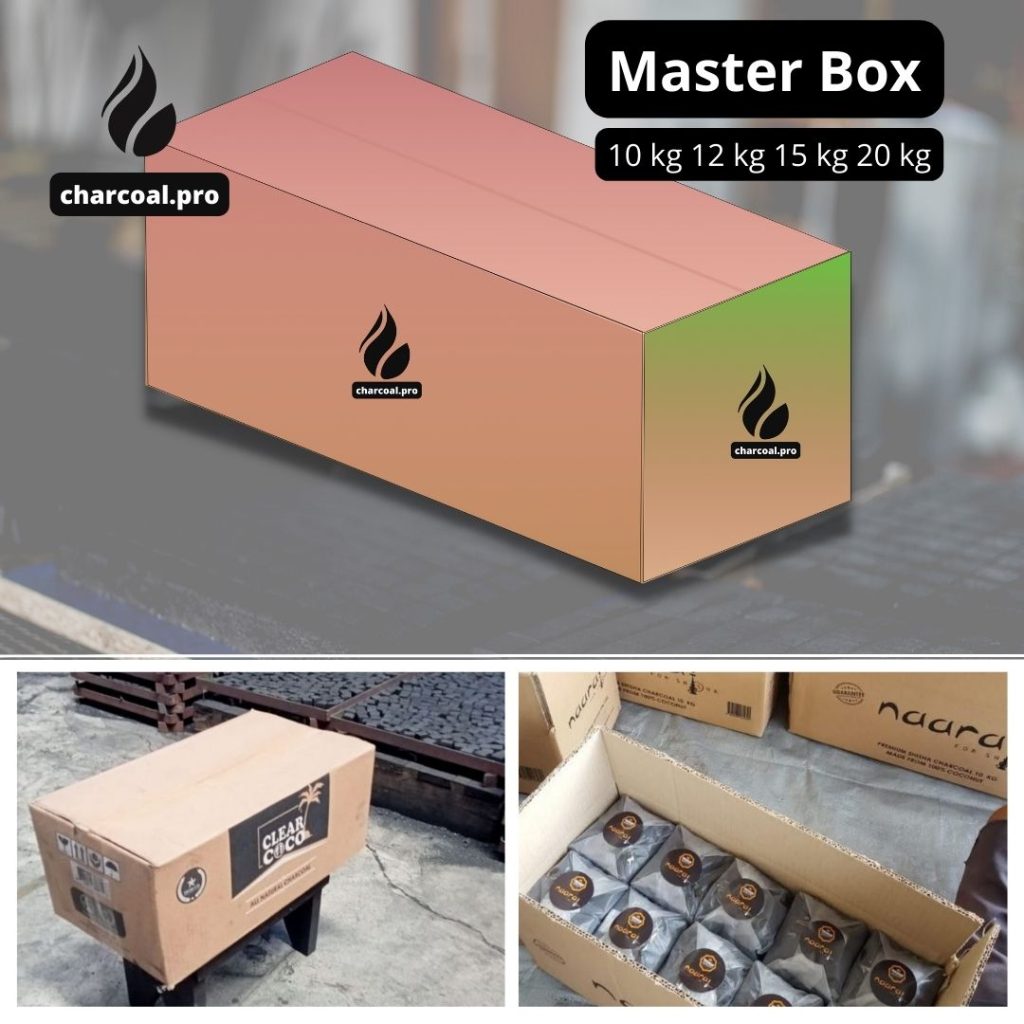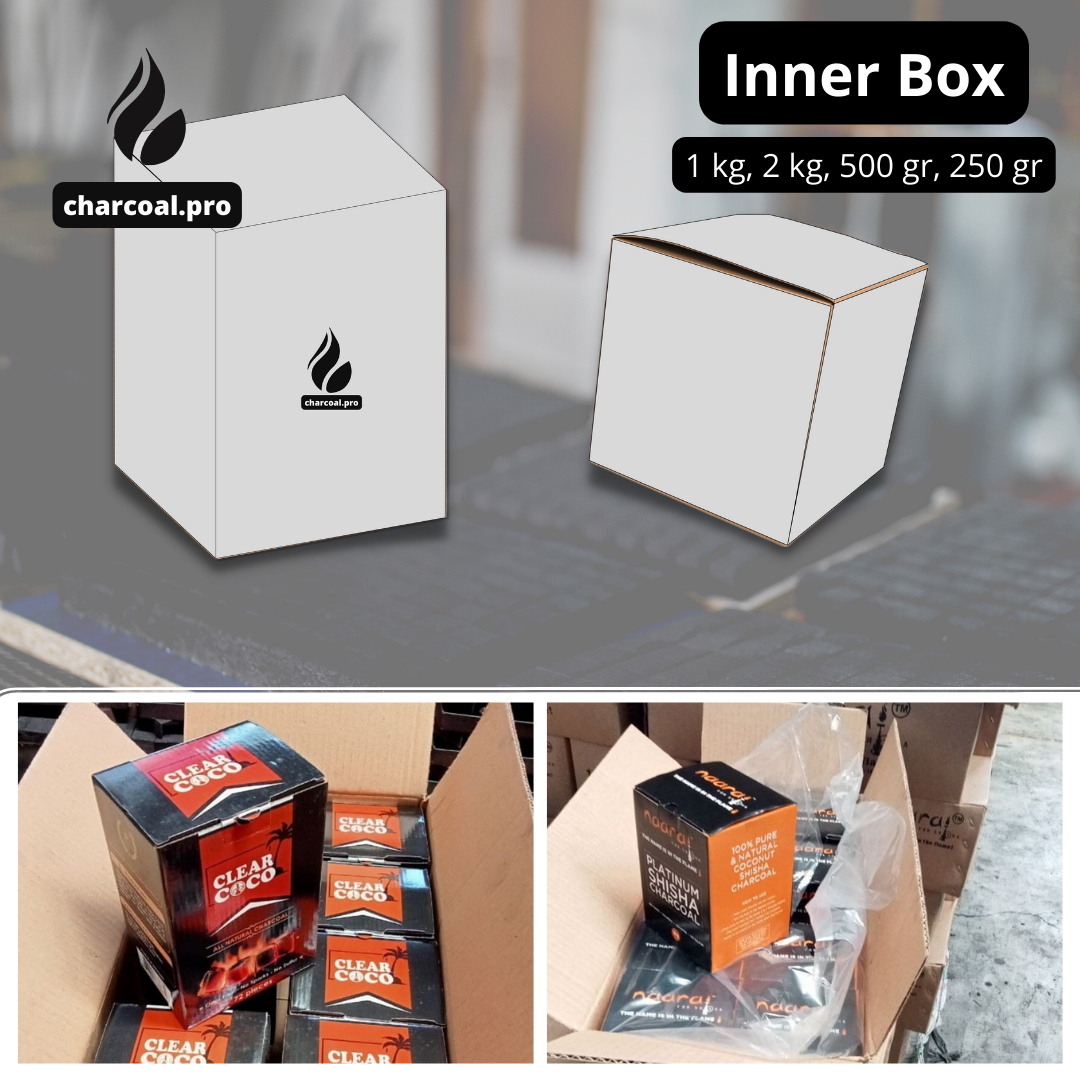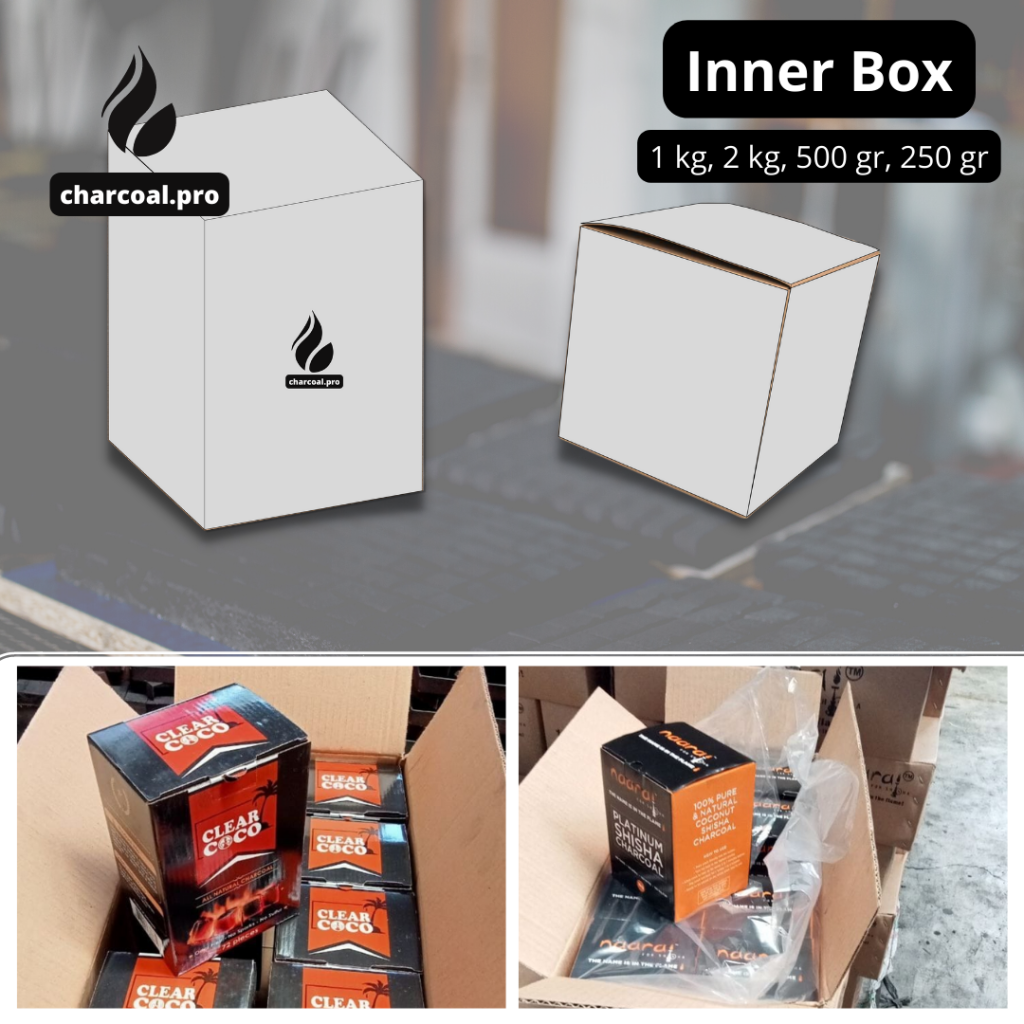 Master box types
There are 2 main master box types: single wall and double wall. Each wall is made from Craft 150gsm paper as the outer part and Medium liner 125 gsm paper for B flute and the outer layer of the box is again Craft 150 gsm.
Please pay attention that this is our factory standard packaging, but some other factories can use thinner paper like Craft 125gsm instead of Craft 150gsm. That will be cheaper but not as strong as expected.
What is better: a single or double wall box?
The simple double wall box is much stronger but is also thicker and heavier.
We recommend using the double wall only if you buy in bulk packaging without an inner box
As for single walls, it is recommended to use inner box packaging.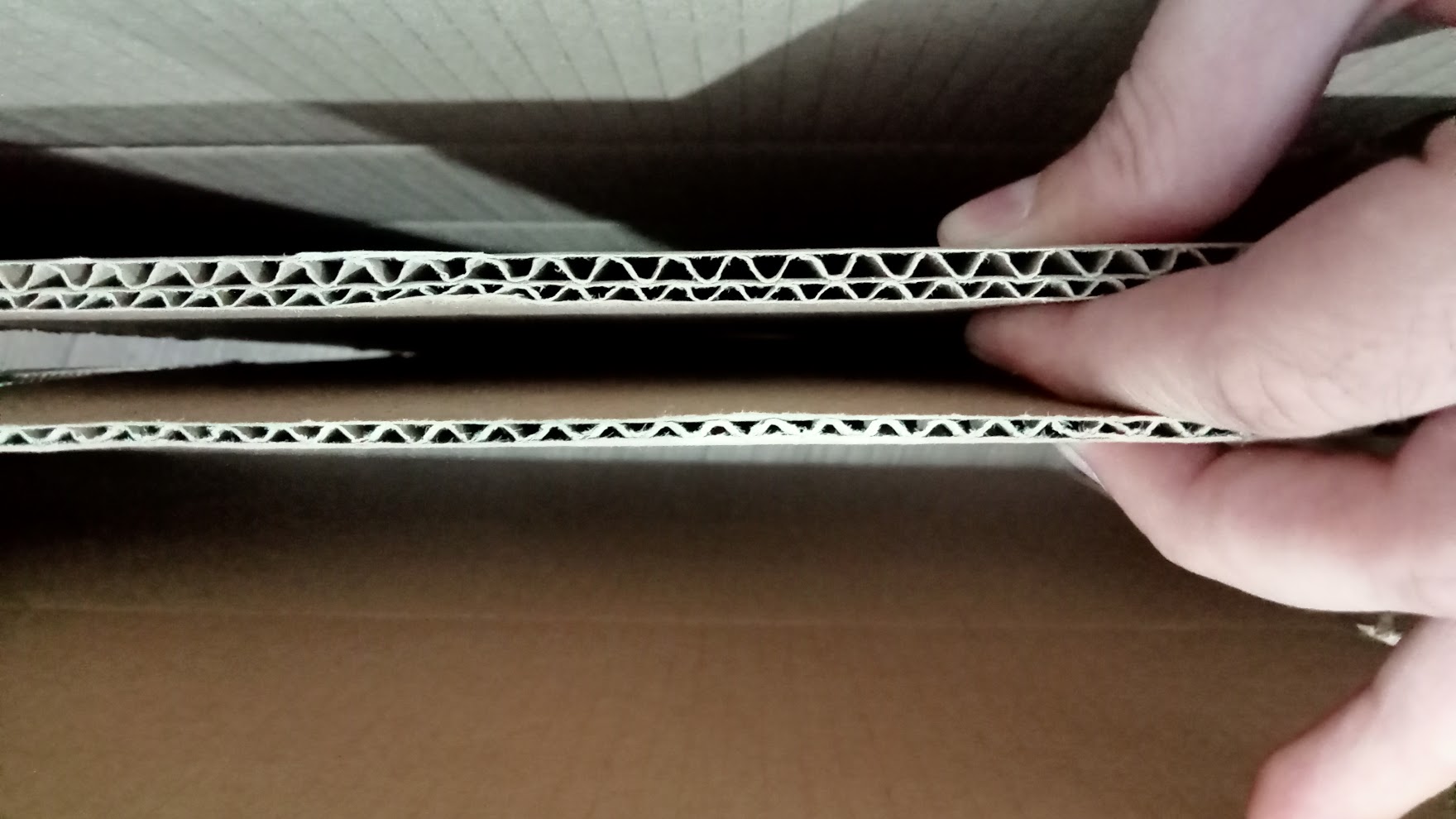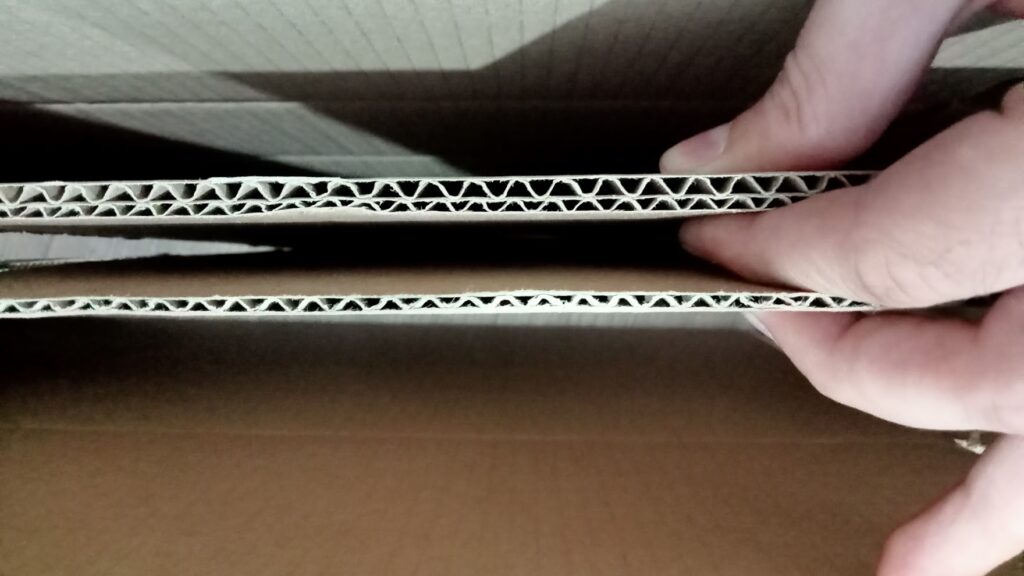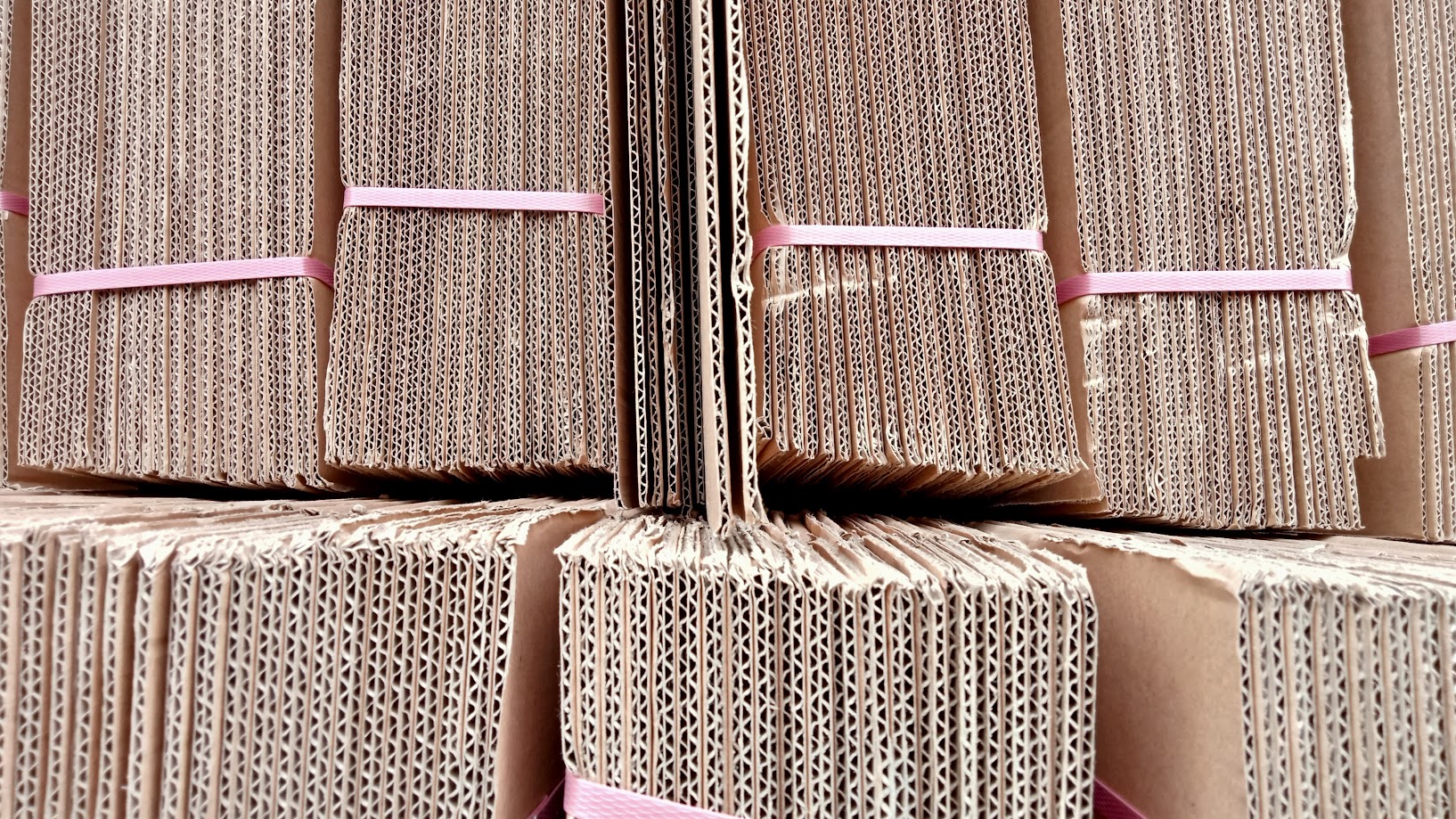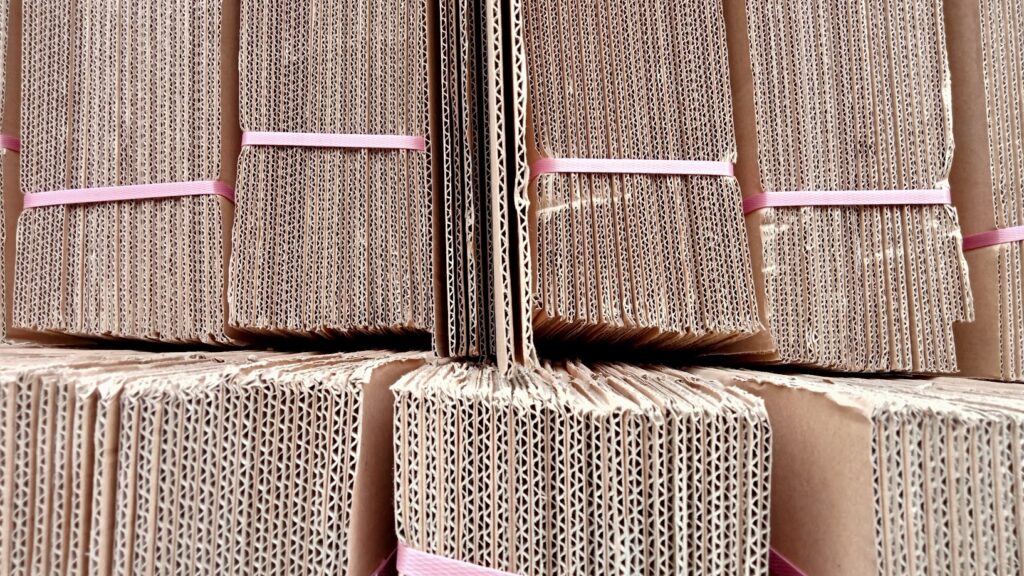 Master box layout & size
There are several sizes for the master box, the most popular is the 10 kg master box with dimensions:
| | |
| --- | --- |
| Master Box 10 kg Cube 25 mm with 1 kg inner box (single wall) | 415 x 217 x 164 |
| Master Box 10 kg Cube 25 mm with 1 kg inner plastic (bulk) (double wall) | 412 x 215 x 164 |
| Master Box 10 kg Cube 26 mm with 1 kg inner box (single wall) | 560 x 230 x 115 |
| Master Box 10 kg Cube 26 mm with 1 kg inner plastic (bulk) (double wall) | 558 x 228 x 115 |
| Master Box 20 kg Cube 25 mm with 1 kg inner box (double wall) | 417 x 219 x 330 |
table with the size of the master box. For more information please WhatsApp me.
For each size and type of master box, we have a layout that can be sent by request.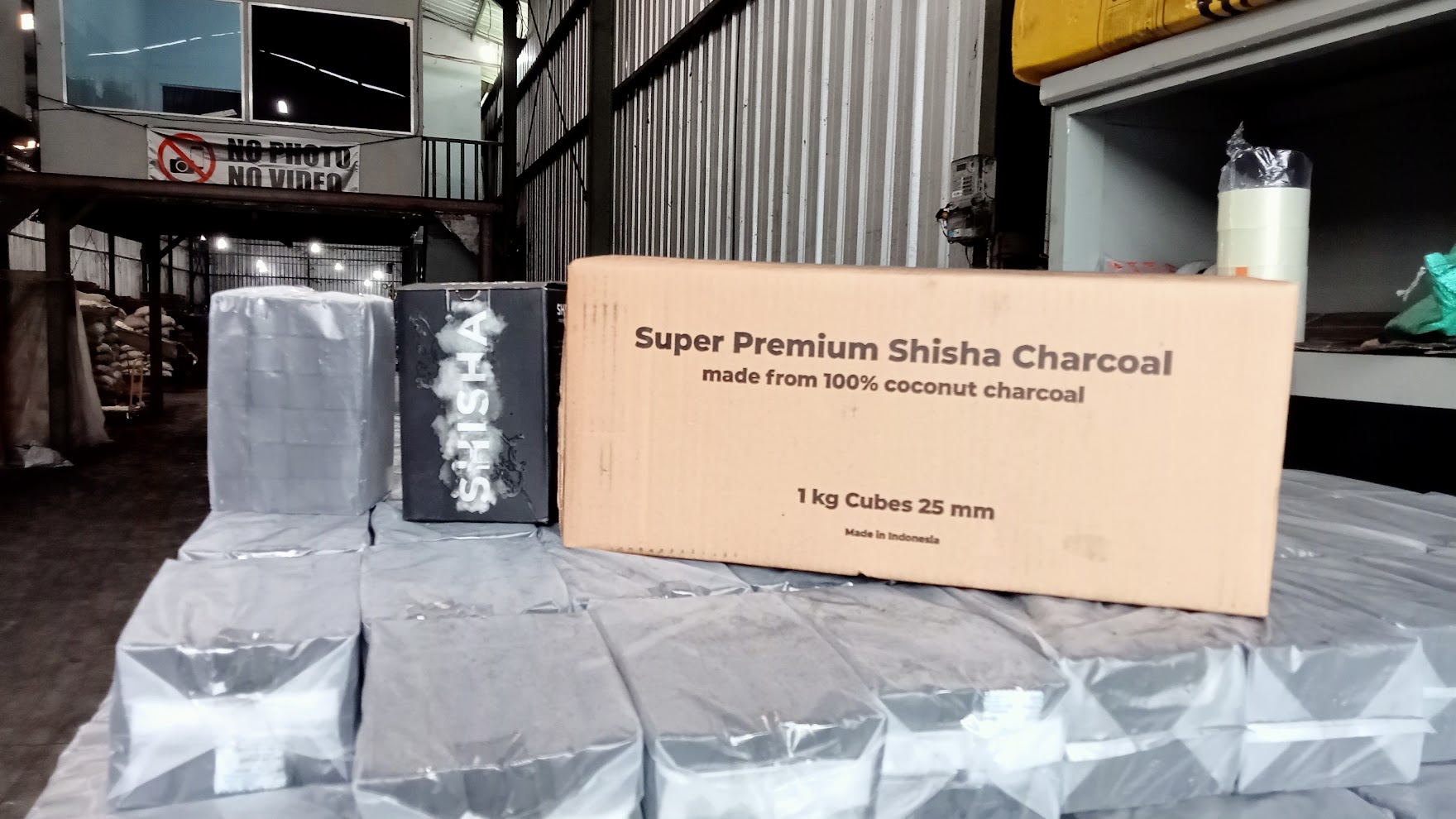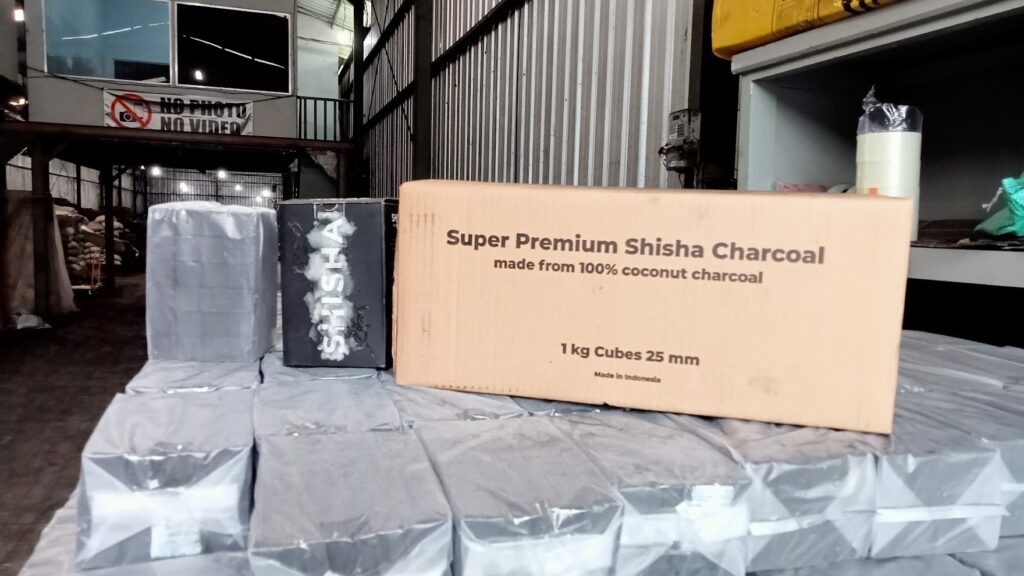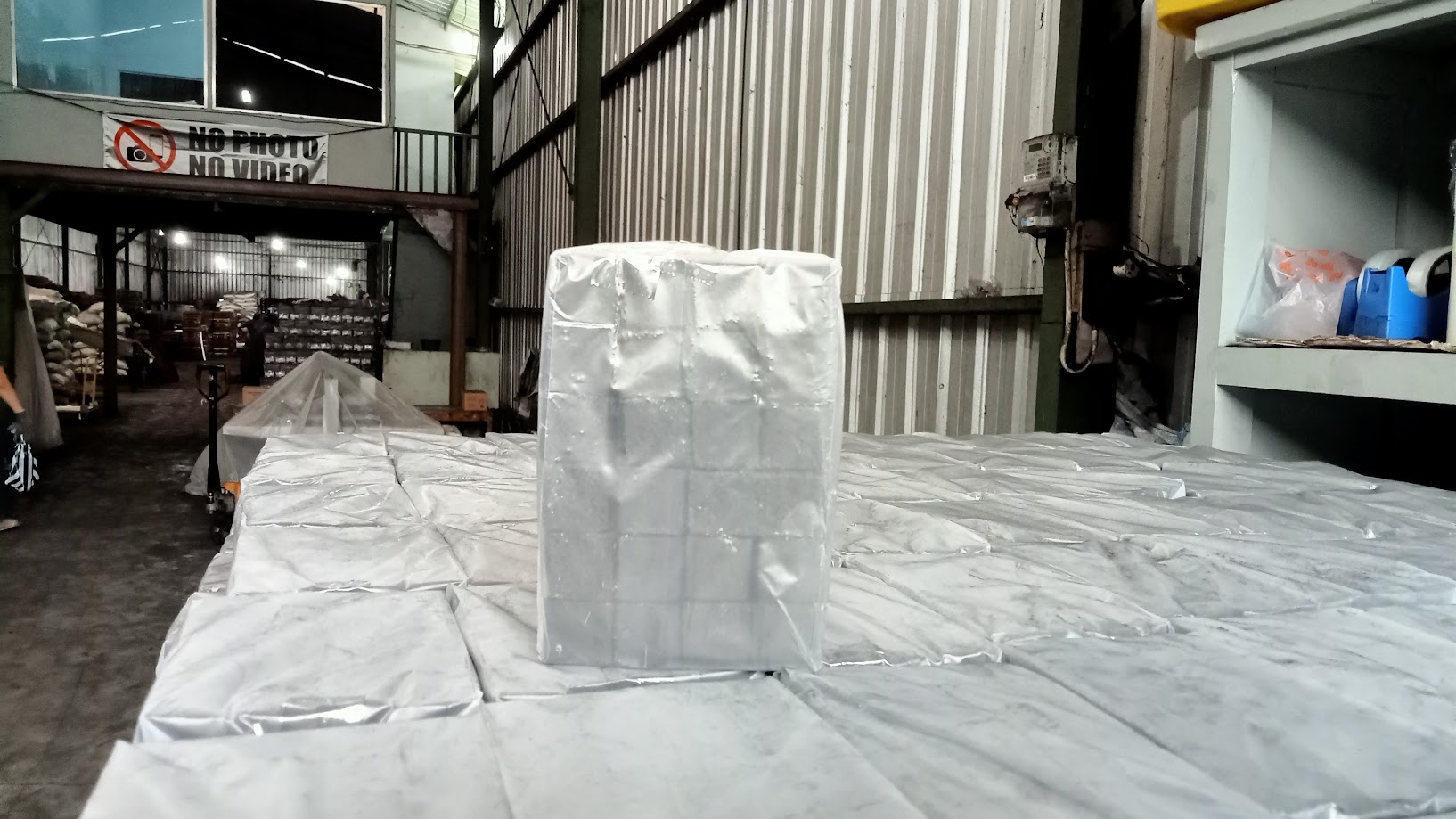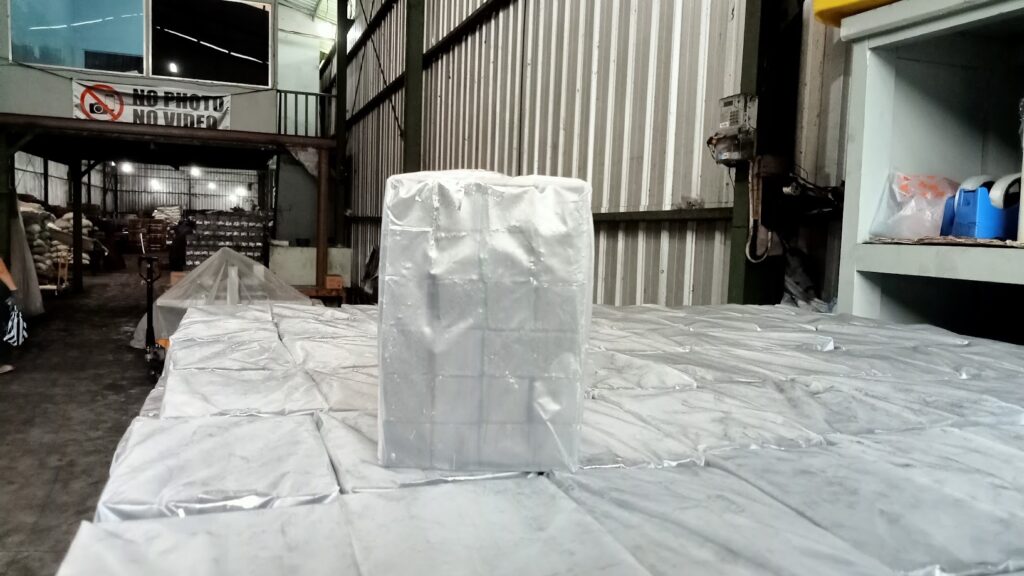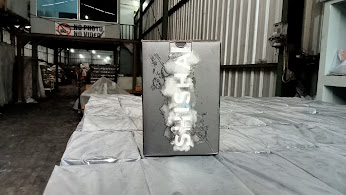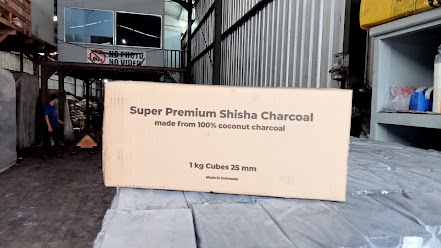 Stapeler vs Glued master box
In most cases, master box sides are fixed with the big industrial stapler. It is a strong and safe method to keep the box as it is. But for small boxes size like 5, 8 or 10 kg we can use glue. The glued box looks nice and clean.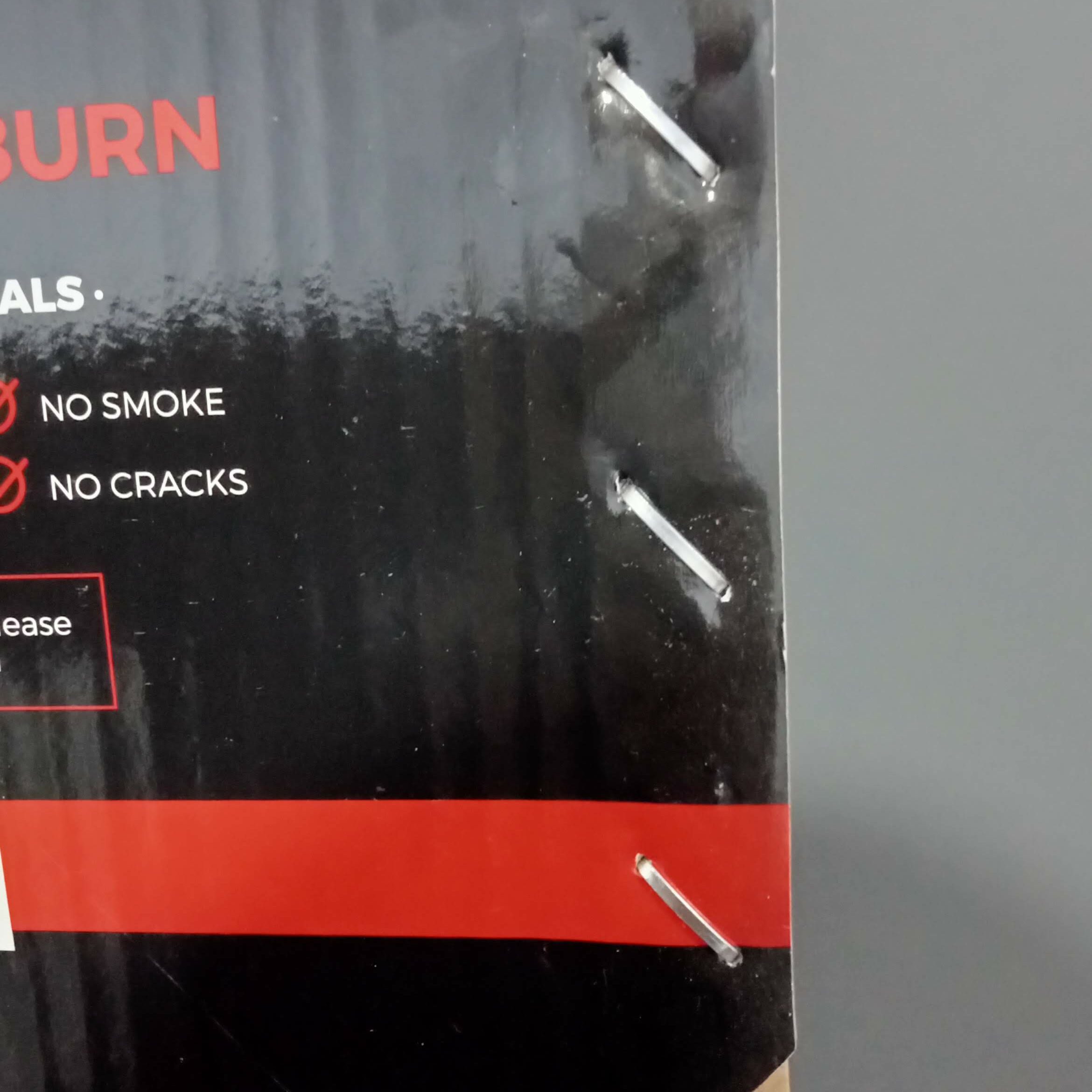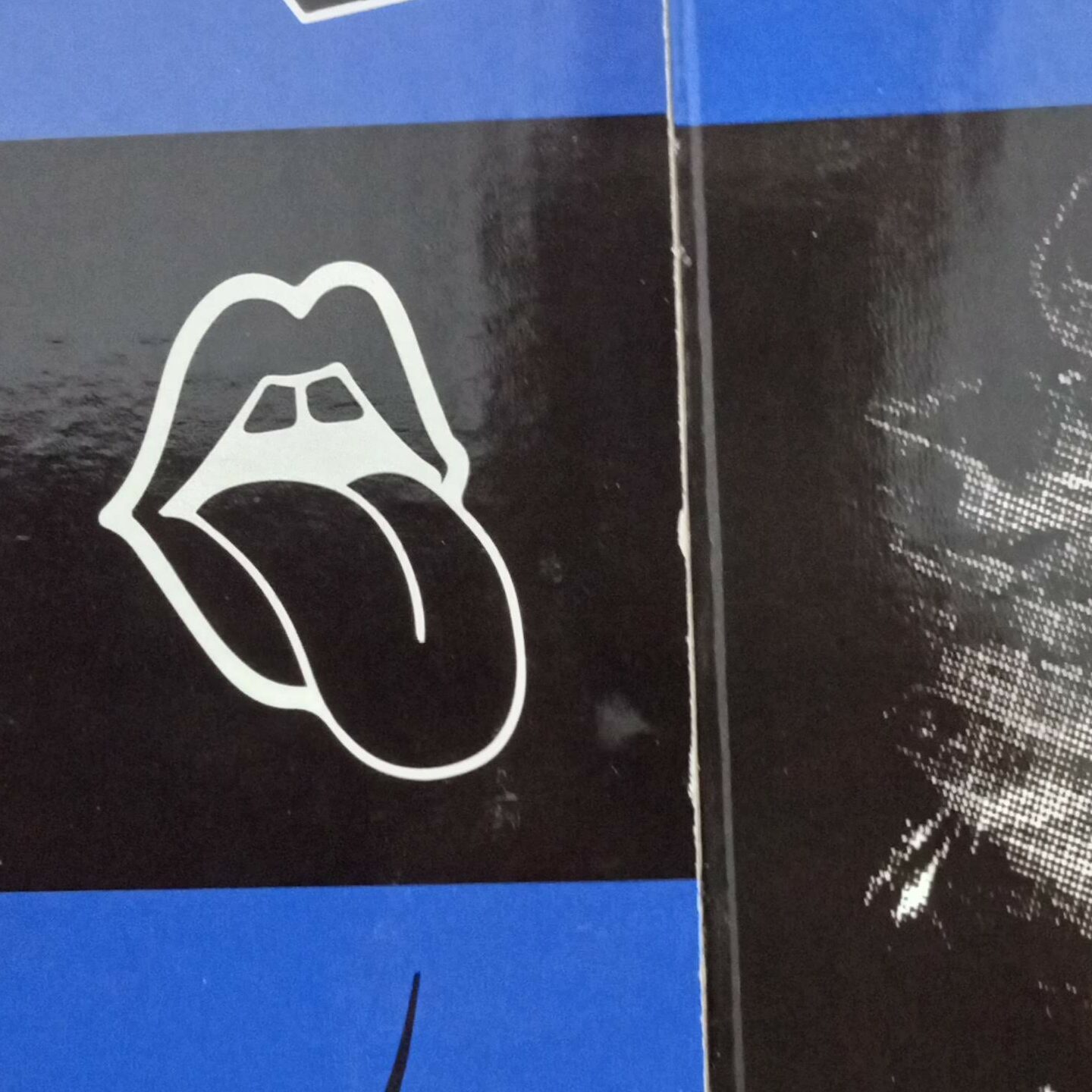 Full block printing on the master box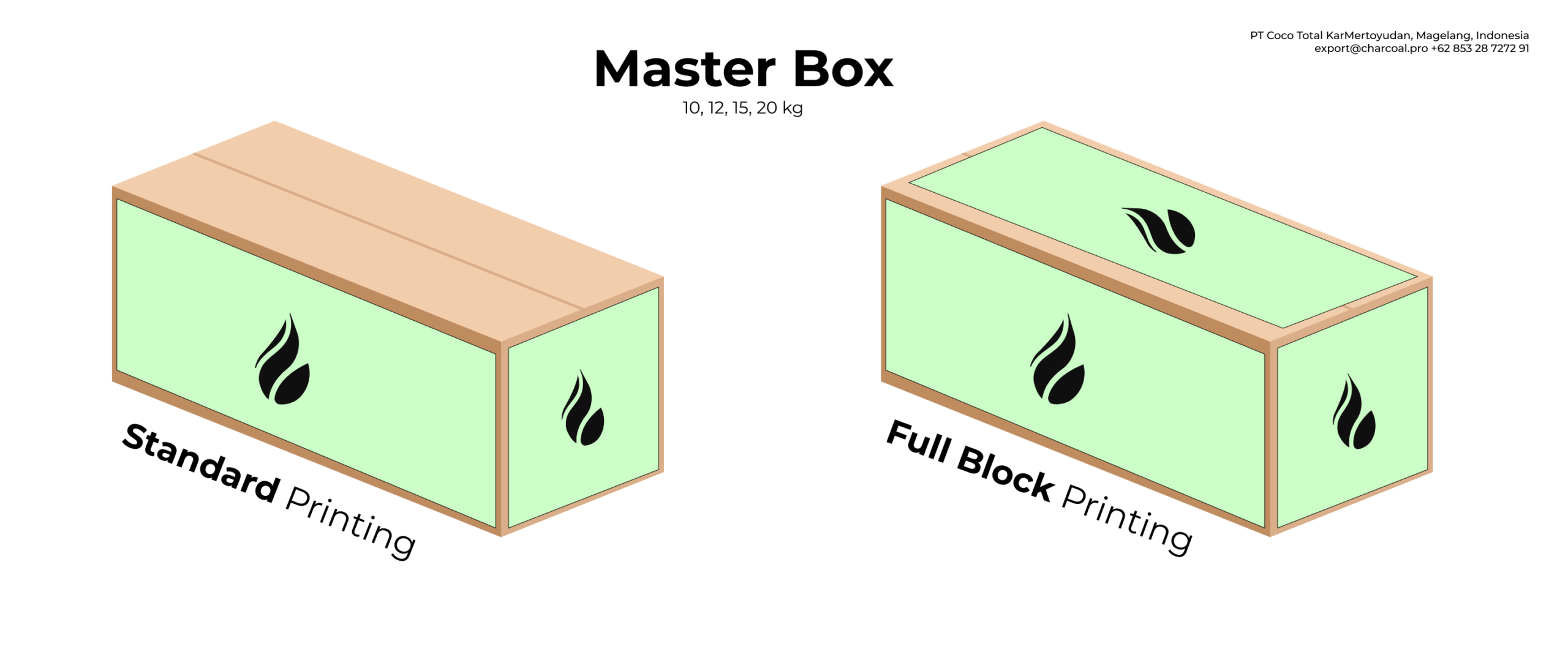 We can print your brand and design on the master box.
Standard printing is on the sides only. While full block printing is sides + upper and lower side of the box.
Full block printing can be done in full colors. But if you need very precise coloring or you have color gradation, it is better to use not full-block printing but glossy finishing printing.
Standard printing can be done in 3 colors wich can make full color print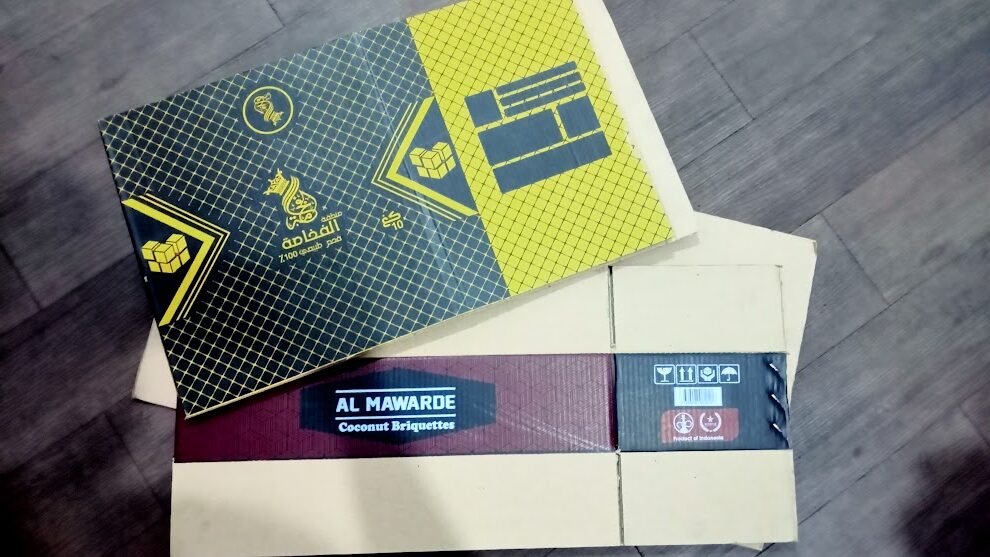 Master box finishing
Same as the inner box and master box can have very different finishes on the surface. The standard is just full color (3 colors) roll print on the craft box. But if you want to really stand out from the other brand some of our clients use UV finishing for master boxes too. For sure the price of UV finishing is much higher. The standard master box is a roll-printed box on craft paper. While UV finishing is added an additional duplex of 250 gsm is to the outer side of the box.
standard-master-box-vs-uv-finishing-master-box.jpg
the finishing can be done both in matt and glossy variants
glossy-finishing-master-box-for-coconut-charcoal-box.jpg
Additional plastic covers
Very often our charcoal buyers are asking for an additional level of box protection. It can be done by applying shrinkable PE plastic to the master box. It is made with machine shrink.
This plastic helps to protect the master box from moisture and physical damage.
Besides outer shrinkable plastic, we can use big inner master plastic that is inserted inside the master. box and also protect inner packages from moisture.
Master box strapping band
Strapping is important to secure transportation. If you deliver coconut charcoal to Europe or the USA – is ok not to use strapping.
If you are planning to bring the container with charcoal far from a port.
Use a lot of trucking and restaffing – it is strongly recommended to use strapping.
Strapping secure charcoal boxes position, so it would "run" inside the container.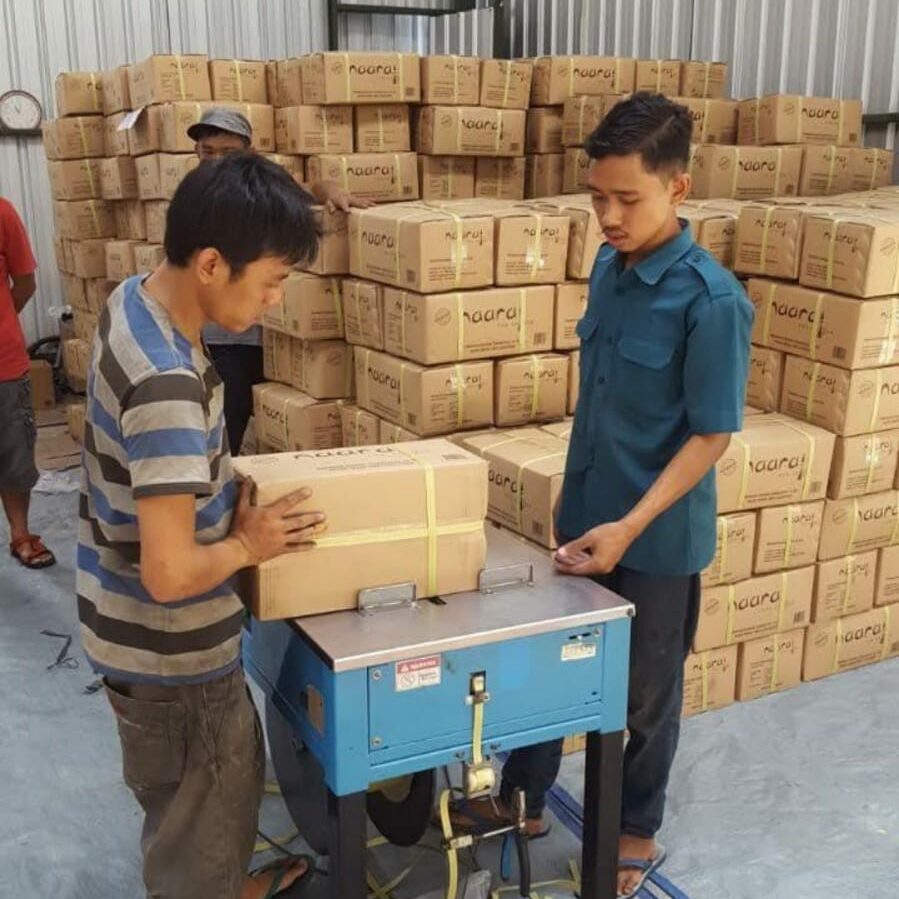 Master box automatic sealing
All our master boxes are sealed with an automatic tape-sealing machine. It helps to make the box nite and clean.
master-box-automatic-sealing-machine-scaled.jpg
Master box production time
All master boxes are printed the same as inner boxes at dedicated offset printing houses. But in most cases, they are different from the inner box printing houses. Production time take 7-12 day on average 10 working days for printing.
Bulk packaging
Bulk packaging of coconut charcoal means that we are not using the inner box. It saves our customers about 100 USD per ton. Bulk packaging is the best way if you supply to HoReCa and clients do not care about the inner box.
With bulk packaging, coconut charcoal is packed directly into the master box.
The master box is a corrugated brown colored carton box. The main function of the master box is to protect your charcoal from physical damage and make it easy to carry and store of charcoal.
There are two main variants of bulk packaging:
packaging with one big inner plastic then to the master box. It can be packed and arranged inline or it can be just bulk.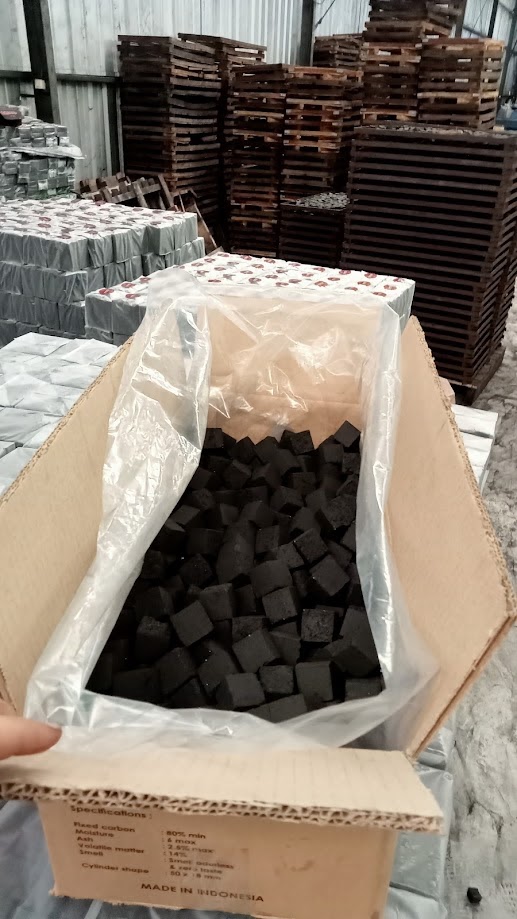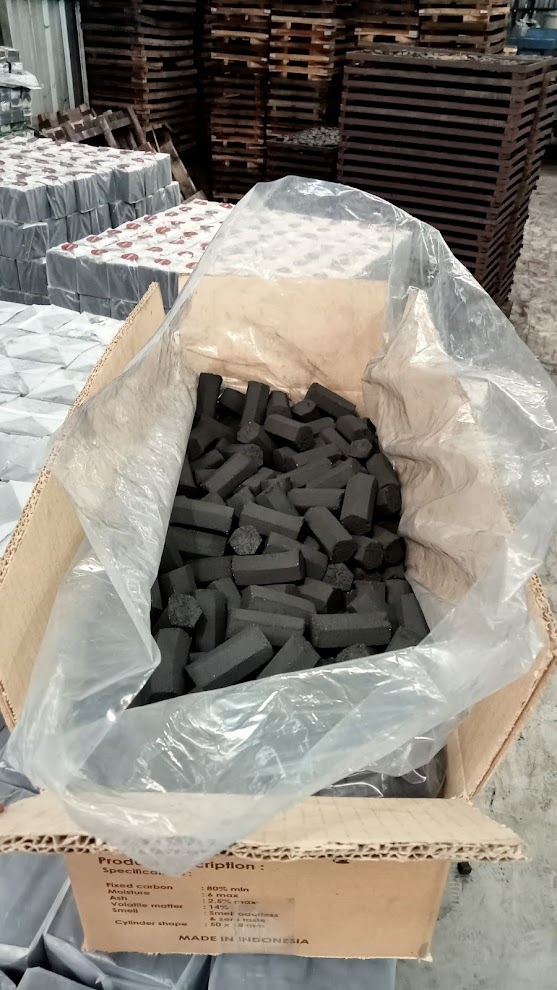 How can you get your brand & label on coconut shell charcoal for shisha & hookah?
As a charcoal factory – we meet many clients. Most of them are asking to make charcoal under their own brand names.
Our basic manufacturing policy is making charcoal under the client's brand. We do OEM, private-label charcoal.
The first step to ordering charcoal under your name is to check if this brand is a registered trademark or not. For example, if you want your charcoal name to be Coco Urth or Nara, or Tomcoco – it is all registered brand names.
To make it under those names you have to prove to us that you are the owner and sign related documents.
If your brand name is not under the registered trademark – we can do it right away.
The second step is to send us your design in the format of .pdf or .ai. We will bring it to the box manufacturer to make a sample design and adjust the size of the boxes.
The third step is to find and agree on the specifications of the actual product. What is the ash content and ash color, what is the max moisture level and burning time? All this we have to discuss and agree on.
The fourth step is the actual production of coconut shell charcoal and the printing of your branded packaging.
Besides doing branded packaging we can add stickers on the inner plastic. Do the printing of your brand on the inner plastic. Do the full-color printing on the master box.
Process of Production
The inner and Master box printing process consists of the following steps:
first, we send you the layout of the box with the sizes
your designer makes the initial design
we make checks of boxes including Trade Mark checking
design is sent to the printing house for size adjustment
printing house makes a digital print of the box for the approval
by request, we can print not just a digital sample but an offset real sample of the boxes
after final approval by the buyer, we process mass production of the packaging
packaging is delivered to your charcoal factory
our house quality control perform color, size, and quality check of the boxes
we do packaging and storing ready-packed boxes.
important to note, all designs are being checked for Trade Mark registration. We also recommend to register your unique brand name with us to prevent from copies.
Requirements for the boxes
Important to note that all boxes shall contain the following information:
Made in Indonesia
Imported by (your importing company name)
For Russian Federation: Date of production
не подлежит обязательной сертификации
не подлежит обязательной оценке соответствия
срок годности не ограничен
Safety measurements
Difference between bulk loss, bulk, and full packaging
Basically, there are 3 types of packaging available for coconut charcoal briquettes.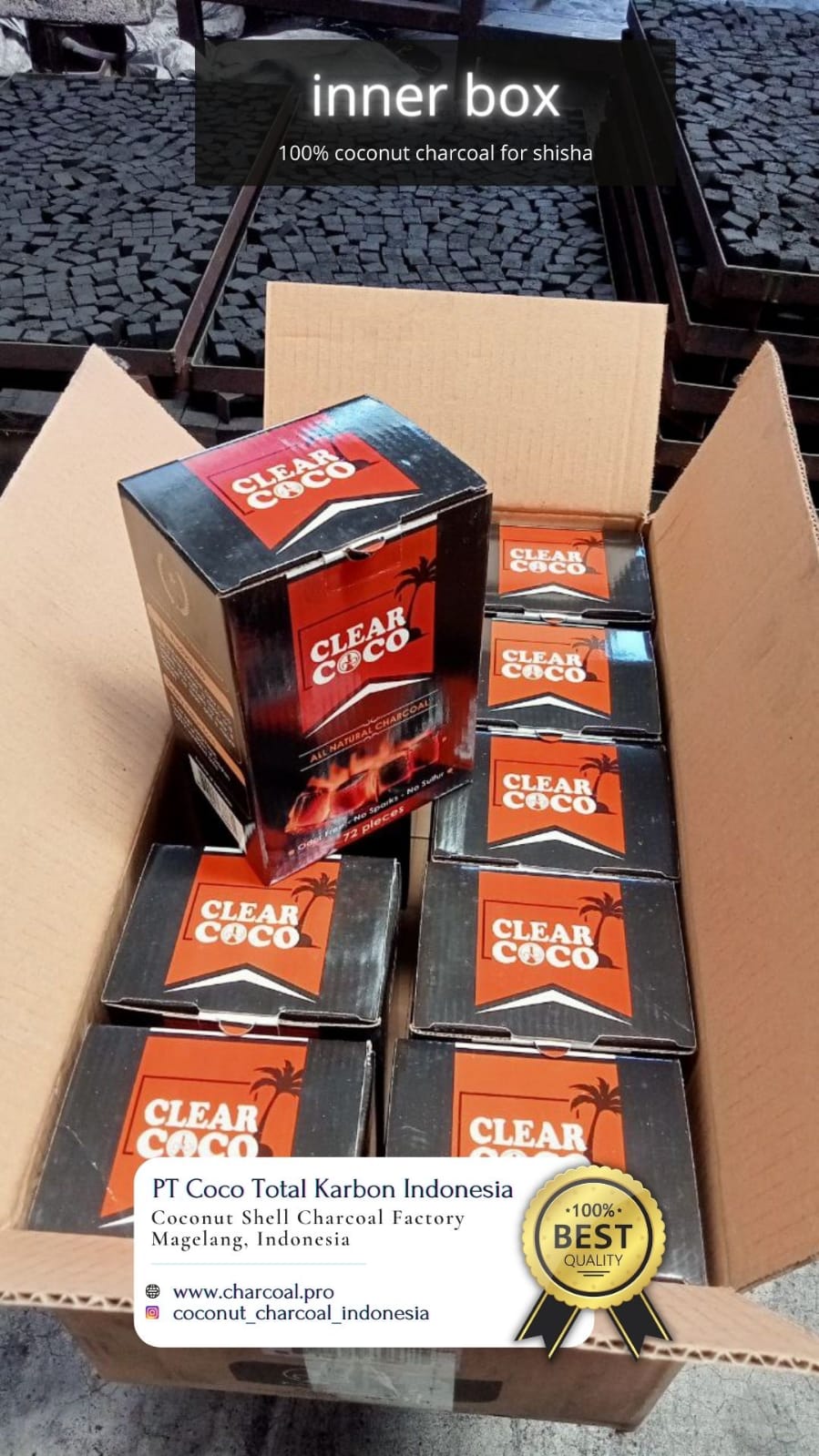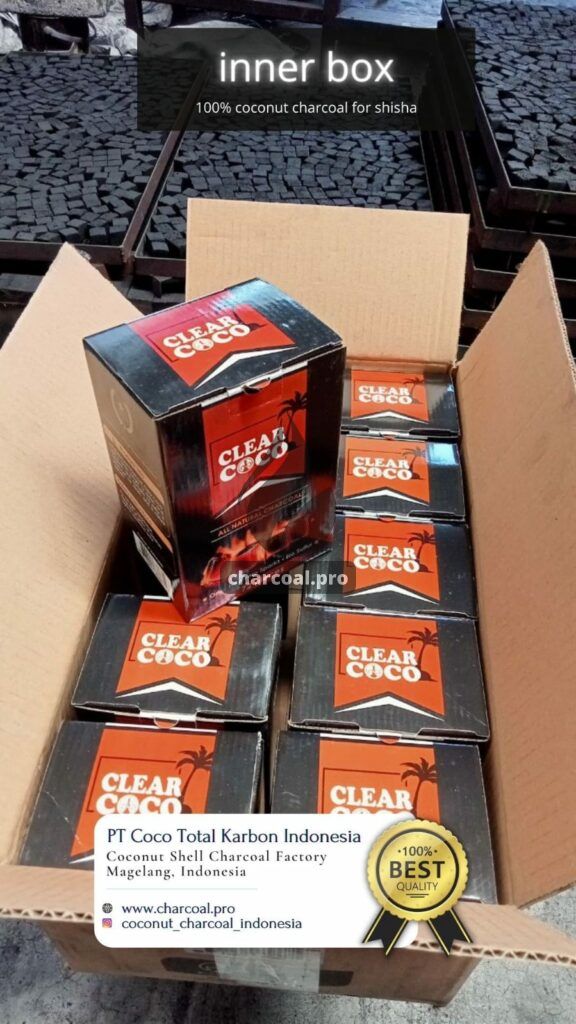 Full packaging
Full packaging means that your coconut charcoal will be packed inside inner plastic + inner box + master box
The primary size is 1 kg for the inner plastic and 1 kg for the inner box + 10 kg master box.
The packaging will look like this but with your own brand.
This packaging is the perfect solution if you sell through the shops to the end buyer or smokers who will use it at home.
Basically, if the buyer is buying a product with "eyes" first, like seeing your product on a shopping shelf, it is the best choice. But if you just sell to bars, lounges, and hookah restaurants, where the end-user is not seeing the brand, it is recommended to take bulk packaging.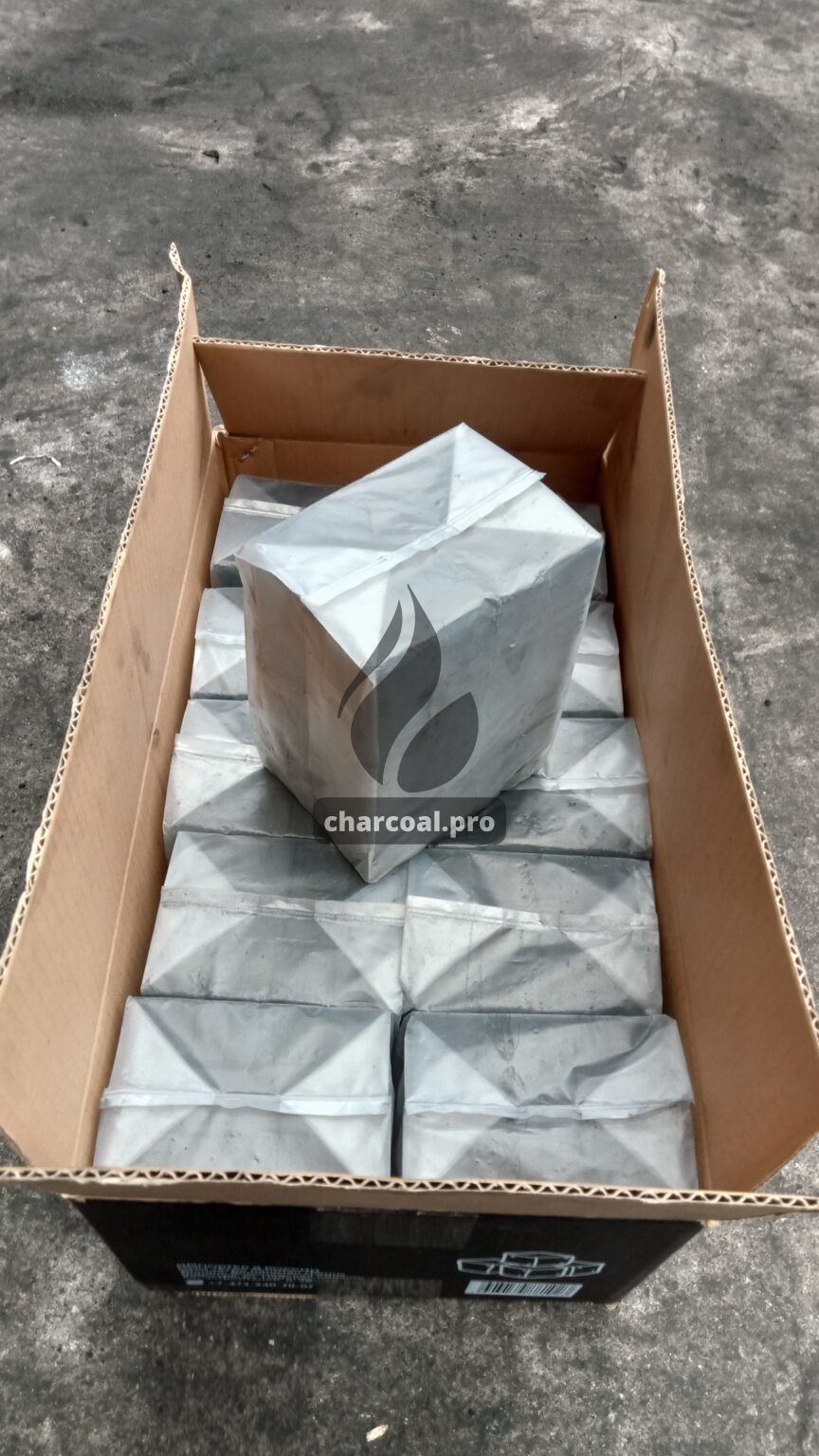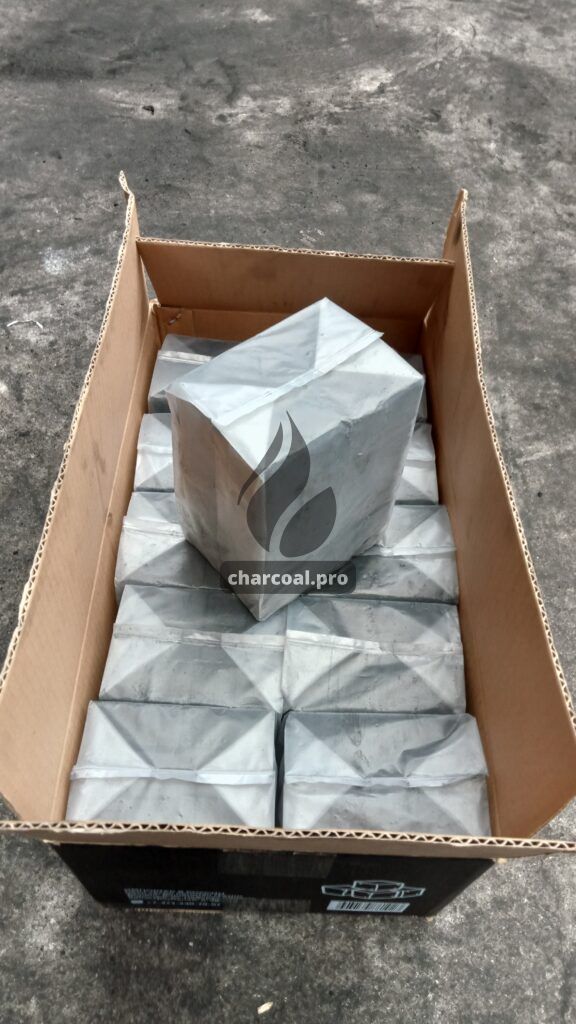 Bulk packaging
Bulk packaging means your coconut charcoal briquettes will be packed in 1 kg of inner plastic and put inside the master box.
So basically it is similar to complete packaging but without an inner box. It makes packaging cheaper at about 100 USD per ton. Good safe for wholesale hookah coal distributors, right?
This type of packaging is cheaper and is the perfect solution if you sell to bars and restaurants. With bulk packaging, you are not spending too much money on unnecessary box branding.
More you can load about 600 kg more into a container due to the smaller package.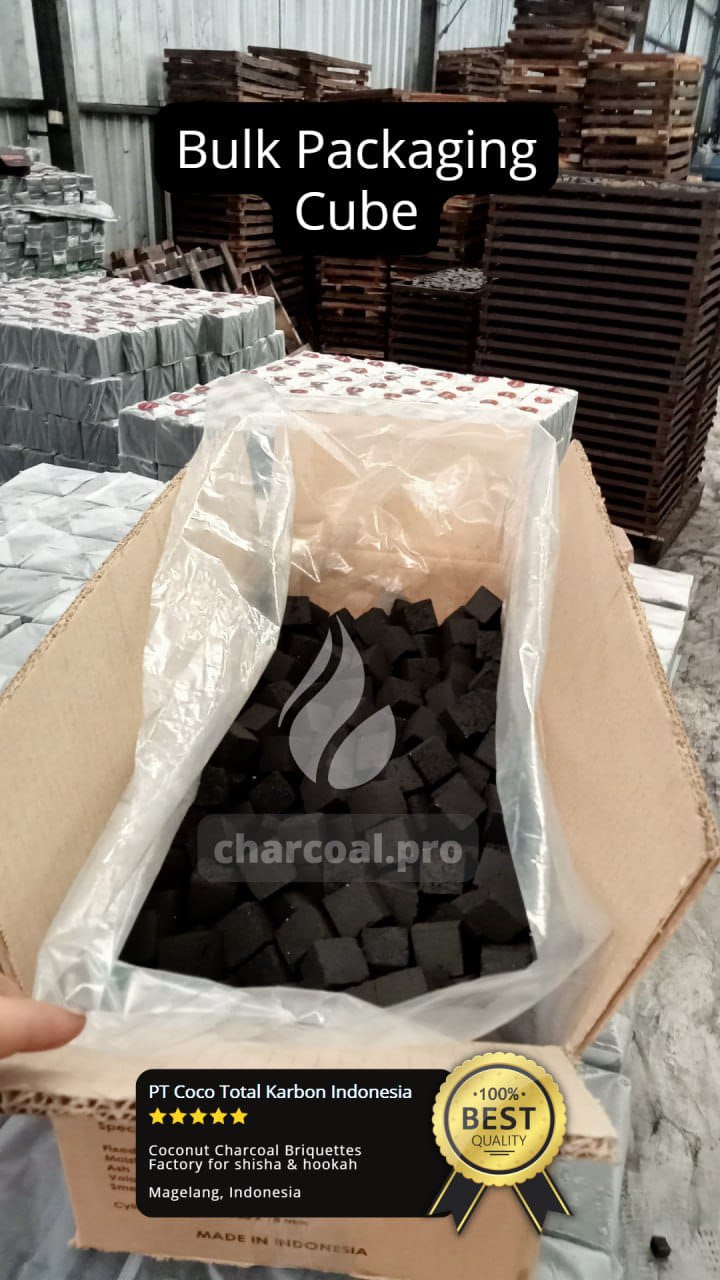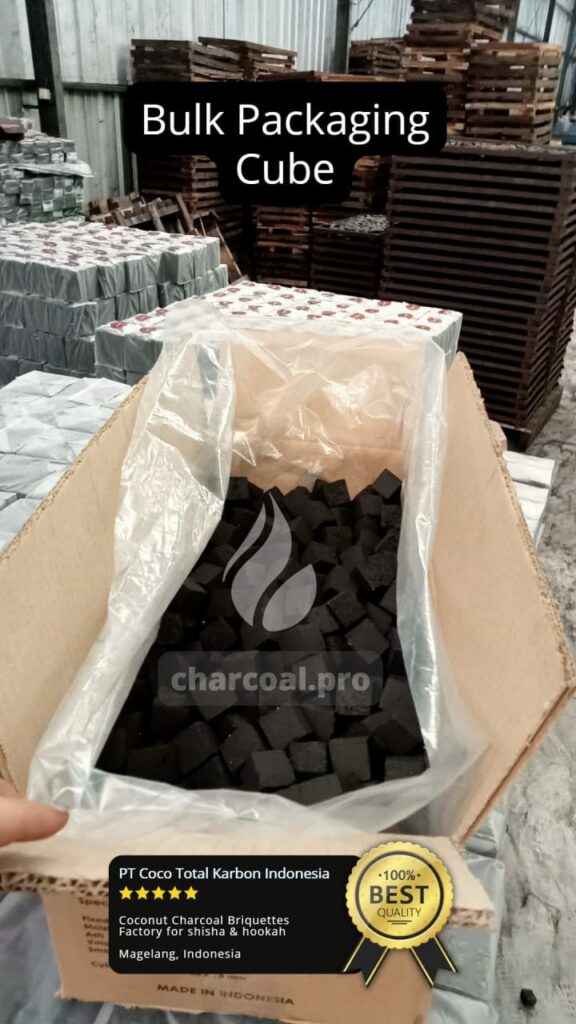 Bulk loose packaging
Bulk loose packaging is very similar to normal bulk packaging, but we just put all charcoal bulk inside one big plastic bag and inside the master carton.
So, for the bulk packaging, we pack inside 1 kg inner plastic bag, while for bulk lose we pack inside one big plastic bag.
This is the perfect solution to save maximum cost on the packaging. Good for high-volume wholesale buyers who distribute charcoal to big bars and hookah lounges.
FAQ
Can you do packaging with my brand?

Certainly! If you are interested in customized packaging with your customer's brand, we'd be more than happy to assist you in creating the perfect layout and box sizes. We take pride in offering this service to our valued wholesale buyers.

Please feel free to get in touch with us to discuss your specific requirements and preferences for the packaging design. Our team is well-versed in creating attractive and eye-catching packaging that showcases your brand in the best possible way.

It's essential to note that we always prioritize the protection of your brand and intellectual property rights. As a standard practice, we run a trademark check for all custom packaging to ensure that it complies with legal requirements and safeguards your brand identity.

To proceed with the customization process or to inquire further about our packaging options, please don't hesitate to contact us. You can reach us via WhatsApp at +628118797070 or email us at export@charcoal.pro.

We look forward to working with you to create packaging that truly represents your brand and meets your shisha charcoal business needs. Thank you for considering us as your trusted supplier.

Please let us know if you have any other questions or if there's anything else we can assist you with. We're here to provide you with the best wholesale coconut charcoal briquettes and top-notch packaging solutions.

Can you do packaging with another famous brand?

No, it is strictly not to copy other brands that do not belong to you. As a manufacturer and supplier of wholesale coconut charcoal briquettes, we are committed to upholding ethical business practices and respecting intellectual property rights. We understand the importance of protecting famous brands and their trademarks.

When it comes to packaging with another famous brand, we need to be cautious and ensure that we have the proper authorization and licensing to do so. Using another brand's logo, name, or trademark without permission can lead to legal consequences and damage the reputation of all parties involved.

If you are interested in co-branding or using another famous brand's imagery on the packaging, we recommend reaching out to the brand owners directly to discuss the possibility of a collaboration or licensing agreement. This approach ensures that all parties involved are aware of and agree to the usage of the brand in a mutually beneficial and legal manner.

As a responsible business, we are more than willing to work with you and any other brand owners to explore co-branding opportunities or licensing agreements, provided that all necessary permissions and legal requirements are met.

If you have any specific brands in mind or if you would like us to assist you in approaching brand owners for potential collaborations, please let us know. We are here to support you in creating a successful and legally compliant packaging solution for your wholesale coconut charcoal briquettes.

Feel free to contact us via WhatsApp at +628118797070 or email us at export@charcoal.pro to further discuss your packaging needs and explore the possibility of co-branding or licensing arrangements. Thank you for your understanding and cooperation in this matter.


Can you do environmentally safe boxes?

Absolutely, we prioritize environmental sustainability and are committed to providing environmentally safe packaging options for our wholesale coconut charcoal briquettes. We understand the importance of minimizing our ecological footprint and contributing to a greener future.

When it comes to packaging, we offer several environmentally friendly options to choose from:
Recyclable Cardboard Boxes: We use recyclable cardboard material for our packaging, ensuring that the boxes can be reused or easily recycled after use. This helps reduce waste and promotes a more sustainable packaging solution.

Biodegradable Kraft Paper Bags: For customers who prefer a more natural packaging option, we offer biodegradable kraft paper bags. These bags are made from renewable resources and can break down naturally over time, reducing their impact on the environment.

Eco-Friendly Polypropylene Bags: In case you need more robust protection for the charcoal, we also offer eco-friendly polypropylene bags that are designed to be durable and moisture-resistant. These bags are made with environmentally conscious practices in mind.

Reusable Plastic Containers: If you prefer a reusable option, we provide plastic containers that are designed for multiple uses. These containers are made from recyclable materials and are perfect for customers who aim to minimize single-use packaging waste.

As an environmentally responsible company, we continuously strive to improve our packaging practices and explore new eco-friendly alternatives. We firmly believe that by offering environmentally safe packaging, we can contribute to a cleaner and healthier planet.

If you are interested in any of our environmentally friendly packaging options or have specific preferences in mind, please let us know. We are here to accommodate your needs and ensure that your wholesale coconut charcoal briquettes are packaged sustainably.

Feel free to contact us via WhatsApp at +628118797070 or email us at export@charcoal.pro to discuss your requirements and explore our range of environmentally safe packaging choices. Thank you for choosing an environmentally conscious approach to packaging, and we look forward to working with you.

What if the box will be damaged during shipping?

At our company, we take extensive measures to ensure that our boxes remain intact and undamaged throughout the shipping process. Firstly, our expert team packs the boxes in a manner that prevents any movement within the container. This means that your boxes will remain stable and secure during transit, eliminating the risk of them shifting or "walking" along the container.
Secondly, before loading the boxes into the container, we conduct thorough checks to ensure that each box is in pristine condition and free from any defects. This ensures that only clean and structurally sound boxes are included in the shipment.
Moreover, we always keep additional spare boxes readily available in the event that any replacements are required during the shipping journey. This proactive approach guarantees that we can swiftly address any unforeseen issues that may arise.
To provide an extra layer of protection, all boxes inside the containers are covered with plastic. This plastic covering shields the boxes from moisture, safeguarding the integrity of the packaging and its contents.
Furthermore, we incorporate container-size moisture absorbers to provide additional protection against humidity and moisture. This precautionary measure further ensures that the boxes and the enclosed coconut charcoal briquettes remain in optimal condition, even when exposed to varying weather conditions.
Rest assured that our comprehensive packaging and shipping practices are designed to minimize the risk of box damage and deliver our premium wholesale coconut charcoal briquettes to you in perfect condition. Your satisfaction and the safety of your order are our top priorities.
If you have any further questions or concerns regarding our packaging and shipping procedures, please do not hesitate to reach out to our team. We are dedicated to providing you with the best possible service and product quality.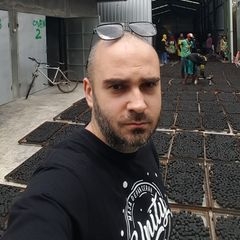 Latest posts by Greg Ryabtsev - Charcoal Expert
(see all)